Best Practices for Geotextile Installation
Installing geotextile fabric really is a simple process when you have the proper tools and follow basic installation procedure. Below you will find a general guide to installation of geotextile fabrics. Please feel free to contact us with any additional questions. We're here to help.
To see a full line of our geo fabric options, see: Woven and Nonwoven Geotextile Product Line.
For more information on geotextile installation or for pricing on bulk rolls delivered,
Contact Us or Call us for more information at 1-863-261-8388.
See also: Erosion Control Options (pdf)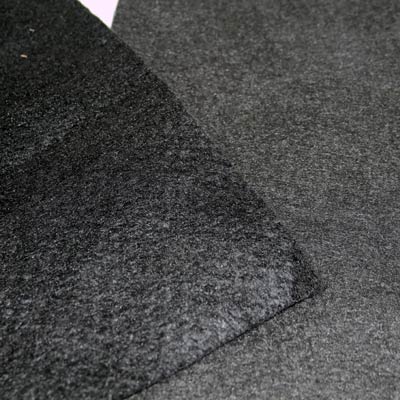 Geotextile Installation Procedure
Step 1: Prepare the installation area by removing trees, rocks, stumps and brush from the top layer of soil and vegetation from the subgrade materials. Weak pockets of soil should be replaced with granular fill. On hillsides, trenching (and anchoring practice) is recommended at the top of the slope. Call us for more instructtions, if needed.
Step 2: Grade and level the ground in the project area..
Step 3: Place the geotextile in the prepared installation area. Roll it out according to engineered plans or site recommendations. Fabric should be stretched as tight and as flat as possible.
Step 4: Overlap the edges of adjacent rolls..
Step 5: Secure the fabric with staples, pins, soil or other suitable materials. Fabric should be secured along the edges and then at overlapping portions.
Step 6: Loosely place fill directly on the geotextile in 8" to 12" lifts. For very weak subgrades, 18" or thicker may be required.
Questions about geotextile installation? Find out how we can help you. Call us at 1-863-261-8388 for more information or Contact Us through our webform.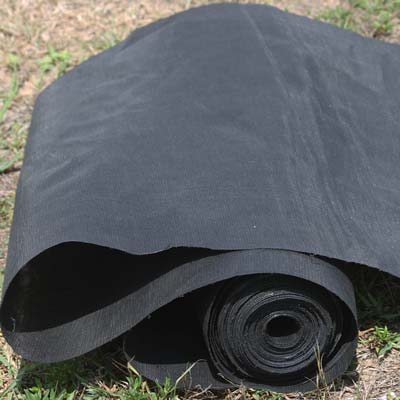 Tips on Sewing and Overlapping
When installing a geotextile, adjacent fabric can either be sewn or overlapped. The following is from the AASHTO and is set as general guidelines for determining when to sew and when to overlap.
Soil CBR> 3 -Minimum overlap of 0.3 to 0.45 m
Soil CBR 1-3 -Minimum overlap of 0.6-1
Soil CBR< 0.5 - Must be sewn
Many handheld sewing machines meet Federal Stitch Type 401 (Sample Models: Single Thread, Chain Stitch, Union Special, American Newlong) We recommend using an electric motor for standard use and an air-operated motor for hazardous conditions.
Thread (Depending on application, proper thread choice can be determined by supplier.)
Light Weight Fabric: 4 yards of thread for each yard sewn
Medium Weight Fabric: 6 yards of thread for each yard sewn
Heavy Weight Fabric: 9 yards of thread for each yard sewn
Thread Usage Formula (for each row of sewing): 4 + (2x (thickness of seam) x (1/length of 1 stitch)) = inches of thread use per inch sewn.
Browse our entire selection of Geotextiles, or see Geotextile Specifications. If you know the type and weight you need, click on the link below for more information.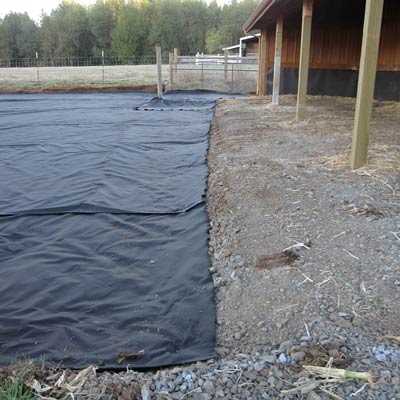 Woven Geotextiles
Nonwoven Geotextiles
Questions about how to install geotextile? We can help answer your questions. Give us a call at 1-863-261-8388 for more information or Contact Us through our webform.