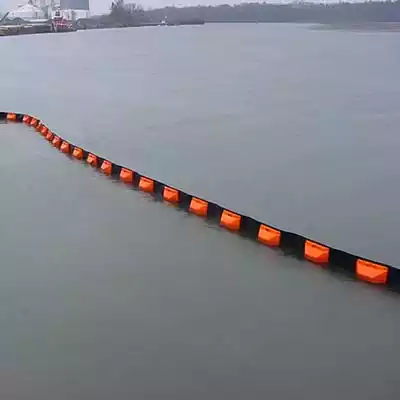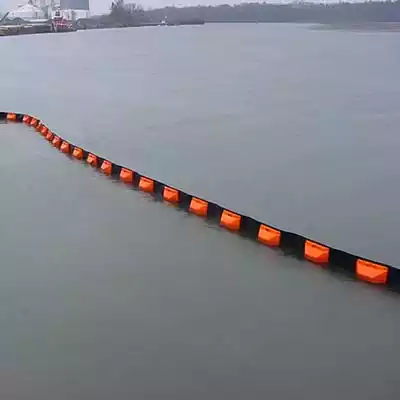 Permanent Containment Booms
Floating Barrier
Permanent containment booms provide a heavy-duty floating barrier for long-term containment projects. Ideal for marinas, moving water, lakes, or even ports and streams, these floating barriers control marine debris, aquatic plants, and trash. Permanent floating containment boom is designed for rugged use and will last six times longer than other traditional containment boomscontainment booms. It also comes with marine growth and UV inhibitors that reduce boom maintenance and weathering. Strong and durable, this marine containment boom ensure years of dependable, low-cost performance.
Permanent Containment Booms Features
Heavy duty, high strength, PVC-coated polyester conveyor-belting membrane
Molded polyethylene floats with closed cell urethane foam
ASTM or Universal-style marine-grade aluminum boom connectors
Permanent Containment Booms Benefits
Marine growth and UV inhibitors
Highly visible, unsinkable floats
Corrosion resistant hardware
Lasts 6 times longer than other boom styles
Permanent Boom Details
Intended for long-term containment, our permanent debris booms are designed for effective trash and weed control. Depending on how you install it, permanent boom can be used to prevent floating debris from entering a protected area, or it can be used to contain floating pollutants. Marine grade connectors and high impact bolts keep the floating debris containment boom in place, despite active water conditions. Our floating barrier options come with UV and marine growth inhibitors to prevent aquatic plants from interfering with the marine containment boom.
Permanent Boom Specifications
Total Height
18" (45 cm)
24" (61 cm)
36" (91 cm)
Freeboard
11"
11"
12"
Draft
7"
13"
24"
Standard Lengths
50' and 100' Sections
Boom Fabric
150 oz. PVC-Coated Polyester Fabric Belting*
80oz. or 100 oz. Polyurethane Fabric Belting*
Flotation
Closed Cell Foam-Filled ABS Plastic with UVEX™ an antioxidant and UV Stabilizer package
Ballast
Lead weight with stainless steel bolts
Anchor Points
Single or Double-eye bolts added per customer needs
End Connectors
Z-ASTM F962-04
Universal slide PVC
Slide-ASTM F2438-04
US Navy male/female
*
*Custom options also available
*UV and Marine Growth Inhibitors
Permanent Boom Floating Barrier Downloads
Permanent Containment Boom Applications and Accessories
Seaweed Barrier - An influx of seaweed and other aquatic plants can affect attendance and the experience of recreational lakes, public beaches, or smaller marinas. For effective seaweed and debris control, Parks and Recreation departments can deploy our permanent containment boom to deflect plants further down the waterway or to contain in one area for easy collection and disposal.
Trash Barrier - Floating debris and trash frequently enter or obstruct water intake systems in dams and municipal water treatment plants. Debris containment boom can prevent damage to equipment when debris blocks ports and reduces their efficiency. If floating debris or trash gets into water intake systems it can cost significant money to clean out and even lead to shut downs Our marine containment barriers can prevent debris floating in the water from obstructing both intake and outlet ports.
Debris Boom – Public harbors and marinas often have floating aquatic plants or trash entering that interferes with docked boats and ships. By installing a permanent debris containment boom, Transport Infrastructure departments can deter trash and plants from gathering around pilings and supports.
Your permanent containment booms require proper accessories to maximize the effectiveness of your floating barriers. We have anchors, tow bridles, buoys, and more to properly install and maintain your containment boom for improved performance and longevity. The appropriate marine accessories depend on the exact specifications of your barrier or boom, as well as the different water type and site conditions. Browse our Marine Accessories to find the right deployment and anchoring system for your location and deployment.
Permanent Boom Floating Barrier Frequently Asked Questions
The containment boom price will depend on the type of containment you require, the longevity and timeline of your project, and the site conditions you are experiencing. For a more detailed containment boom price, contact our sales team for a free consultation and quote.
Yes, permanent containment booms will control against the influx of seaweed and sargassum. When seaweed blooms send mats of aquatic plants washing up on your shores, a permanent boom deployed offshore will stay in place for an extended period of time, intercepting the sargassum before it reaches your beaches. As the permanent floating barrier traps the sargassum, you can come alongside to collect and dispose of it.