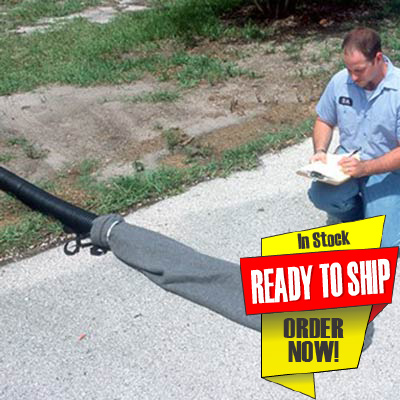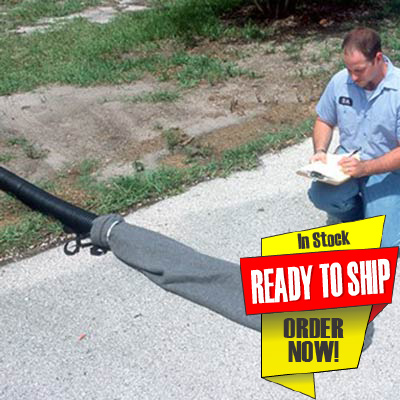 Dewatering Socks
Dewatering Filtration for Silt
Dewatering Socks are an easy and inexpensive dewatering product to filter runoff and keep small filtration projects in compliance. We offer a variety of affordable dewatering sock filter sizes that are designed to attach directly to pipes and hoses for containment of sediment, silt, and debris from water on your site. For large filtration projects, filter socks might not provide the volume needed. Instead, consider Dewatering Bags for projects with larger sediment filtration needs. We have dewatering supplies in all sizes, waiting and ready to ship to you!
We provide the best prices possible, fast shipping directly to you, and knowledgeable representatives to answer your questions. Call us for more information about dewatering options!
Dewatering Sock Features
8 or 10 oz. Geotextile Filter Fabric
Widths: 6", 8", 12", 16"
Lengths: 60" or larger
Dewatering Sock Benefits
Fits a Variety of Pipes and Hoses
Easy to Connect and Install
Flexible and Low-Cost
Dewatering Filter Socks Details
Fast and economical, dewatering filter socks provide excellent dewatering filtration for your worksite. Containment socks catch silt and sediment that discharges in the water from your site, keeping you in compliance with state and federal regulations. Common diameters for dewatering socks include 4", 6", 8", 12" and 16" with lengths up to 5 feet. We have these sizes available and ready to ship quickly to you. Custom dewatering sock sizes are available on request, with just a small lead time for production.
Dewatering filter socks are great for filtering silt and sediment from construction sites and have components that meet DOT erosion and sediment control regulations. Get dewatering filter sock sized to fit the hoses and pipes at your jobsite. For larger dewatering projects, consider dewatering filter, or dewatering tubes.
Dewatering Socks Specifications
| Part # | Model | Dimensions in. (mm) | Absorption Capacity gal. (L) | Weight lbs. (kg) |
| --- | --- | --- | --- | --- |
| Ultratech 9705-OS | Oil & Sediment Model | 60 x 8 x 8 (1524 x 203.2 x 203.2) | 1.7 (6.4) | 2 (.9) |
| Ultratech 9706-OS | Oil & Sediment Model | 60 x 12 x 12 (1524 x 304.8 x 304.8) | 2.6 (9.8) | 3 (1.4) |
| Ultratech 9707-OS | Oil & Sediment Model | 60 x 16 x 16 (1524 x 406.4 x 406.4) | 3.5 (13.2) | 3 (1.4) |
Dewatering Socks Downloads
Dewatering Sock Installation
Dewatering sock installation is a simple process designed to make dewatering filtration on your site easy and convenient. Secure one end of your dewatering sock with zip ties or clamp and place the other end around a pipe or hose. Clamp both the pipe and sock and tighten the clamp over the sock. If you need more information on dewatering sock installation, contact our product specialists for personalized help.
Don't want to worry about connecting your dewatering sock with zip ties? Ultra Dewatering Hose Connectors connect your dewatering sock to discharge hoses quickly and easily. To find out more about our dewatering hose connectors and other dewatering equipment, call us at 863-261-8388 to let us help you find exactly what you need for your jobsite.
Dewatering Socks Frequently Asked Questions
Standard diameters for our dewatering socks include 4" to 16" and standard lengths of 5'. However, if your project requires a longer dewatering filter sock, custom sizes are available. dewatering bags and dewatering filter socks are not a one-size-fits-all situation. Give us a call at 863-261-8388 to speak to a product specialist today.
Benefits of a dewatering filter sock include its quick installation and attachment features. Once you receive your dewatering filter sock, you will be able to quickly attach it to a pipe or hose and begin filtering sediment, silt, and debris from your site. Easily shipped because of its size, other benefits of dewatering socks include their ability to fit a variety of hoses or pipes, not to mention their versatility in dewatering filtration of contaminants from runoff water.