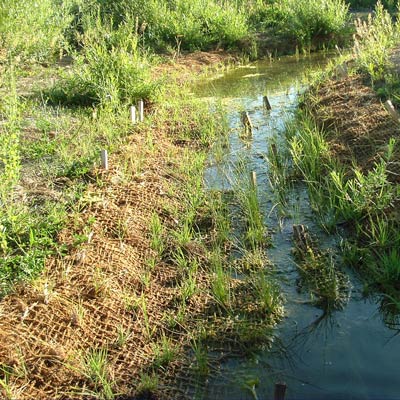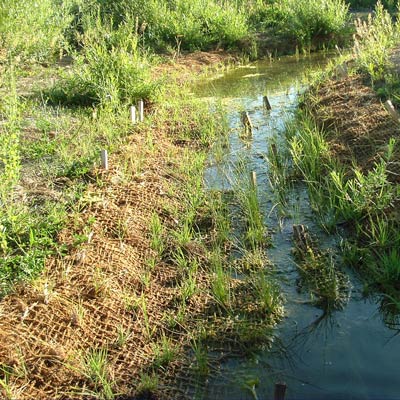 Coir Mats/Blankets
Coconut Coir Erosion Control Mats for Sale
Coir Mats, sometimes also called Coir Blankets or Erosion Control Mats, are known to be one of the strongest and longest lasting biodegradable erosion control products available. Erosion control mats are specifically designed to bolster soil stabilization, and decrease erosion, which in turn allows vegetation to take root.
Coir Mats Features
165' long rolls
9 months to 6 years erosion control
Coir Mats Benefits
Completely biodegradable
Enriches soil and promotes new growth
Easy installation
Coir Blanket Product Details
The coconut coir blanket is made from a natural coconut fiber which is 100% biodegradable. This makes the erosion control mat the perfect solution for environmentally sensitive areas, steep slopes, or cool shady areas that naturally increase seed germination. Coir blankets are similar to straw blankets but are much longer lasting (2 to 5 years) and are made to handle higher flow rates due to the open weave style design. Do you have questions about our coir mats? Simply call our knowledgeable team at 1-863-261-8388
Coir mats are constructed using the natural material coconut fiber and are designed to biodegrade over time. This process enhances the soil for vegetative growth. Erosion blankets are the perfect solution for environmentally sensitive areas. The coir mat is held together with a netting material that has an open weave design to allow for seeding before or after the mat has been installed. The netting biodegrades with the coconut coir mat for a fully environment friendly product.
Coir Mats Technical Specifications Semi-Permanent Control (2 - 5 years)
Products
Coir Mat 40
Coir Mat 70
Coir Mat 90
Open Area
65%
50%
39%
Weight
11.8 oz/yds
400 g/m
20.6 oz/yds
700 g/m
26.5 oz/yds
900 g/m
Sizes
6.56 ft x 165 ft
13.1 ft x 165 ft
6.56 ft x 165 ft
13.1 ft x 83 ft
13.1 ft x 165 ft
6.56 ft x 165 ft
13.1 ft x 83 ft
13.1 ft x 165 ft
Uses
Slopes 3:1 or less
Flows up to 8 fps
Slopes 2:1 or 1:1
Flows up to 12 fps
Slopes 1:1 or greater
Flows up to 16 fps
Coir Mats Applications
Coir mats, or coir blankets, come in various sizes and materials that provide temporary or semi-permanent erosion control for many applications. Rolled erosion control mats are some of the strongest and longest lasting options available. We offer products depending on your need: 6-9 months, 9 to 24 months or 4-6 years before they biodegrade.
Channel Filtration
Slope Stabilization
Soil Stabilization
Stream Bank Restoration
Wetland Restoration
Hillside and Shoreline Erosion Control
See also this affordable USA made alternative to coir: Excelsior Erosion Control Excelsior Logs.
Coir Mats Frequently Asked Questions
Coconut coir mats are completely biodegradable and will promote regrowth as they degrade over time. This is a more environmentally friendly option compared to other erosion control products.
Coir mats are easily installed. Place the mat in an area that has been graded so that the mat comes in complete contact with the soil. We recommend that a trench be made at the top and bottom of your slope to backfill after the mat has been placed. Coir mat is installed by unrolling the unit from top to bottom in the direction of the water flow. We recommend a 6 to 8 inch overlap. The erosion control mat is then secured using either stakes or staples. After your mat is securely in place backfill the trench to further anchor your coir mat.