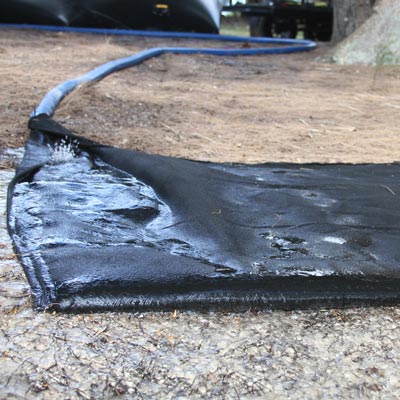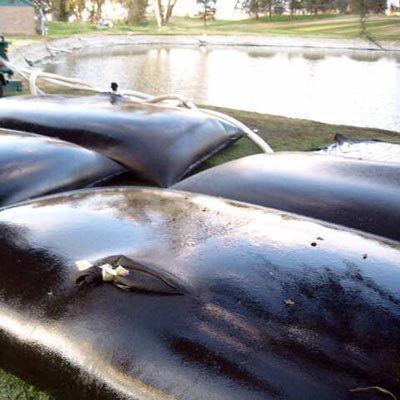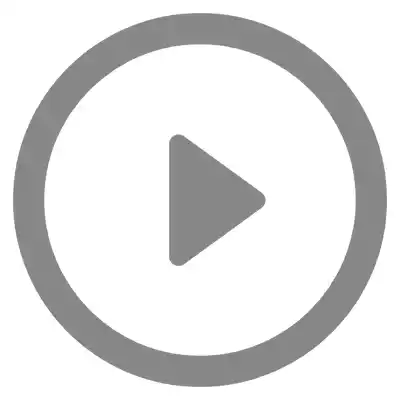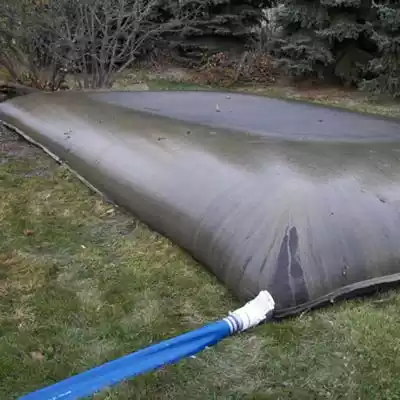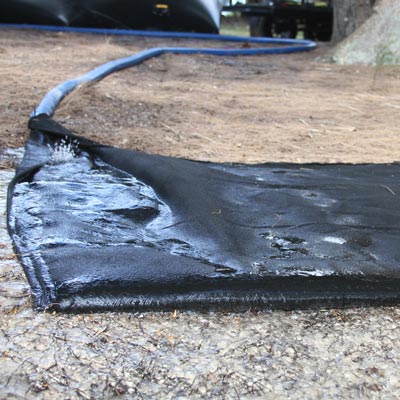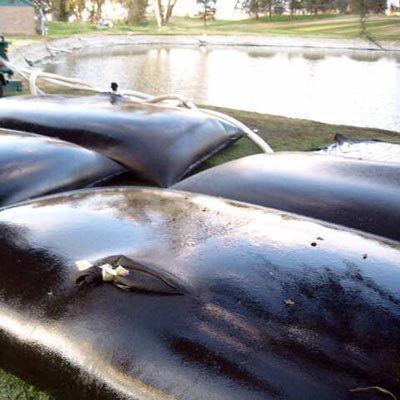 Dewatering Bags
Dewatering Sediment Bags for Sale
Dewatering bags, also known as a dewatering sediment bags, silt bags, or sediment filter bags come in a variety of styles and sizes to fit your project. Dewatering bags use sturdy non-woven geotextile filter fabric designed to effectively catch and contain sediment deposits pumped from your job site's stormwater discharge (see video below).
We carry dewatering sediment filter bags in economy, sediment only, oil/sediment, and reusable models. For a full listing of available dewatering bag options, see:  Dewatering Bags
Dewatering Bag Features
Non-Woven Geotextile Fabric
Connects to Pipes up to 6"
Complies with NPDES Phase II Regulations
Dewatering Bag Benefits
Easy and Economical Filtration
Versatile Applications
Rugged Construction
Dewatering Bag Product Details
The One Clarion dewatering bag is available in a versatile range of styles for construction sites, power plants, and dredging areas. See: Dewatering Bag Product Line Card (pdf)
Determining which dewatering bag model works best for your location depends on several on-site conditions. Project factors to take under consideration include:
Pump Flow Rate
Quantity and Type of Sediment
Permittivity
Volume of Materials Needing Containment
The size of the dewatering filter bag you use is determined by the volume of sediment to be filtered as well as where they are placed. For example, some areas may have size restrictions that dictate what size dewatering sediment bag to use. Using dewatering bags in areas with steep slopes is not recommended as the bag may roll from the project location as it fills with sediment. It's important not to overfill the silt bags; they will burst at the seams and cause damage to the pump.
A dewatering filter bag is designed to help your job site stay in compliance with most local and federal stormwater regulations. All our components meet US Department of Transportation erosion and sediment filtration requirements.
The dewatering bag sizes and specifications below are for our Sediment Only Filter Bags, made from 10 oz geotextile fabric and comes in sizes ranging from 5' x 6' (8oz non-woven) to 15' x 30'. Some common uses of our dewatering sediment bags include 20ft drop box, dump truck, construction site areas, and containment vehicles. For other dewatering sediment bag styles and options, please see: Dewatering Bag Product Options..
Dewatering Filter Bag Sizes:
5' x 6'
7.5' x 7.5'
7.5' x 15'
12' x 12'
15' x 15'
15' x 30'
Dewatering Bag Specifications
| | | |
| --- | --- | --- |
| Grab Tensile Strength | ASTM D-4632 | 270 lbs |
| Grab Elongation | ASTM D-4632 | 50 % |
| Trapezoid Tear | ASTM D-4533 | 100 lbs |
| Puncture | ASTM D-4833 | 150 lbs |
| Mullen Burst | ASTM D-3786 | 450 psi |
| Permittivity | ASTM D-4491 | .7 sec |
| Permeability | ASTM D-4491 | .25 cm/sec |
| A.O.S. | ASTM D-4751 | 100 US Sieve |
| Water Flow | ASTM D-4491 | 55 gpm/ft2 |
| U.V. Resistance (500 hr) | ASTM D-4355 | 70 % |
| Weight (oz/sq yd) | ASTM D-5261 | 10 oz |
Dewatering Bag Step-By-Step Instructions
Deploying a sediment dewatering bag is a fairly simple process, but special care should be taken to ensure the process is done correctly.
The first step deploying a dewatering filter bag is choosing a suitable site for your dewatering bag to sit. This location may be a dump truck, drop box, or if you prefer you can set up the dewatering bag on the ground. If you decide to place the dewatering bag on the ground, you should use a ground cloth to protect the dewatering bag from any debris that could puncture it.
The second step is attaching the hose to the dewatering bag. All dewatering bags designed for sediment or silt control typically have accommodation for hoses up to 6 inches. Tie the dewatering filter bag securely around the hose when inserted. Once the hose is attached, the silt can be pumped into the bag for filtration.
The third and final step involves pumping the sediment filled water into the dewatering bag. Once the pumping process has started, water will begin to flow out of the bag. This water flow occurs by design using needle-punched fabric which allows water to flow while the silt and sediment is trapped inside. Download and fill out our short dewatering questionnaire and tell us more about your project. This will help us tailor our services to your specific needs and offer you the best options.
Dewatering Bag Frequently Asked Questions
The grab tensile strength of our dewatering filter bag is 270 pounds.
The main difference between a dewatering filter bag and dewatering tube is their size and construction. Dewatering bags are a smaller filtration option and are designed for standard dewatering jobs. Dewatering tubes are much larger in size and are used for larger dewatering jobs like wastewater projects requiring sludge removal.