Environmentally Friendly Erosion Control Straw Products
Straw erosion control products are biodegradable, all-natural solutions that stabilize hillsides, filter stormwater runoff, and enhance vegetation in the surrounding areas. We carry an assortment of straw erosion control products including many styles of straw wattles, straw blankets, straw blankets with jute netting, and both double and single net straw blankets, all made with 100% weed-free agricultural wheat straw. With all of these options for biodegradable erosion control, there's sure to be a solution that works for your project. For information, questions answered, or assistance, please contact us.
When it comes to erosion control and stormwater filtration, straw erosion control wattles are the biodegradable, all-natural solution you need. These are typically used in environmentally sensitive areas, on constructions sites for perimeter control and around curb drain inlets for stormwater filtration. For example, straw blankets for erosion control lie on the ground and stabilize soil in erosion prone areas and allow vegetation grow while they naturally biodegrade. These come in single net or double net varieties. We also carry straw erosion control blankets with jute netting.
We provide the best prices possible, fast shipping directly to you, and knowledgeable representatives to answer your questions. See below links to our products. Call us for more information about straw erosion control products!
To find out more about our Straw Erosion Control products, call 863-261-8388 for a free consultation or Contact Us online to speak with one of our knowledgeable product specialists.
Get a Quote
Straw Logs, Blankets and Wattles - Green Erosion Control Products and Their Applications
Because straw erosion control products are made from 100 percent, all-natural materials, they won't harm the surrounding vegetation and wildlife. This makes them a "green" product that's environmentally friendly. Overtime the straw erosion control products naturally biodegrade. The lifespan of a straw erosion control product will depend on the product selected and specific site conditions. In areas like wetlands, national parks, and other protected areas that require specific erosion control solutions and have different regulations, straw products like wattles and blankets offer a gentle, yet effective solution.
Straw Wattles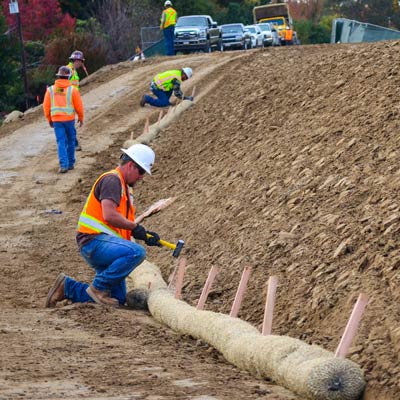 Our straw erosion control products come in different strengths depending on the amount of erosion control needed in your area. Our straw erosion control wattles come in diameters of 9", 12", and 20" with lengths of 10' or 25', depending on the diameter. The straw blankets come in a variety of options when it comes to strength and durability. The single-net straw blanket is best used with a slope of 3:1, and the double net straw blanket is best used with a slope of 3:1 or 2:1. The doublet net straw blanket is great for slopes with medium flows, while the single net straw blanket is great for lower flows. For higher flows and steeper slopes, we also offer a variety of more durable coir fabric blankets
Straw Blankets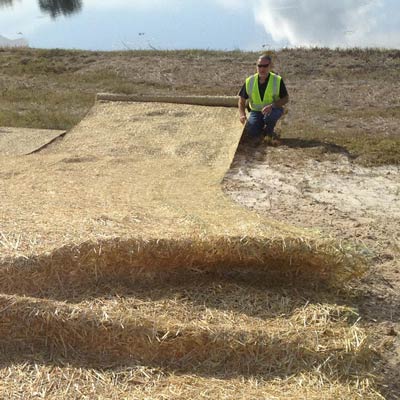 As a biodegradable landscaping fabric, straw erosion control blankets work extremely well for increasing plant growth in the surrounding areas and stabilizing hillsides and exposed soil. When straw erosion control blankets are used on unstable slopes and soils, you will be begin to see plants grow as the blanket biodegrades if you seed your straw erosion control blankets properly.
Straw Logs
Straw erosion control logs provide sediment control in ditches, around inlets, and on slopes. They are made from 100 percent weed-free straw. In ditches, straw erosion control logs are check dams. Around inlets, straw logs will stop sediment-laden waters. On slopes, straw logs minimize the movement of sediment during water flows. Diameters of the straw logs are 9", 12", 16", or 20". Straw logs lengths are 10' or 20'. For more information on straw logs, contact us.
To see our full line of erosion control options:
Questions about straw erosion control products? We are here to help you. Call us at 863-261-8388 for more information.
Certified Weed-Free Straw Erosion Control Products
Biodegradable landscaping fabric is excellent for improving soil stability in a non-invasive, non-threatening way. When it comes to increasing vegetation growth in these areas, you don't want to be introducing weeds and other non-local plants into your location. Our 100% weed-free agricultural wheat straw weed free straw mulch products are trusted and effective in improving soil stability and encouraging the plants you'd like to grow.
Green erosion control starts with the right products. Straw erosion control wattles, single and double net straw blankets, and other straw products will ensure that your slopes and soils are protected from the effects of soil erosion. The straw erosion control wattle can also be used as part of your SWPPP for stormwater filtration and perimeter control on construction sites.
Interested in the variety of straw erosion control products we offer? Our certified weed-free straw is in stock and ready to ship to you. Give our sales team a call at [phone number] or Contact us for more information regarding your needs.