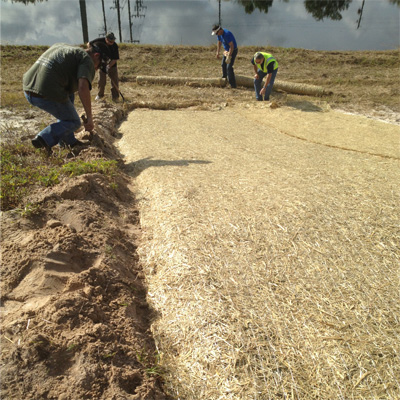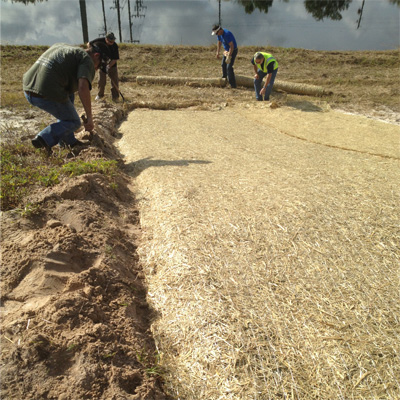 Straw Erosion Mat
Double Net Erosion Control Blanket
The straw erosion mat with a double net is a great choice for erosion control in order to stabilize streambanks, help vegetation to grow, and limit the effects of erosion. Straw erosion mat nets are photodegradable and have an interior of straw fibers. Contact Us for more information or call at 1-863-261-8388.
Straw Erosion Mat Features
Inner Straw Mat: Wheat Straw
Thread: Split Yarn
Netting: Photodegradable Double Polypropylene
Straw Evenly Distributed Nets
Straw Erosion Mat Benefits
Double Netting for Increased Support
Short Term Stabilization for Steep Areas
Photodegradable Netting
Biodegradable Interior
Straw Erosion Mat Details
The straw erosion mat has an inner material of 100 percent wheat straw and an outer net of photodegradable double polypropylene. The double netting offers increased support that will give stabilization for steeper slopes than a single net straw erosion mat can handle.
Typically, the lifespan of a double net erosion control blanket is 12 months but an exact lifespan will depend on your site conditions. Straw soil erosion mat widths are either 8' or 16' with lengths of 112.5' or 562.5'. For optimal installation of the straw erosion mat, you will want to use erosion control accessories like wooden stakes or biodegradable pegs. For more information or details about the double net straw erosion mat, give us a call at 1-863-261-8388.
Need more information on our biodegradable erosion control solutions? See our Erosion Control Line Card.
Double Net Erosion Control Blanket Specifications
Contents
100% Wheat Straw
Netting
Double Polypropylene (photodegradable)
Thread
Split Yarn
Sizes
Widths: 8' or 16'
Lengths: 112.5' or 562.5'
Lifespan
Medium Term, Up to 12 Months
Best Use
3:1 to 2:1 Slopes
Medium Flow Channels
Straw Blanket Applications
Straw blankets can be used for a variety of applications including limiting the effects of erosion and reinforcing soil and sediment in areas affected by a medium water flow. Double net erosion control blankets can be cut and installed to meet the exact specifications of your project. Erosion control straw blankets are best used with fast growing plants that will add soil support through their root systems in moderate flow areas. Other applications for the straw blanket include:
Slope Stabilization on Slopes in 3:1 to 2:1 Range
Reinforcement in Medium Flow Areas
Support in Channels
River or Lake Bank Restoration
Soil Reinforcement
Straw Soil Erosion Mat Frequently Asked Questions
The double net straw erosion mat can handle slopes of 3:1 or 2:1 and can handle medium flows to maintain support for slopes and streambanks. The double net straw erosion mat will offer soil reinforcement for environmentally sensitive areas as well. Typically, the lifespan of a straw erosion mat on a 3:1 or 2:1 slope will be about 12 months, depending on your site conditions.
You can install a double net straw erosion mat easily with the right erosion control accessories. These accessories will enable you to install your straw erosion mat correctly and with ease. You can purchase biodegradable stakes, classic metal staples, or wooden stakes in order to correctly install the straw erosion mat. For more information on how to install an erosion mat, see our installation instructions. Or, give us a call at 1-863-261-8388 and we'll answer all your straw mat roll installation questions.