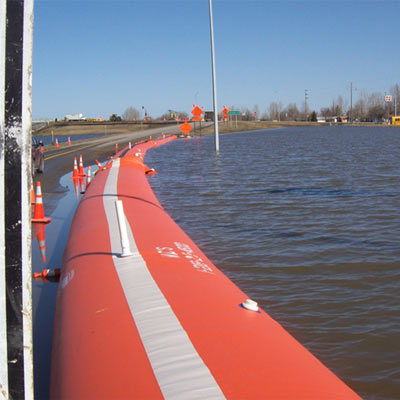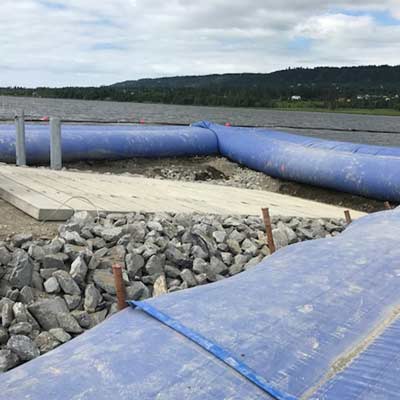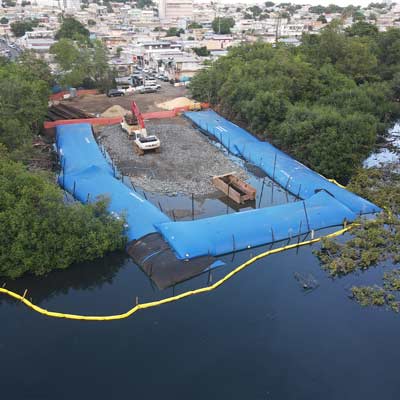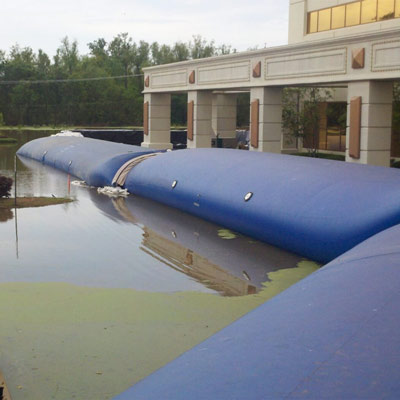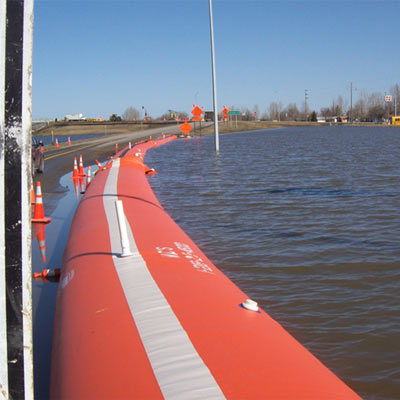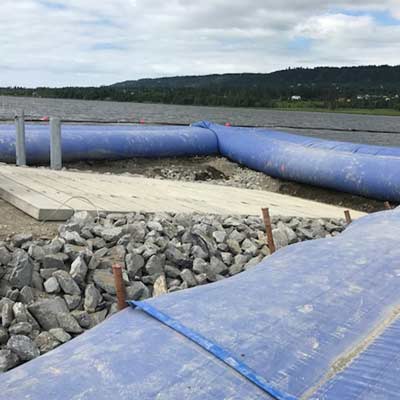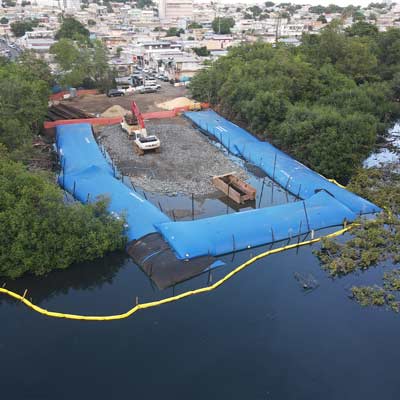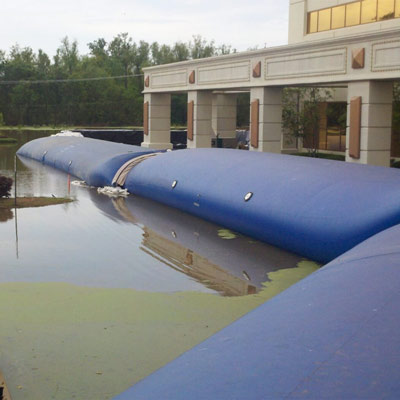 Temporary Flood Barriers
Inflatable Water Dam
Temporary Flood Barriers that install quickly and easily. Simply unroll and fill with a hose. They deploy 3 to 5 times faster than other styles of flood barriers. They're built for durability and can typically be used 10-15 times.
Protecting your property from the dangers and hazards of flooding has never been more important. With these specially designed water inflated dams, you can surround your premises much faster and with less manpower than with sandbags or other types of flood protection barriers. Cleanup is much faster and easier also. And they fold up for compact storage and transportation.
Our Temporary Flood Barriers are designed for durability and for repeated use, making them very cost effective. Rentals are also available.
| Temporary Flood Barrier – Features | Temporary Flood Barriers – Benefits |
| --- | --- |
| Constructed from several layers of industrial | Installs quickly with only 1 or 2 people |
| grade vinyl coated polyester | No mess cleanup |
| Specialized internal baffle system for stability | Overlaps to provide complete flood protection |
| Floatable fill caps and drain caps | Easy to repair, extending the life of the barrier |
Highly Re-Usable and Repairable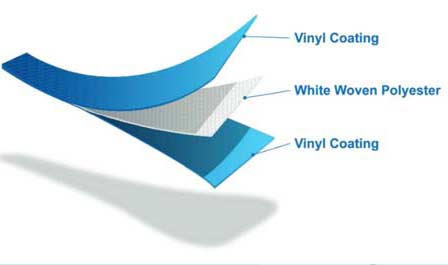 Inflatable Water Dams are constructed from industrial grade vinyl coated polyester. The fabric is laminated with woven polyester sandwiched between two layers of flexible polyvinyl chloride to provide the ultimate in durability for your flood protection barrier.
On average, you can expect at least 10 to 15 deployments. When they eventually start to show wear, they are very repairable. The middle layer of the fabric is white, making it easy to see if there's a weak spot that needs patched. The flood protection barriers can be patched while in the field, in either when or dry conditions.
Inflatable Water Dam Sizes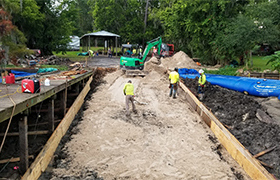 Water inflated dams are available in sizes ranging from 1-8 ft tall, and 25 to 100 feet in length, but we also can provide customized barriers if you need a special size. Rental barriers are also available.

Ask us for more information about temporary flood barriers!
Inflatable Water Dam Installation
Installing the temporary flood barriers couldn't be simpler. Small barriers can be installed manually with only 1-2 people. Larger barriers are best installed using a track hoe or a crane with a 5 man crew. Installation is fast. For example, it typically takes less than 2 hours to install 100 linear foot of flood barrier. The installation time will vary however, depending on size, equipment and site conditions.
For additional information please refer to the Instruction Manual (pdf).
Simply unroll and unfold the inflatable water dam. Attach a garden hose to a port and fill with water until fully inflated. The rubber dams can be overlapped to provide continuous flood protection. Barriers can be overlapped at any angle needed to provide the flood protection that's needed on site. Once the initial flood barrier has been inflated, position the next one up onto the end of the inflated barrier, overlapping the ends. Then inflate the barrier positioned on top of the inflated barrier. The weight of the second barrier will provide downward force to seal the connection joint.
Common Installation Angles

Overlap Requirements
| Inflated Height | | Standard Overlap Length | | 90° Overlap |
| --- | --- | --- | --- | --- |
| 2' | | 3' | | 4.5' |
| 3' | | 4.5' | | 6.75' |
| 4' | | 6' | | 9' |
| 5' | | 7.5' | | 11.25' |
| 6' | | 9' | | 13.5' |
| 7' | | 10.5' | | 15.75' |
| 8' | | 12' | | 18' |
How the Flood Protection Barrier Works

Inflated Water Dams feature a specially designed water baffle system. Once the barrier is inflated, the baffles increase stability and prevent the barrier from rolling. The Flood Protection Barrier gains its stability through the tensioning of the inner restraint baffle(s). Under flooding conditions, the barrier is exposed to increased pressure on one side. The barrier's baffle system adjusts and locks into place when this happens, providing even greater stability.
When installing the temporary flood barrier, you will also want to consider the freeboard. Freeboard is the amount of the inflated barrier that is above the flood water level. A minimum of 25% freeboard is required in all inflatable water dam installations. If the barrier is exposed to water moving at 3 ft/sec or more, more freeboard may be required.
The barriers also require surface (ground) friction as part of their stabilization process, when exposed to uneven hydrostatic pressures. If the soil beneath is weak or slick, additional freeboard may be required. If you have questions about freeboard, please contact us!
Better than Sandbags

Sandbags require resources. You have to not only have the sand delivered, but a place to put it. Then, assuming you can get a supply of sandbags, you need people to fill the bags and stack them. Once the flood event is over, you then need people to dismantle the sandbag barrier and appropriate vehicles to haul the sandbags away. And in many places, there are rules about disposing of the sandbags that must be followed. What's more, the sandbags can't be reused.
With our specially designed Temporary Flood Barriers, you need only to roll them out and fill them with water. When the flood is over, simply drain the flood barriers and roll them up for storage to use another day. Even better, the water inflated flood control barriers work just as well as the sandbags but they install so much faster and with fewer people.
Purchase
Price
Installation
Time
Equipment
Usage
Post-Flood
Restoration
Disposal
Cost
Flood Barrier
$
$
-
-
$
Sandbags
$
$$$$
$
$$
$$$$
Earthen Berm
$
$$$$
$
$$
$$$$
Flood Barriers Frequently Asked Questions
That's a tough question to answer as there are several conditions will impact the answer. But generally speaking, our largest barrier will hold water up to 6' deep, allowing for a 25% freeboard.
Any available water source can be used to fill the temporary flood barriers. Keep in mind that you'll need an appropriate pump and hoses.