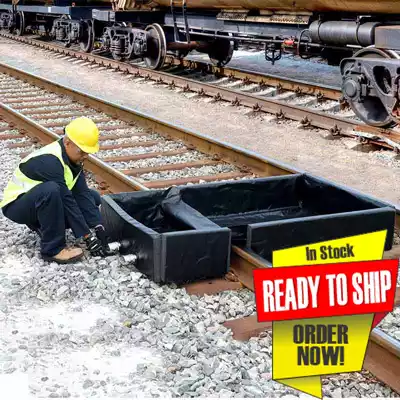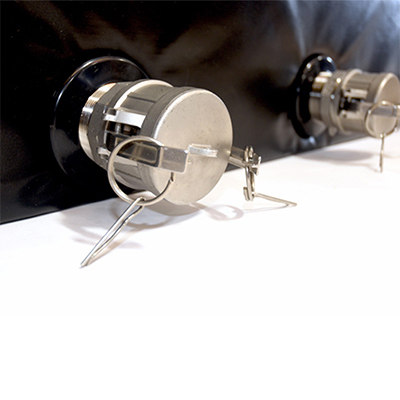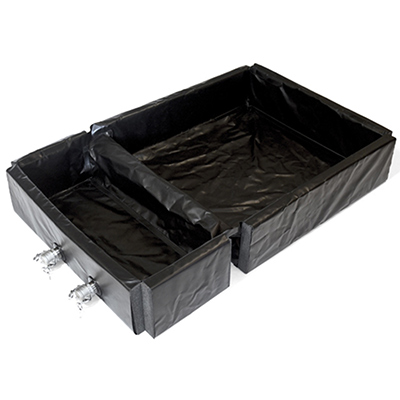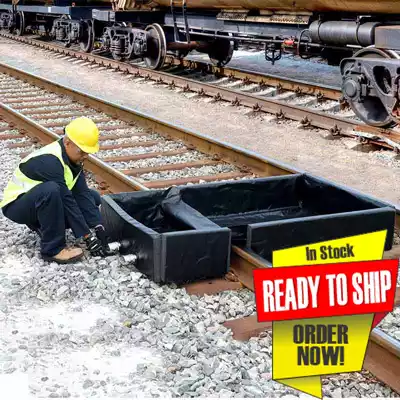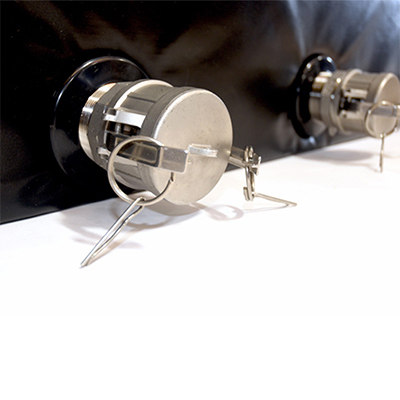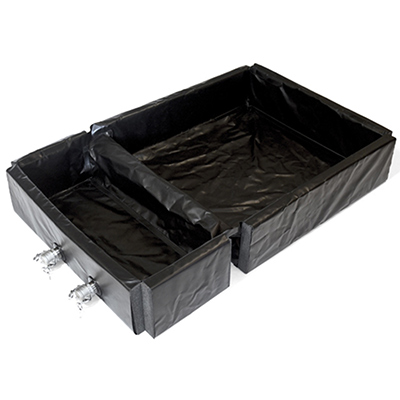 Ultra Track Berm
Railcar Spill Containment Berms
Ultra Track Berm catches leaks and spills from trains and locomotives on railroad tracks. These leaks can have detrimental effects on the surrounding environment at railcar transfer sites. The Ultra Track Berm is perfect for loading areas, maintenance locations, and other sections where leaks and spills can most frequently happen. When you need portable spill containment quickly, the Ultra Track Berm is the right solution. This specialty spill berm can be quickly moved by one person. For a more permanent railroad spill containment solution, we also offer Ultra Track Pans. For more information, call us at 863-261-8388.
See our Ultra Track Berm video below.
Ultra Track Berm Features
42 oz. PVC Material Construction
Two Stainless Steel Camlock Fittings
Dual Sump with 144 Gallon Capacity
Ultra Track Berm Benefits
Durable, Robust Fabric for Harsh Railways Conditions
Lightweight Spill Berm – 24 lbs.
Can Be Moved by One Person
Railcar Spill Containment Berms Details
The railcar spill containment berms that we carry are portable, effective, and a quick-response spill containment solution. Made of 40 oz. (42 mil) PVC material, the Ultra Track Berm is able to withstand the harsh outdoor conditions of the railroad. The lightweight, portable track berm can be easily placed by one person under leaking or spilling railcars. The dual-sump design of Ultra Track Berm ensure that you can catch spills that occur on either side of the rail. When you need to drain the track spill berm, you can use the two stainless steel camlock fittings for quick, leak-free drainage. Railcar spill containment needs to be secure and safe. The sidewalls are made up of closed-cell structure polyethylene foam. The Ultra Track Berm has a containment capacity of 144 gallons. This specialty spill berm is a portable, temporary spill containment solution when you need fast secondary containment. For a more permanent spill containment solution for railcar leaks, see our product the Railroad Track Pans.
Ultra Track Berm Specs
| Part # | Dimensions ft. (m) | Model | Capacity Gal. (L) | Weight lbs. (kg) |
| --- | --- | --- | --- | --- |
| UltraTech 8490 | 40 oz. (42 Mil) PVC | 72 x 48 x 12 (1828.8 x 1219.2 x 304.8) | 144 (545) | 24.0 (10.9) |
PVC Materials Specs
Material
English
Metric
Testing Method
Weight
22 oz./yd2
745 g/m2
FS 5040 / ASTM D3776
Width
up to 126"
up to 320 cm
-
Count
18 x 16/1"
7 x 7/cm
-
Denier
1300 x 1500
1430 x 1650
-
Grab Tensile
459 x 418 lbs./1"
2042 x 1859 N/2.5 cm
FS 5100 / ASTM D5034
Tongue Tear
140 x 150 lbs./1"
623 x 667 N/2.5 cm
FS 5134 / ASTM 2261
Adhesion
22 lbs./2"
98 N/5 cm
FS 5970 / ASTM D751
Finish
Matte
-
-
Cold Crack
-300F
-340C
FS 5874 / ASTM D2136
Treatments
Anti-Mildew, UV Pigments
-
-
Put-Up
75 yds
69 m
Railcar Spill Containment Requirements & Applications
The lightweight and portable Ultra Track Berm is effective in containing liquids from railcar spills or leaks and is easy to install. When completing maintenance or repairs on railcars, spills and leaks can often occur. In these instances, you need to have a measure of protection for the surrounding environment in order to stay in compliance. The Ultra Track Berm is the perfect solution for railways to capture these leaks and spills. The dual-sump design allows you to capture leaks and spills that occur on either side of the rail. Getting on board with federal government regulations and SPCC compliances means using durable spill containment prevention systems. The Ultra Track Berm is perfect for temporary spill containment when performing maintenance and repair. Railcar spill containment regulations also apply to the leaks and spills that could occur when transferring liquids from railcars to trucks. In these applications, you'd need some more permanent railcar spill containment like our Ultra Track Pans.
Railcar Spill Berm and Pan FAQs
The Ultra Track berm weighs 24 lbs. Although it is made of heavy-duty materials and components, one person should be able to carry it wherever it is needed while it is empty. Being able to carry it wherever it is needed on the railroad tracks is extremely beneficial when trying to catch leaks and spills from railcars.
The stainless steel camlock fittings are used to connect hoses to the Ultra Track Berm. In the event of a catastrophic leak or spill that requires you to have a bigger containment sump than the Ultra Track Berm has, you can use the hoses to direct the spillage to a holding tank or another containment area. A helpful tool we offer is called a Hose Bridge. This allows hoses to safely carry harmful liquids without impeding or depressing the spill berm walls.