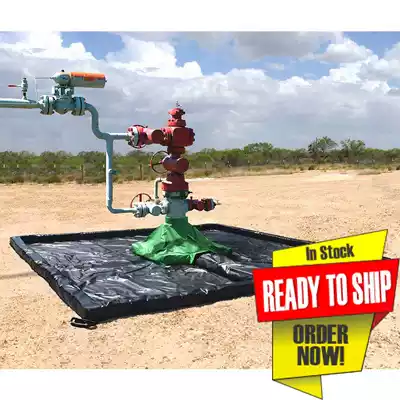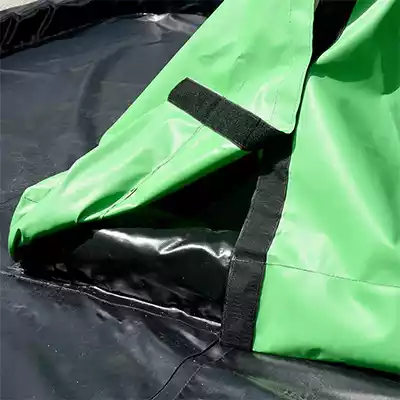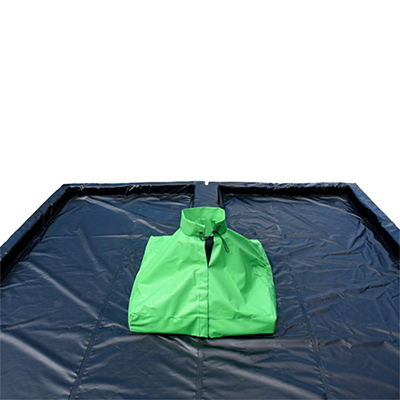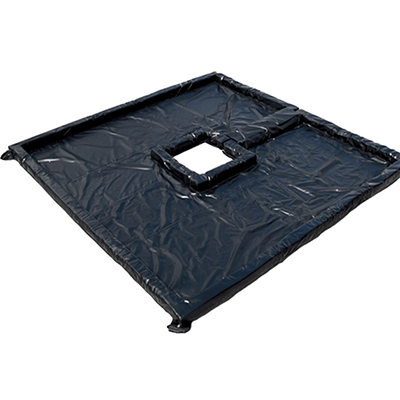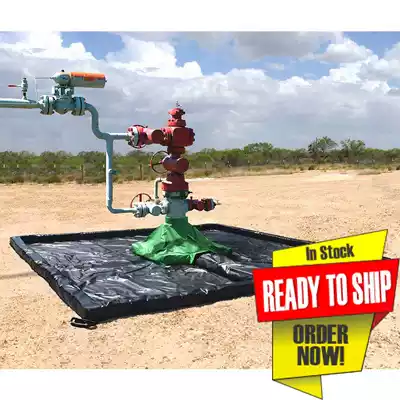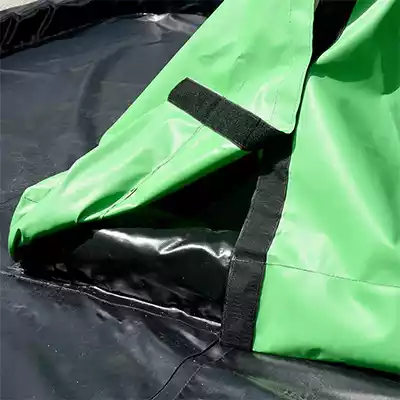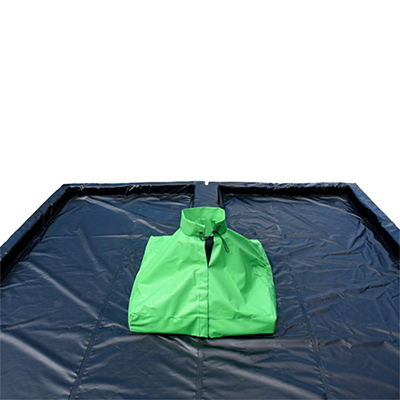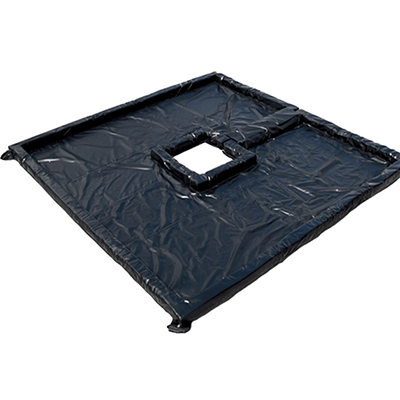 Ultra Wellhead Berm
Oilfield Spill Containment Liner
Ultra Wellhead Berm protects the wellhead (the pressure-containing component at the surface of an oil well) and its surrounding area from an oil or gas leak at the surface of an oil or gas well. Very useful when servicing wellheads, the oilfield spill containment liner is built to last and forms an impermeable barrier between the ground and any spills or leaks that could occur, creating a wellhead protection area. The Ultra Wellhead Berm provides 360-degree protection around oil and gas wellheads. This wellhead product is made with heavy duty material that is durable enough to withstand hard oilfield conditions and provides you with unparalleled chemical resistance. For more information, call us at 863-261-8388.
Ultra Wellhead Berm Features
Copolymer 2000 Material and 22 oz. PVC Hood
217 Gallon Containment Capacity
Catches Leaks, Spill and Drips from Oilfield Wellhead
Ultra Wellhead Berm Benefits
Durable Materials for Oilfield Harsh Conditions
Compatible with Many Chemicals and Liquids
Engineered for 360 Degree Protection
Oilfield Spill Containment and Protection Details
When you need full, 360 degree protection for your oilfield and gas wellheads, the Ultra Wellhead is the durable containment berm you need. With the wellhead protection area it creates, leaks, spills and drips will be captured, keeping your site in compliance. The heavy-duty Copolymer-2000 material can withstand harsh oilfield conditions. The optional hood securely wraps around the wellhead with a drawstring and hook and loop closure. The optional hood is made from 22 oz. PVC. The wellhead hood, which is 24 inches tall, has an adjustable collar that closes to a 10.5 inches diameter. The inner opening and inner dimensions are 24" x 24" (610 mm x 610 mm). The weighted perimeter base allows for easy installation and ensures that the hood will stay in place. The weighted flap will bridge the gap between sections and provide you with a liquid tight seal. The sidewalls of the Ultra Wellhead Berm use a 4-inch foam block throughout the perimeter to give structure. When you need a spill and leak containment wellhead product for fracking and drilling, this frac wellhead berm is a good choice. To create a larger wellhead protection area, we also offer other options, including the Ultra Containment Wall (Bund System), and custom-made liners for spill containment.
Ultra Wellhead Berm Specs
| Part # | Dimensions ft. (m) | Capacity Gal. (L) | Weight lbs. (kg) |
| --- | --- | --- | --- |
| UltraTech 8856 | 10.5 x 10.5 x .03 (3.2 x 3.2 x .10) | 217 (821) | 51.0 (23.0) |
| UltraTech 8858 | 10.5 x 10.5 x .03 (3.2 x 3.2 x .10) | 217 (821) | 63.0 (28.5) |
COPOLYMER-2000 MATERIAL SPECS
Reinforced
English
Metric
Testing Method
Base Fabric Type
Polyester
-
-
Base Fabric Weight (nominal)
3.0 oz/yd2
102 g/m2
-
Finished Coated Weight
28.0 ± 2 oz/yd2
950 ± 70 g/m2
ASTM D751
Thickness
30 mils nominal
0.76 mm nominal
ASTM D751
Trapezoid Tear
30/30 lbf nominal
133/133 N nominal
ASTM D4533
Grab Tensile
250/200 lbf min
1112/890 N min.
ASTM D751 Grab Method
Hydrostatic Resistance
300 psi min
2.06 MPa min
ASTM D751, Procedure A
Adhesion
10 lbf/in min
9.0 daN/5 cm min.
ASTM D751 Dielectric Seam
Cold Crack
Pass @ -25° F
Pass @ -32° C
ASTM D2136 1/8 in mandrel, 4 hr.
Puncture Resistance
50 lbf typical
225 N typical
ASTM D4833
Dead Load
2 in seam, 4 hr, 1 in strip
100 lbf @ 70° F
50 lbf @ 160° F
5 cm seam, 4 hr, 2.5 cm strip
445 N @ 21° C
220 N @ 70° C
ASTM D751
Ultra Mini Spill Berm 8854 Downloads
Wellhead Protection Area Applications
The Ultra Wellhead Berm gives you protection while performing maintenance during fracking operations, wellhead drilling, frac wellheads, and other activities needing superior and serious spill and leak protection. The specialty spill containment berm provides all-around, 360 degree heavy duty protection for wellheads. If you ever have experienced a wellhead pressure relief valve leaking, then you know the value of having oilfield secondary containment. In order to protect the sensitive ground from harmful contaminants. The Ultra Wellhead Berm can contain up to 217 gallons (821 L).
Ultra Wellhead Spill Containment Berm FAQs
The hood of the Ultra Wellhead Berm is designed to wrap around the wellhead to help divert any liquids into the containment area of the berm. It is designed to surround the wellhead with a drawstring hook and look enclosure. The hood is made from durable 22 oz. PVC fabric, and while it is optional, you should know that the more protection you have from leaks and spills on an oilfield, the safer and more compliant you will be.
We strive to meet the needs of each and every spill containment protection plan. On your oilfield, if you require custom materials and sizes for your Ultra Wellhead Berm or other similar solutions that we offer, we want to help. Contact Us for more information on what sizes and custom materials we can provide you in creating an affordable and durable wellhead protection area.