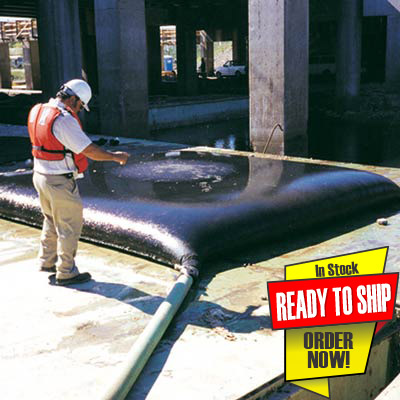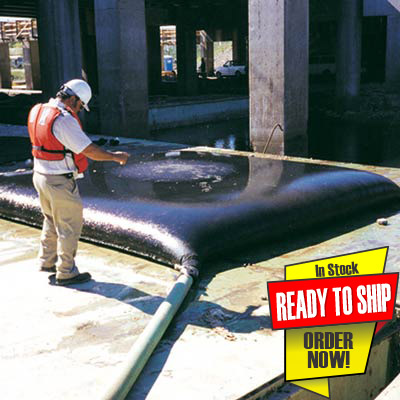 Geotextile Dewatering Bags
Ultratech Dewatering Filter Bag
Geotextile dewatering bags filter both sediment and oil, and are an accepted compliance BMP. Dewatering filter bags successfully retain pollutants from water that is pumped from a jobsite while letting filtered water pass through.
Geotextile Dewatering Bags Features
Filters Both Sediment and Oil
Non-Woven, Polyethylene Geotextile
Accomodates 4" Discharge
Geotextile Dewatering Bags Benefits
Keeps Site Compliant
Custom Sizes and Shapes
Reduces Water Pollution from Site Discharge
Ultratech Dewatering Filter Bag Details
Are water pollutants causing your jobsite to be out of compliance? Don't risk the fines and jobsite shutdowns that happen from noncompliance with clean water regulations. Get an Ultra dewatering bag system that filters out both sediment and oil. Made of non-woven, polyethylene geotextile that can filter both oil and sediment, Ultratech dewatering bags come in sizes ranging from 3'x4', 6'x6', 10'x15', and 15'x15', although custom sizes can be made available for your jobsite.
The max flow rate for these dewatering bags is 500 gallons per minute. The max sediment capacity for the 15'x15' dewatering filter bags is 27,000 pounds, and the max oil capacity is 22.6 gallons. For more Ultra dewatering bag detail, contact our dewatering system product specialists today.
How do dewatering bags work? (see short video below)
Dewatering Filter Bags Specifications
| Part # | Dimensions ft. (m) | Capacity cu. ft. (L) | Weight lbs. (kg) |
| --- | --- | --- | --- |
| Ultratech 9729-O/S | 3 x 4 (0.9 x 1.2) | 12 (340) | 2.0 (1.0) |
| Ultratech 9724-O/S | 6 x 6 (1.8 x 1.8) | 36 (1,019) | 5.0 (2.5) |
| Ultratech 9723-O/S | 8 x 8 (2.4 x 2.4) | 64 (1,812) | 5.0 (2.5) |
| Ultratech 9725-O/S | 10 x 15 (3.0 x 4.6) | 150 (4,247) | 21.0 (9.5) |
| Ultratech 9727-O/S | 15 x 15 | 225 (6,371) | 30.0 (14.0) |
Filter Bags for Dewatering Applications
Dewatering filter bags can help when discharge from a jobsite contains oils, sediment, debris, and other pollutants. When you're required to filter your site discharge to stay in compliance with state and federal regulations, you need an Ultra dewatering bag system that can accommodate for these requirements. Most dewatering bags only filter sediment, but these geotextile dewatering bags can filter oil too. Filter bags can be used on jobsites, in local ponds, or even for dewatering projects on your personal property. The possibilities are endless, and we can help you figure out what Ultratech dewatering bag filter products you need.
Looking for a sediment only dewatering bag? We carry those too. The standard sediment-only dewatering filter bag is constructed from non woven geotextile fabric and will connect with pipes of up to 6 inches. The standard dewatering filter bags have a grab tensile strength of 270 lbs. and a trapezoid tear rate of 150 lbs.
If you're budget conscious, then you might consider a reusable dewatering bag that you can use multiple times. Easy access is provided for disposing of the sediment collected, and for cleaning the bag between uses.
For large applications, consider geotextile dewatering tubes for sludge removal from large bodies of water with high flow rates. Smaller dewatering applications will need lightweight solutions. A dewatering sock will attach directly to runoff hoses to catch silt and sediment. For more information, Contact Us or call at 863-261-8388.
Dewatering Filter Bag Frequently Asked Questions
The max flow rate of a dewatering filter bag is 500 gallons per minute, but varies depending on jobsite conditions and the size of the bag selected. To maximize the flow rate of your filter bags for dewatering, make sure the Ultra dewatering bag system is off the ground on hay bales or aggregate. By getting the dewatering system off the ground, water will be able to flow more freely through the bottom of the bag, maximizing flow rate efficiency. Geotextile dewatering bags are reliable sources of sediment filtration. Depending on the size of your dewatering filter bags, flow rate will vary. Contact our product specialists for more information.
You should dispose of your geotextile dewatering bag in accordance with local and state regulations and as the site engineer directs. You can tell your geotextile dewatering bag is full when the flow rate is reduced and sediment-filled water can no longer pass through the Ultra dewatering bag at a reasonable rate. We also carry reusable dewatering bags if you wish to reuse the filter bags more than once.