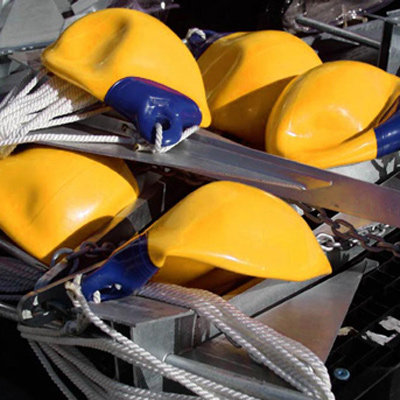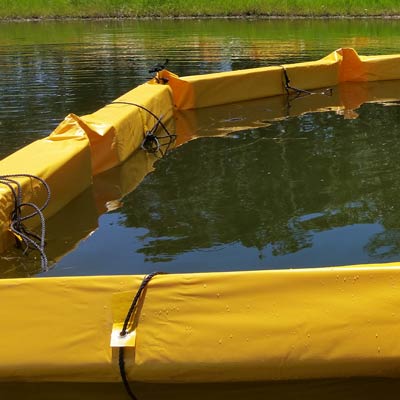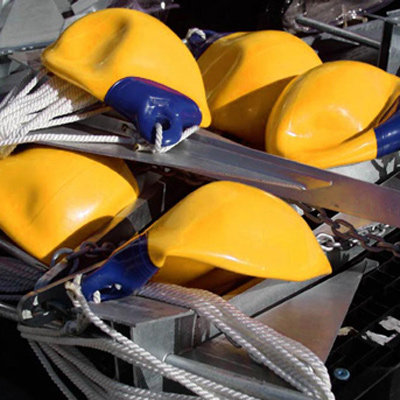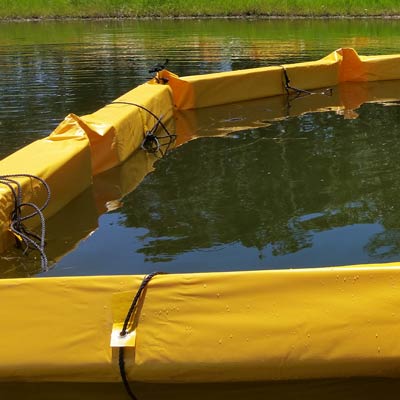 Floating Barrier Accessories
Marine Anchor Kits, Tow Bridles, Buoys, Reefing Lines
Floating barrier accessories are essential equipment for containment boom or turbidity curtain installation and performance. Proper equipment around road construction, dredging sites, and bridge construction is imperative to properly install and maintain your turbidity fence or boom.
Floating Barrier Accessories
Marine anchor kits
Buoys and marker lights
Tow bridle
Reefing lines
Tidal compensator
Floating Barrier Accessories Benefits
Increases the barrier's lifespan
Improves performance
Withstands extended use in water
Floating Barrier Accessories Details
Marine Anchor Kits
Marine anchor kits are a requirement for floating boom or silt curtain that is being installed in moving water or rough water conditions. Anchoring systems will correctly consider silt curtain design and installation for your unique job site conditions. Proper installation of turbidity curtain accessories like marine anchor kits and anchor systems will significantly reduce strain and redistribute weight across the floating turbidity curtain, maintaining containment in the install location and increasing the lifespan of the floating silt curtain. One Clarion's standard marine anchor kits come complete with an anchor, steel chain, polypropylene rope, and one buoy. For your turbidity control system, you can select from several different types of anchors depending on the riverbed or lake bottom at your location. Anchor systems include pyramid anchors, fluke anchors, mushroom style anchors, or navy style anchors. Need pricing? No problem! Simply call our knowledgeable team at 863-261-8388.
Buoys and Marker Lights
One Clarion buoys and marker lights ensure that your floating barrier is visible to marine traffic. Designed for commercial use, marker buoys are great for use in city harbors, small public marinas, and around boat docks. Marker buoys and lights are also useful for demarcation guides and mooring signals. Floating marker lights greatly increase the visibility of your floating turbidity curtain when it has been deployed. Marker lights come complete with the light, pole, and buoy so that it floats next to the floating barrier. One Clarion buoys and marker lights are designed to comply with most local and state regulations.
Tow Bridle
A turbidity accessory like the tow bridle helps with the deployment and installation of your turbidity control system, floating silt curtain, or boom. The tow bridle has been specifically designed to safely tow your turbidity fence into the install position. The bridle features a small flotation device and attaches in two points that help distribute the weight evenly across the silt curtain. The tow bridle is available in small, medium, large, and heavy-duty sizes depending on the silt curtain design and type of turbidity curtain.
Reefing Lines
One Clarion has designed reefing lines specially for use with our floating silt curtain. Turbidity curtain accessories like these allow you to adjust how deep the floating barrier is deployed depending on tidal conditions or the contours of the bottom where the silt curtain is being installed. The adjusting lines are perfect for locations with varying water depths. If you need help with your reefing lines and turbidity curtain installation, we can provide you with information and guidance.
Tidal Compensator
One of the floating barriers accessories that is incredibly helpful in strong tidal conditions is the tidal compensator. The tidal compensator is designed as an adjustment system for floating silt curtain or boom because it self-adjusts as the tides change. The tidal compensator attaches to one end of your turbidity curtain and the other end is connected to an anchoring structure like a dock or pier. As the tide ebbs and flows, the side float automatically adjusts itself and the connector moves up or down on an I-Beam. This action helps keep your floating turbidity fence secure and functioning to its full potential. One Clarion offers the tidal compensator in two models: Standard and Heavy Duty depending on your location requirements.
Floating Barrier Accessories Specifications
Marine Anchor Kits Specifications
| | |
| --- | --- |
| Anchor Weight (lbs.) | 13, 22, 40, 65 |
| Leader Chain | 3/8" (8 ft.) |
| Nylon Rope | 1/2" (60 ft.) |
| Inflatable Marker Buoy | 15" |
| Painter Line | 1/2" (6 ft.) |
| Galvanized Shackle | 3/8" |
Marker Lights Specifications
Size
26" above water
50" Total
Visibility
3.7 miles
Battery Life
30 Days
Flash Rate
2.5 Seconds
Buoys Specifications
| | |
| --- | --- |
| Circumference | 45.55" / 115.71 cm |
| Diameter | 14.5" / 36.83 cm |
| Length | 20" / 50.8 cm |
| Weight | 4.39lbs. / 1.99 kg |
| Buoyancy | 57.1lbs. / 25.9 kg |
| Rope Eye Diameter | 1.5" |
Tow Bridle Specifications
| | |
| --- | --- |
| Small | 12" |
| Medium | 18" |
| Large | 24" |
| Heavy Duty | 24" or 36" |
Reefing Lines Specifications
| | |
| --- | --- |
| Length (ft.) | 15, 30, 31 or more |
| Size | 5/16" |
| Rope | Black Poly Twisted Rope |
Tidal Compensator Specifications
Composition
Stainless Steel or Marine Grade Aluminum
Connector Size
2 3/4" or 4"
Components
Metallic Frame
Rollers
Floats
Boom Connector
Boom and Turbidity Curtain Accessories
One Clarion can furnish boom and turbidity curtain accessories, such as marine anchor kits, anchor systems, tow bridles, marker buoys, and other boom, to fit your unique location challenge. The floating barrier accessories we provide function smoothly in conjunction with the turbidity control system for your location's specifications. They also help to stabilize and secure your equipment investment. Floating barrier accessories are perfect for use in conjunction with applications like aquatic plant, oil, debris control, and turbidity control. One Clarion turbidity curtain accessories are designed and built from marine components that can handle extended time in the water.
When deciding which type of debris boom and turbidity fence you will need, there are certain site conditions you must consider. See the list below of site conditions that will impact your boom or turbidity curtain installation. It includes: For more information on our floating barrier accessories, give our knowledgeable sales team a call at 863-261-8388.
Water Velocity
Wind Speed and Direction
Wave Height and Frequency
Tidal Action
Soil Type
Longevity of the Project
Floating Barrier Accessories Frequently Asked Questions
The turbidity curtain accessories we offer help ensure that the installation of your curtain goes smoothly and easily. It also extends the lifespan and improves the performance and visibility of your investment.
We offer several types of marine anchor kits depending on your site conditions. We consider several factors when choosing which type of anchor kit would be best for your specific site such as the type of curtain or boom and site conditions such as currents and wind speed. The correct type of marine anchor kits will greatly reduce the stress and redistribute the load placed on your floating barrier.