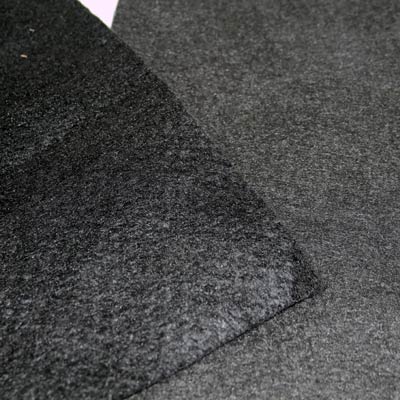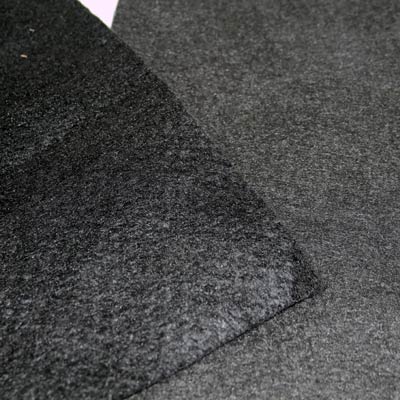 Non Woven Geotextile for Drainage
4.5 oz. Geotextile Filtration Fabric
There are many applications for the 4.5 oz. non woven geotextile fabric: for drainage, filtration, underlayment, and aggregate separation. This geotextile fabric excels in applications that need geotextile filtration as well project areas that need to accommodate high flow.
4.5 oz. Non Woven Geotextile Filtration Fabric Features
Flow rate of 120 gpm/ft²
340 lbs puncture resistance
70 US Sieve
4.5 oz. Non Woven Geotextile Filtration Fabric Benefits
Soil stabilization and drainage
Resistant to UV and will not biodegrade
Economical for project budgets
4.5 oz. Non Woven Geotextile for Drainage Details
Nonwoven geotextile fabric for drainage and many other purposes is made from virgin polypropylene fibers, and needle punched in a pattern to promote quick drainage while maintaining the filtration and strength of the fabric. Since it is made from polypropylene, 4.5 oz. geotextile filtration fabric will not biodegrade. If used underground and well-installed, the non woven geotextile for drainage application will provide results for literally hundreds of years. Non woven geotextile filtration fabrics are also pH stabilized, resistant to rodents and insects, will not rot, and are UV resistant.
The affordable geotextile price makes it a popular choice for filtration, underlayment, erosion control, subsurface drainage, and light duty soil stabilization. It is available in individual rolls, or for even greater savings, ask for the bulk pallet load geotextile price. A quantity supplier of quality non woven geotextile filtration fabrics, we ship throughout the U.S. and worldwide.
Non Woven Geotextile Fabric Roll Sizes for 4 oz/yd² weight:
12.5' W x 360' L | 3.8m W x 109.7m L
15' W x 350' L | 4.6m W x 106.6m L
4 oz Non Woven Geotextile Filtration Fabric Specifications
(Equivalent to Mirafi®140N, Willacooche 450N, Propex Geotex 401, US Fabrics US 120NW, Carthage FX 45HS, Linq 140EX, Skaps GT 142)
| Property | Minimum Average (Roll) | Test Method |
| --- | --- | --- |
| Fabric Weight | 4.5 oz/yd² | 142 g/m² | ASTM D-5261 |
| Grab Tensile | 120 lbs | .533 kN | ASTM D-4632 |
| Grab Elongation | 50% | ASTM D-4632 |
| Trapezoidal Tear | 50 lbs |.222 kN | ASTM D-4333 |
| CBR Puncture Resistance | 340 lbs |1.46 kN | ASTM D-6241 |
| UV Resistance | 70% | 500 hrs | ASTM D-4355 |
| Permittivity | 1.7 sec-1 | ASTM D-4491 |
| Flow Rate | 120 gpm/ft² | 4885 l/min/m² | ASTM D-4491 |
| AOS | 70 US Sieve | .212 mn | ASTM D-4751 |
*Unless otherwise noted these specifications are based on testing conducted at the time of manufacturing. For more information on our non woven filter fabric specifications, see our non woven filter fabric specifications .
Mirafi® Nonwoven Geotextile Drainage Fabric
Another popular mid-weight nonwoven drainage fabric is our Mirafi® N-Series nonwoven drainage geotextile. This Mirafi® 140n filter fabric easily conforms to ground or trench surfaces ensuring problem free installation. The N-series' high flow-through rate makes this geo drainage fabric perfect for French drains, as well as other soil separation, drainage and filtration applications.
Mirafi® 140n filter fabric for drainage and filtration eliminates the challenge of determining aggregate gradation required to match soil conditions, giving you effective filter performance. Find out more about the Mirafi® N-Series or visit our Mirafi® Nonwoven Geotextile page to see all of our Mirafi® options.
4.5 oz. Non Woven Geotextile Filtration Fabric Applications
With the ability to manage projects with high flow, 4.5 oz. is a preferred non woven geotextile for drainage. Use this geotextile for subsurface drainage beneath dirt roads, paved driveways, sports fields, and other locations where faster drainage is important. The non woven geotextile fabric also provides excellent filtration and erosion control, retaining soils and sediment while letting the water flow through. Still considered a lightweight non woven geotextile, for this price, geotextile fabric of 4.5 oz. weight can also be used for wrapping pipes to provide a layer of filtration.
Use 4.5 oz. geotextile fabric (nonwoven) rolls for:
Asphalt Overlay and Underlayment: Driveway and road construction projects need a uniform layer of tear-resistant support underneath. Non woven geotextile can be used as an underlayment to add longevity and support that your road or driveway will need for years to come.
Erosion and Sediment Control: When it comes to protecting slopes and controlling sediment, the non woven geotextile is a viable option. Make sure to ask our product specialists about geotextile price in relation to what type of non woven geotextile you need.
Drainage and Filtration: Non woven geotextile for drainage is a common use for lightweight fabrics, especially in use with French drain systems to limit the flow of sediment. In fact, geotextile subsurface drainage filtration is an excellent application for the 4.5 oz. non woven geotextile fabric.
4 .5 oz. Non Woven Geotextile Installation
The instructions listed below provide a general installation guide for 4.5 oz. non woven geotextile for drainage. If available, site and project specific installation instructions should take priority in the installation process.
When embarking on installing your non woven geotextile for drainage it will be important to identify the right fabric weight and size to complete your project successfully. If you need assistance in finding the best non woven geotextile or other types of geotextile, contact our product specialists.
First, remove the obstructions from your install area. This will include removing debris, sharp object, and other items that will get in the way, obstruct, or harm the geotextile filtration fabric. Once the objects of obstruction are removed, the installment area needs to be leveled in order for the non woven geotextile to lay flat.


Next, place the geotextile filtration fabric in the install area, following the installation project plan, leaving an overlap of 12-18" around the edge. Once the fabric is in place, secure it with staples, paying special attention to the overlapping edges.


Lastly, backfill the fabric to at least 6", knowing that ground with poorer soil may require a deeper backfill.


Need more information on our biodegradable erosion control solutions? See our Erosion Control Line Card.
For assistance with interpreting site-specific plans and in identifying the right non woven filter fabric weight for the project, please Contact Us.
Non Woven Geotextile for Drainage Frequently Asked Questions
When compared with medium or heavy weight non woven geotextile materials, light weight non woven geotextile fabrics offer a light level of permeability, which makes it a great choice for geotextile subsurface drainage filtration for French drains and pipes.
The geotextile price will depend on the number of rolls you need and the type of geotextile you need. Geotextile filtration price will also depend on the specific needs of your project. For more information on geotextile price and the type and amount of geotextile you need, give us a call at 1-863-261-8388.