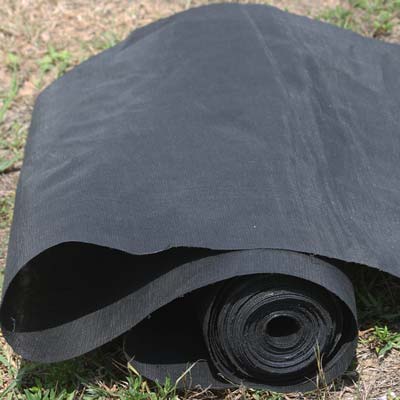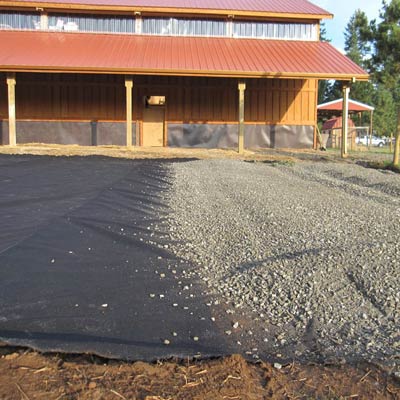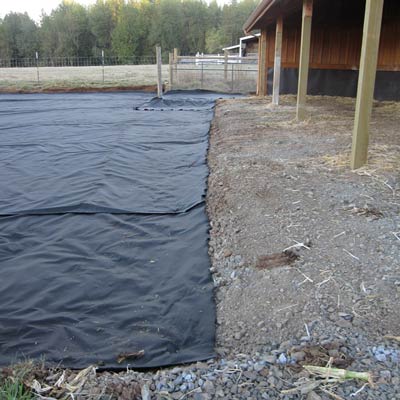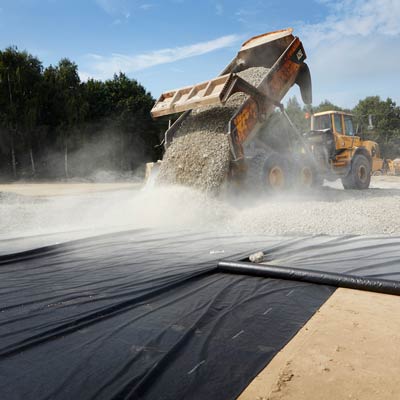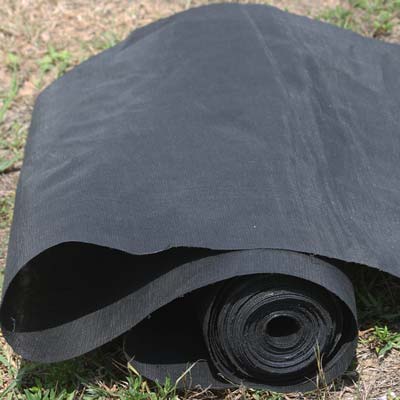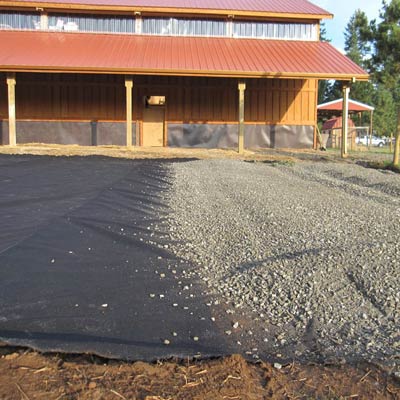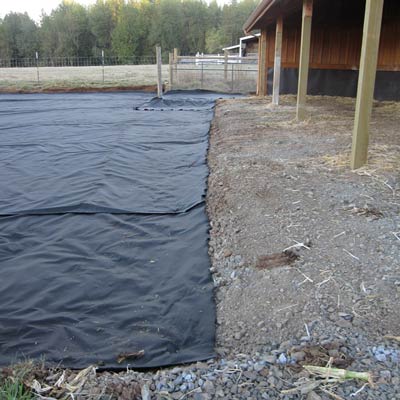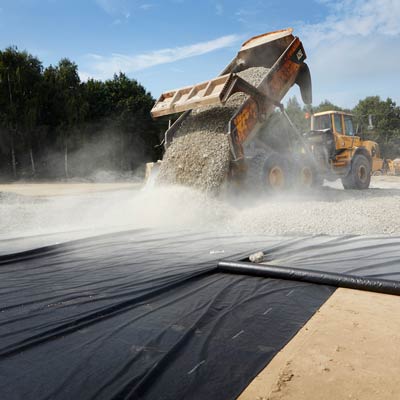 Woven Geotextile 200
Woven Geotextile Stabilization Fabric
Woven geotextile 200 is a high strength woven geotextile stabilization fabric commonly used in road construction, driveways, railroads, sports fields, and other soil stabilization projects. With a tensile strength of 200 lbs, it is considered a high strength woven geotextile fabric yet also offers filtration benefits.
Woven Geotextile 200 Features
Sold by the roll or pallet
200 lbs. grab tensile strength
Black woven fabric
Woven Geotextile 200 Benefits
Permeable for drainage and filtration
Strong and puncture resistant
Adds strength to soil needing stabilization
200 Woven Geotextile Details
Made for strength and durability, 200 woven geotextile fabric is the choice for geotextile stabilization fabrics in road construction and paving projects. Already affordably priced, gain additional savings by keeping a woven geotextile fabric supply available on hand. Ask for a woven geotextile price by the pallet load.
Woven geotextile stabilization fabric is not biodegradable, which gives it the unique property of having an extraordinary field use life. Once in ground on a project, this geotextile so commonly used in road construction projects can literally last hundreds of years. Additionally, it has a high level of resistance to mildew, insects, and chemicals. A high strength woven geotextile fabric but not quite graded as heavy-duty, US 200 woven geotextiles is used primarily for providing soil stabilization and support on sites that also need some filtration capabilities from the underlayment fabric. PH and UV stabilized woven geo fabrics are also available.
US 200 Woven Geotextile Specifications
Roll Sizes (Sold by the roll or by the pallet):
12.5' W x 432' L (3.8 m W x 131.7 m L)
17.5' W x 309' L (4.6 m W x 94.2 m L)
Equivalent to Mirafi 500X, Willacooche 200W, Propex 200ST, US Fabrics US 200, Carthage FX 55, Linq GTF 200, Skaps SW 200
| Property | Minimum Average (Roll) | Test Method |
| --- | --- | --- |
| Grab Tensile | 200 lbs (.9 kN) | ASTM D-4632 |
| Grab Elongation | 15% % | ASTM D-4632 |
| Mullen Burst | 400 psi | ASTM D-3786 |
| CBR Pressure Resistance | 700 lbs (3.12 kN) | ASTM D-6241 |
| Trapezoidal Tear | 75 lbs (.334 kN) | ASTM D-4333 |
| Permittivity | 0.05 sec (-1) | ASTM D-4491 |
| Water Flow | 5 gal/min/sq. ft (203 l/min/sq. m) | ASTM D-4491 |
| U.V. Resistance | 70% at 2500 hr | ASTM D-4355 |
| AOS | 40 US Sieve (.425 mn) | ASTM D-4751 |
*Unless otherwise noted these specifications are based on testing conducted at the time of manufacturing.
Grab Tensile Strength, Elongation and Mullen Burst: Indicates the breaking load of the fabric.
CBR Pressure Resistance and Trapezoidal Tear: Measures the strength of the fabric while under tension.
Permittivity, Flow Rate and AOS: Measures the rate of water flow through the fabric.
Woven Geotextile Applications
For safer and longer-lasting road, railroad, and paving results, follow industry best practices by using geotextile stabilization fabric as an underlayment in the project. Use this geotextile in road construction projects needing to reinforce poor soil layers and to separate them from added aggregates. Woven geotextile 200 is best for projects that need a medium to high strength woven geotextile fabric with moderate filtration properties. Rot resistant with a very long field-use life, using 200 woven geotextile fabric as an underlayment will significantly increase the lifespan of your project.
In addition to being used for paving and road construction, due to its combination of strength and permeability, geotextile fabric is also used for:
Soil stabilization
Aggregate separation
Stabililzing slopes and hillsides
Shoreline restoration
Railroad construction
Erosion control
US 200 Woven Geotextile Installation
While each project's installation instructions are tailored to the specific details and project goals, topography, and soil characteristics, these instructions can be used as a general guideline. Please consider any location and project specific requirements or additional considerations when planning your woven geotextile fabric installation.
1) Prepare the installation location by removing stumps, stones and any other objects that could interfere with the fabric resting flush against the ground and that could puncture the geotextile fabric. Depending on the project, this can sometimes include vegetation and topsoil.


2) Level the installation area. If the soil is very soft, it may need to be removed and possibly replaced with a higher-grade aggregate.


3) Gently roll the geotextile fabric out across the installation area. The fabric should be placed according to site specific plans. Allow a 12" to 18" overlap of fabric sheets and place the overlapping seams such that the exposed edge faces toward the downhill grade. Stretch the fabric as tight as possible.


4) Secure the fabric using staples or pins, paying special attention to the edges of the fabric and the overlapping segments.


5) Cover with a layer of aggregate or other backfill. The aggregate lift should be at least 6" thick, with the possibility of needing a thicker layer for softer subgrades.


If you need assistance with interpreting your project's installation plans, or for questions about woven geotextile prices, please Contact Us.
Need more information on our biodegradable erosion control solutions? See our Erosion Control Line Card.
US 200 Woven Geotextile Frequently Asked Questions
For starters, we only work with quality, reputable woven geotextile suppliers who stand behind their products. With decades of experience, and with staff that are FDEP inspector certified, we are passionate about understanding your project needs and helping protect your project by satisfying compliance requirements. Lastly, we know how important it is that materials be available on site when promised, and how expensive and frustrating it is when they're not. We are committed to helping your project run smoothly and becoming your trusted and go-to woven geotextile supplier.
Since it is made from high strength polypropylene fibers, woven geotextile fabric is generally believed to have an indefinite lifespan once in the ground, lasting hundreds of years.
US 200 woven geotextile fabric is used in road construction because of it' high strength and permeability. When used as an underlayment, geofabric for roads fortifies the soil, reduces rutting, and allows water on the surface to flow through. We also carry woven geotextile fabric 150 if you need a geotextile fabric that can accommodate greater filtration rates. Woven geotextile 300 fabric is an option for projects needing a heavy duty and high strength solution.