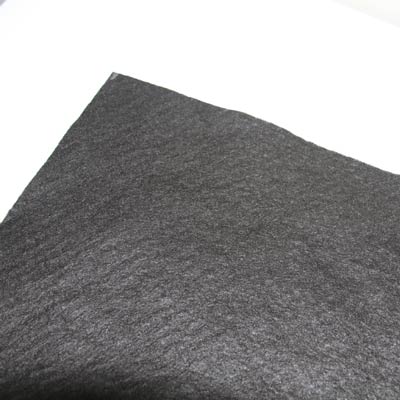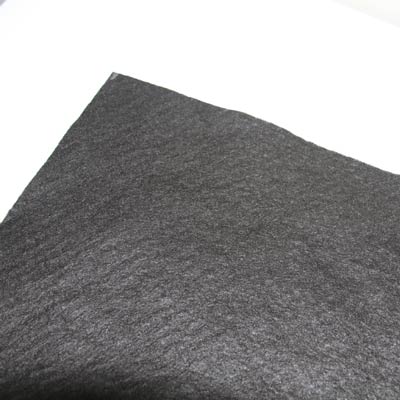 Non Woven Polypropylene Fabric
Non Woven Needle Punched Geotextile 3.1 oz
The lightest weight non woven polypropylene fabric, the 3.1 oz offers the fastest flow rate of all the non woven needle punched geotextile fabrics. With a flow rate of 150 gpm/ft², use this black non woven geotextile fabric for applications with high water flow.
3.1 oz Non Woven Polypropylene Fabric Features
150 gpm/ft² flow rating
2.2 sec-1 permittivity rating
175 lbs puncture resistance
3.1 oz Non Woven Polypropylene Fabric Benefits
High flow rate
Good filtration properties
Long lasting durability
3.1 oz Non Woven Polypropylene Fabric Details
Non woven needle punched geotextile fabric is made from virgin polypropylene fibers, then punched with barbed needles to create the black non woven geotextile's felt-like texture. Not being biodegradable, non woven polypropylene fabric will last for an indefinite period underground. Adding to the geotextile fabric's longevity, it is UV resistant, pH stabilized, resistant to rodents and insects, and will not rot or mildew.
3.1 oz non woven polypropylene fabric has the highest filtration rates. As the lightest weight non woven fabric offered, it also fits into project budgets easily. While available by the roll, realize even greater cost savings by ordering by the pallet. Polypropylene geotextile fabric rolls can be delivered nearly anywhere, whether in the US or worldwide.
3.1 oz Non Woven Polypropylene Geotextile Fabric Specifications
Choose the type of black non woven geotextile needed for your project by comparing the properties of each grade of fabric to your project's specifications. Lighter weight polypropylene fabrics have higher filtration properties, while heavier weight fabrics are known for their increased strength. For additional geotextile fabric options, see; Geotextile Specifications Chart. Non woven polypropylene fabric is available in:
Light weight: 3.1; 3.5; 4; 5 oz
Medium weight: 6; 8 oz
Heavy weight: 10; 12;16 oz
| Property | Minimum Average (Roll) | Test Method |
| --- | --- | --- |
| Grab Tensile | 80 lbs | .35 kN | ASTM D-4632 |
| Grab Elongation | 50% | ASTM D-4632 |
| CBR Puncture Strength | 175 lbs | .76 kN | ASTM D-6241 |
| Trapezoidal Tear | 30 lbs | .13 kN | ASTM D-4333 |
| UV Resistance | 70%/500 hrs | ASTM D-4355 |
| Permittivity | 2.2 sec-1 | ASTM D-4491 |
| Flow Rate | 150 gpm/ft² | 6095 l/min/m² | ASTM D-4491 |
| AOS | 50 US Sieve | .30 mn | ASTM D-4751 |
*Unless otherwise noted these specifications are based on testing conducted at the time of manufacturing. Roll Sizes (Sold by the roll or by the pallet):
12.5' W x 360' L | 3.8m W x 109.7m L
15' W x 360' L | 4.6m W x 109.7m L
Mirafi® Polypropylene Nonwoven Fabric
We also offer Mirafi® Mscape, one of our popular nonwoven polypropylene fabrics. This rot-resistant, heat-treated nonwoven polypropylene filter fabric provides high permeability and water flow rate. Mscape geotextile filter fabric is perfect for landscaping and permanent sediment control. The polypropylene geo fabric's design allows air, water, and fertilizer to pass through while retaining debris and pollutants. Mirafi® Mscape stays in place without mildewing, becoming brittle or decomposing.
Find out more about our Mirafi® Mscape nonwoven polypropylene fabric. We also carry other Mirafi®non-woven geotextiles. See our Mirafi® geotextile filter fabric options.
Non Woven Polypropylene Fabric Applications
Non woven polypropylene fabric is a popular choice and is an effective and affordable filtration solution. The 3.1 oz is a multipurpose non woven polypropylene fabric, providing a popular and affordable option for soil stabilization, filtration, and erosion control in project sites with mild conditions. While 3.1 oz is the lightest weight of the black non woven geotextile fabrics, it also has the best flow rate of them all. Use 3.1 non woven needle punched geotextile for:
Soil stabilization

Adds strength and support to locations with poor soil quality or sloping gradients.

Erosion and sediment control

Provides results in protecting slopes, banks and hillsides from the effects of erosion, and has strong soil retention properties.

Underlayment

Reinforces jobsites while providing a uniform and tear resistant underlayment layer for road and driveway construction projects. Using non woven polypropylene fabric as an underlayment will prolong the life of your driveway or road.

Drainage and filtration

Filters sediment while letting stormwater pass through.

Gasoline filtration

Filters gasoline effectively with its 50 sieve rating.
When asphalt begins to crack, non woven geotextiles can provide an extra layer of support. Placing the non woven geotextile down before the asphalt is poured helps to prevent cracking. It allows the road to have a longer lifespan and flexibility during use.
Another common application for non woven geo fabric is filtration around French drains and subsurface drains. Non woven filters out silt and other contaminants while allowing the water to flow through.
The aggregate separation application is for areas where soil stabilization is required. Polypropylene geotextile fabric allows water to pass through the material, which acts as a stable layer that will not be weakened due to water.
3.1 oz Non Woven Polypropylene Fabric Installation Instructions
Non woven needle punched polypropylene geotextile fabric installation instructions are listed below. Please use these only as a general guide. It is best to use specific instructions designed for your project's unique conditions and environment, when available.
1) Prepare the project area by removing stumps, rocks, and other objects that could puncture the fabric or keep it from filtering properly.
2) Smooth and level the installment area.
3) Place the non woven polypropylene fabric on the ground, overlapping at 12-18".
4) Secure the fabric using staples or similar, especially around edges and overlaps.
5) Backfill over the fabric to at least 6" depth. Poor ground soils may require a deeper backfill.
For assistance with interpreting site-specific plans, and in identifying the right non woven polypropylene fabric weight for the project, please call us.
Need more information on our biodegradable erosion control solutions? See our Erosion Control Line Card.
Non-Woven Polypropylene Fabric Frequently Asked Questions
Non woven polypropylene fabrics are classified into three categories based on their weight in number of ounces per square yard. This categorization represents a general guideline based on the specifications and properties of the fabric's features at that weight. Typically, the heavier the weight, the heavier-duty job the non woven needle punched geotextile fabric can handle.
Light Weight Non Woven Geotextile Fabrics
3.1 oz
3.5 oz
4 oz
4.5 oz
Medium Weight Non Woven Geotextile Fabrics
6 oz.
8 oz
Heavy Weight Non Woven Geotextile Fabrics
10 oz
12 oz
16 oz
These are some of the common terms that you'll see listed in non woven geotextile specifications:
Grab Tensile Strength and Elongation: Indicates the fabric's breaking load
Trapezoidal tear strength and CBR puncture resistance: Measures the strength of the fabric when tension is applied
Permittivity: Measures the rate that water flows through the fabric
AOS: Stands for Apparent Opening Size, and indicates the percentage of open area in the fabric pattern