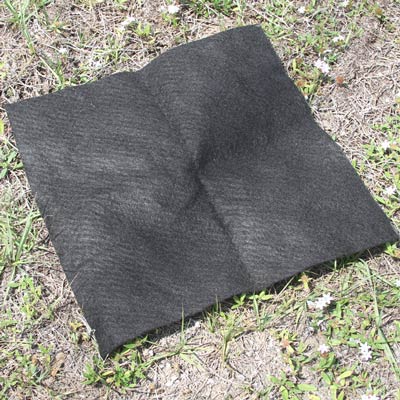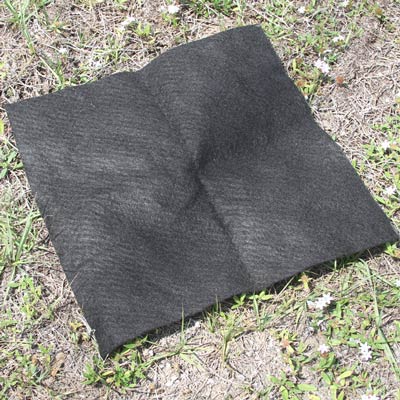 Nonwoven Geotextiles for Filtration
8 oz Geotextile Fabric for Sale
Nonwoven geotextiles are made from 100% needle punched polypropylene for use in filtration and stabilization projects. Nonwoven geotextiles are available in a range of fabric weights (from 3 oz to 16 oz) to provide a choice of materials to fit your project's specific site conditions.
8 oz Nonwoven Geotextiles Features
Fabric: 8oz Geotextile, Needle Punched Polypropylene
Roll Sizes: 12.5' x 360' and 15' x 300'
Tensile Strength: 205 lbs
Water Flow Rate: 90 gpm/ft²
85 lbs Puncture Resistance
8 oz Nonwoven Geotextiles Benefits
Reliable Separation and Filtration
High Resistance to UV Rays and Biological Chemicals
Cost Effective Erosion Control
High Level of Flexibility and Strength
8 oz Nonwoven Geotextiles Details
The strongest and most rugged of the medium-weight nonwoven geotextiles, 8 oz geotextile fabric is an industry standard and often used for a variety of projects. With a grab tensile strength of 205 pounds and a flow rate of up to 80 gpm, it can withstand the pressure of sediment control on hillsides, riverbanks and beneath rip rap. Non woven geotextile fabric (8 oz) is also pliable and flexible, making it a practical fabric for French drain systems. One of our medium-strength geotextiles, 8 oz needle punched filter fabric is popular for long-term applications that require a combination of strength and accommodation of moderate flow rates. 8 oz geotextile fabric is also often used to separate soils and aggregates for a protective cushioning underlayment.
8 oz Nonwoven Geotextiles Specifications
| Property | Test Method | Minimum Average Roll Value (M.A.R.V.) |
| --- | --- | --- |
| Weight (typical) | ASTM D5261 | 8 oz/yd² (271 g / m²) |
| Grab Tensile | ASTM D4632 | 225 lbs(1 kN) |
| Grab Elongation | ASTM D4632 | 50% |
| Trapezoid Tear Strength | ASTM D4533 | 90 lbs(0.4 kN) |
| Thickness* | ASTM D5199 | 100 mils (2.5 mm) |
| CBR Puncture Resistance | ASTM D6241 | 600 lbs. (2.90 kN) |
| Permittivity* | ASTM D4491 | 1.26 sec -1 |
| Permeability | ASTM D4491 | 0.3 cm/sec |
| Water Flow* | ASTM D4491 | 80-90 gpm/ft² (4074 l/min/m²) |
| A.O.S* | ASTM D4751 | 80 U.S. Sieve (.18 mm) |
| UV Resistance | ASTM D4355 | 70% per 500 hrs |
*Our nonwoven needle punch filter fabrics meet or exceed these specifications.
8 oz Geotextile Fabric - Packaging Details per Roll*
| Packaging | Details |
| --- | --- |
| Roll Dimensions | 15' x 690' |
| Square Yards per Roll | 1150 |
| Estimated Roll Weight | 620 lbs |
*Ask us about bulk/pallet nonwoven geotextiles pricing!
Mirafi® Nonwoven Geotextile Filter Fabric
One of our other popular nonwoven filter fabrics is the Mirafi® N-Series polypropylene nonwoven geotextile. This needle-punched filter fabric is constructed to easily conform to ground or trench surfaces for a problem free installation. The N-series' high flow-through rate makes this drainage fabric perfect for French drains and other soil separation, drainage and filtration applications. Mirafi® filter fabrics eliminate the challenge of determining aggregate gradation required to match soil conditions, ensuring constructed drainage provides effective filter performance. Find out more about the Mirafi® N-Series or visit our Mirafi® Nonwoven Geotextile page to see all of our Mirafi® options.
8 oz Nonwoven Geotextiles Applications
Nonwoven geotextiles can be used in a wide range of applications to help with separation, filtration, drainage, ground reinforcement, and even cushioning protection. Made from polypropylene fibers, 8 oz geo filter fabric offers a high resistance to UV exposure, rotting and other factors to help increase longevity in the field. Non Woven Geotextile Fabric (8 oz) is commonly used for applications such as:
Slope Reinforcement
Landfill Lining
Pond Reinforcement
Retaining Structures
French Drains
Cushioning Underlayment
Ground Stabilization
Filtering & Drainage
Lagoon Lining
Road Construction
Railroad Repairs
Shoreline Stabilization
For projects that need fabric with greater strength and less filtration, consider Woven Geotextiles as a possible solution.
Need more information on our biodegradable erosion control solutions? See our Erosion Control Line Card.
Not sure which geotextile fabric you need? We can help. Contact Us or Call us for more information at 1-863-261-8388.
8 oz Nonwoven Geotextiles Frequently Asked Questions
Nonwoven geotextiles are broken into three general classifications: lightweight, medium weight, and heavy weight. These classifications are to offer guidance in selecting the best nonwoven geotextile for a project. Lightweight geotextile fabrics (3 oz to 5 oz) are designed for projects that need fast drainage, that can handle a high volume of water (or liquid), and where the environmental conditions are fairly mild. Heavy weight geotextiles are designed for projects that have rigorous conditions and need a strong, tear-resistant fabric that can handle a fair amount of stress-loading without being able to process as much stormwater. Medium weight nonwoven geotextiles are for more moderate conditions.
The unique properties of a nonwoven fabric are illustrated through the measurements listed in the product specifications. Some commonly listed specifications include:
Weight: The number of ounces per square yard.
Grab Tensile Strength and Elongation: Indicate the breaking load of the fabric.
Trapezoidal Tear Strength & CBR Puncture Resistance: Are two different methods of measurements indicating the strength of the fabric under tension.
Permittivity & Permeability: measure the rate of water flow through the fabric.
AOS (Apparent Opening Size): Fabrics with a higher percentage of open area experience less clogging. Check our Nonwoven Geotextile FAQ page for more information.