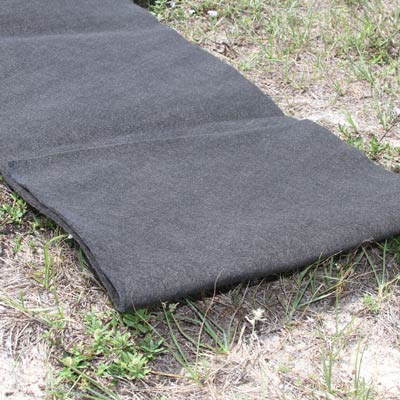 s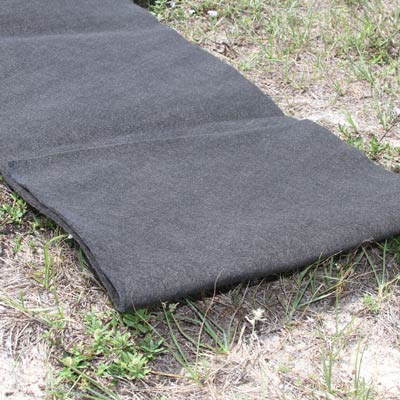 16 oz Heavy Duty Fabric Non Woven
Non Woven Geotextile Fabric Underlay
Of the nonwoven geotextile fabrics for sale, 16 oz nonwoven geotextile is the strongest fabric option available and is commonly used as a geotextile fabric underlay. While it is most often used as a geotextile underlayment for cushioning, soil stabilization or as protective lining, it has other practical applications as well.
16 oz Geotextile Fabric Underlay Features
Fabric: Nonwoven Needle Punched Polypropylene
Grab Tensile Strength: 360 lbs
Weight: 16 oz/yd²
16 oz Geotextile Fabric Underlay Benefits
High Strength for Roads, Rip Rap or Pavement
Effective Separation Fabric
Durable and Reliable
16 oz Geotextile Fabric Underlay Details
The heaviest weight and strongest nonwoven geotextile fabric, 16 oz. geotextile fabric underlay will withstand even the most challenging project conditions. The grab tensile strength of 380 lbs provides superior fabric strength. With a grab elongation rate of 50% it has enough elasticity to provide just the amount of forgiveness in the fabric. And with a trapezoidal tear strength of 145 lbs, this geotextile fabric underlay isn't likely to suffer from puncture. The AOS rate still provides good filtration, and the nonwoven geotextile can process 50 gpm in flow rate. 16 oz nonwoven geotextile fabric ships US and worldwide and is available by the roll or with bulk pallet pricing. Other 16 oz Geotextile Fabric Underlay Features and Benefits:
Roll Sizes: 15' x 150'
Square Yards per Roll: 250
Roll Weight: 250 lbs
50% Elongation
High Chemical and Rot Resistance
Flexible Fabric
Withstands Constant UV Exposure
This geotextile fabric underlay features a high grab tensile strength of 380 lbs (comparable to woven models) while still allowing for a permeability level of 0.7 sec-1. Nonwoven geotextile fabrics for sale are also available in lightweight and medium weight models, featuring a range of tensile strength and flow rate options to suit each project's requirements. Packaging details for the 16 oz Geotextile Fabric Underlay are as follows. Roll Dimensions for the 16 oz geotextile fabric underlay are 15' x 150' (W x L) and 250 Square Yards per Roll. Call us for assistance at 1-863-261-8388!
Need more information on our biodegradable erosion control solutions? See our Erosion Control Line Card.
16 oz. Geotextile Fabric Underlay Specifications
| Property | Test Method | Minimum Average Roll Value (M.A.R.V.) |
| --- | --- | --- |
| Weight (typical) | ASTM D5261 | 16 oz/yd²(542 g/m²) |
| Grab Tensile | ASTM D4632 | 380 lbs(1.69 kN) |
| Grab Elongation | ASTM D4632 | 50% |
| Trapezoid Tear Strength | ASTM D4533 | 145 lbs(.644 kN) |
| CBR Puncture Resistance | ASTM D6241 | 1080 lbs(4.82 kN) |
| Permittivity* | ASTM D4491 | 0.7 sec-1 |
| Water Flow* | ASTM D4491 | 50 gpm/ft²(2035 l/min/m²) |
| A.O.S* | ASTM D4751 | 100 U.S. Sieve(.150 mm) |
| UV Resistance | ASTM D4355 | 70% per 500 hrs |
*Our nonwoven needle punch filter fabrics meet or exceed these specifications.
16 oz Geotextile Fabric Underlay Applications
Nonwoven geotextiles have been used in several different applications involving the stabilization or separation of aggregates. When comparing the use of a woven or nonwoven geotextile, the nonwoven fabric is often used in applications where extra levels of filtration is required. Some common applications for these geotextiles have included the following:
Geotextile Fabric Underlayment
Asphalt Overlay for Paving Projects (Roads, Sports Fields)
Erosion Control Applications
Drainage for Erosion Prone Areas
Filtering for Various Particle-Laced Waters
Underlayment for Cracking Roads, Railroad Ballasts and more
Tough Embankments
Separation of Subsoil and Aggregates
Slope Stabilization
Filtration Systems
Pond Lining
Cushioning Applications
Rip Rap
For projects that need fabric with greater strength and less filtration, consider Woven Geotextiles as a possible solution.
Not sure which geotextile fabric you need? We can help. Contact Us or Call us for more information at 1-863-261-8388.
16 oz Geotextile Fabric Underlay Frequently Asked Questions
Nonwoven geotextile can definitely be used for a gravel driveway as a means of underlayment, adding stability and resiliency to your project. For gravel or dirt roadways, You can use nonwoven geotextiles for separation as well.
Because of its strength and the way the fabric is made with a needle-punching system, standard applications for the heavy weight nonwoven geotextile will include sediment control, drainage, heavy erosion control, separation of aggregates, use in filtration systems, stabilization and underlayment as well as asphalt overlay.