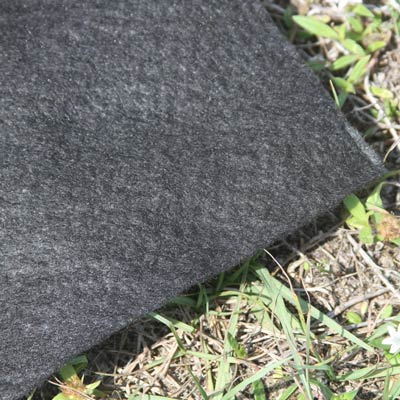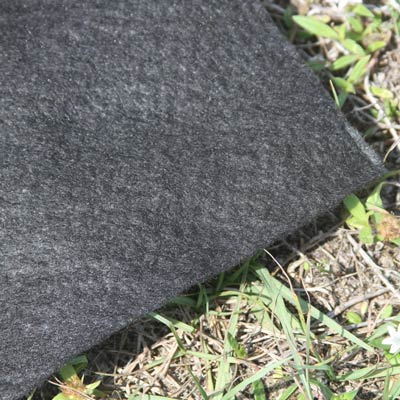 Nonwoven Geotextile Drainage Fabric
6 oz Drainage Geotextile Fabric
Nonwoven geotextile drainage fabric is the perfect choice for projects requiring ground stabilization, aggregate separation, or soil reinforcement. A mid-weight nonwoven geotextile drainage fabric, the 6 oz needle punched geotextile will meet specs that require up to 160 lbs of grab tensile strength and flow rates up to 125 gpm.
6 oz. Nonwoven Geotextile Drainage Fabric Features
Fabric: Needle Punched Polypropylene
Roll Sizes: 12.5' x 360' and 15' x 300'
Roll Weight: 160 lbs
Water Flow Rate: 110 gpm/ft²
6 oz. Nonwoven Geotextile Drainage Fabric Benefits
Drains, Filters & Retains Sediment
Naturally Holds up to UV Rays
Resistant to Ground Chemicals
Long-Lasting Field Life
Fabric is Flexible, Versatile
6 oz. Nonwoven Geotextile Drainage Fabric Details
This 6 oz. nonwoven geotextile fabric for sale is part of our medium weight geotextile fabric line that is perfect for drainage, asphalt overlay and various other filtration projects. Mid-weight fabrics are stronger and more rugged than the lighter-weight versions. However, while mid-weight fabrics still feature a good flow through rate, they are less permeable and drain slower than the lighter weight drainage geotextiles. If project site conditions are challenging or have steep slopes, heavier weight (up to 16 oz) needle punched geotextiles can be the best solution. See: Non Woven Geotextile Fabrics for Sale. Geotextile non woven drainage fabrics are for sale in weights from 3 to 16 oz, with the lower weight fabrics offering greater flow rates and the higher weight fabrics featuring greater strength.
6 oz nonwoven geotextile drainage fabric is made from UV and pH stabilized polypropylene fibers. This needle punched geotextile drains quickly while providing a protective barrier against erosion. The felt-like drainage geotextile fabric also filters and retains sediment as stormwater flows through. Strong and durable, this geotextile non woven drainage fabric will have a long active use life. With a strong permittivity rate, it can handle project sites with up to 125 gpm stormwater flow rate.
6 oz. Nonwoven Geotextile Drainage Fabric Specifications
| Property | Test Method | Minimum Average Roll Value (M.A.R.V.) |
| --- | --- | --- |
| Weight (typical) | ASTM D5261 | 6 oz/yd² (203 g/m²) |
| Grab Tensile | ASTM D4632 | 160 lbs (.711 kN) |
| Grab Elongation | ASTM D4632 | 50 % |
| Trapezoid Tear Strength | ASTM D4533 | 65 lbs (0.29 kN) |
| Thickness* | ASTM D5199 | 85 mils (2.16 mm) |
| CBR Puncture Resistance | ASTM D6241 | 450 lbs (2 kN) |
| Permittivity* | ASTM D4491 | 1.63 sec -1 |
| Permeability | ASTM D4491 | 0.3 cm/sec |
| Water Flow* | ASTM D4491 | 125 gpm/ft² (5080 l/min/m²) |
| A.O.S* | ASTM D4751 | 70 U.S. Sieve (.212 mm) |
| UV Resistance | ASTM D4355 | 70 %/500 hrs |
Mirafi® Nonwoven Geotextile Drainage Fabric
One of our other popular mid-weight nonwoven drainage fabrics is the Mirafi® N-Series polypropylene nonwoven geotextile. This nonwoven geotextile fabric is constructed to easily conform to ground or trench surfaces for problem free installation. The N-series' high flow-through rate makes this geo drainage fabric perfect for French drains, as well as other soil separation, drainage and filtration applications.
Mirafi® geotextile for drainage and filtration eliminates the challenge of determining aggregate gradation required to match soil conditions, ensuring effective filter performance. Find out more about the Mirafi® N-Series or visit our Mirafi® Nonwoven Geotextile page to see all of our Mirafi® options.
6 oz. Nonwoven Geotextile Drainage Fabric Applications
Geotextile non woven drainage fabrics are typically used to help control erosion, stabilize roads, and reinforce areas prone to high levels of drainage applications. These needle-punched geo filter fabrics are known for their ability to help with separation, reinforcement, drainage, filtration, erosion protection, and slope stabilization. Made from a high resistance polypropylene material, nonwoven drain fabrics are resistant to rotting, deterioration, and UV exposure applications. Some common projects where nonwoven geotextile drainage fabrics have been used include the following:
Site Drainage Management
Slope Reinforcement
Railroad Repair
Landfill Lining and Stabilization
Earth Retaining Structures
French Drains
Underlayment Fabric
Landscaping Materials
Pond Underlayment
Walkway or Driveway Separation (especially with dirt/gravel roadways)
Need more information on our biodegradable erosion control solutions? See our Erosion Control Line Card.
Not sure which nonwoven geotextile drainage fabric you need? View a full listing of geotextile fabrics for sale or contact us for assistance.
6 oz. Nonwoven Geotextile Drainage Fabric - Frequently Asked Questions
Geotextile fabrics share some common features, such as being nonbiodegradable, UV and rot resistant, and permeable to varying degrees. Beyond that, the classification is divided into two categories: Woven and Nonwoven Geotextiles. As the names indicate, they are manufactured using different processes. The woven geotextile fabrics are woven on industrial looms, like cloth, except using polypropylene fibers as the threads. This creates a very strong flat, coarse, permeable fabric. Nonwoven geotextile drainage fabrics are produced by machines that use a needle punch process to create a thick, pliable fabric made from polypropylene fibers that is similar to felt. Each type of fabric offers a choice of fabric weights and properties to allow custom selection for individual project specs.
The unique properties of a nonwoven fabric are illustrated through the measurements listed in the product specifications. Some commonly listed specifications include:
Weight: The number of ounces per square yard.
Grab Tensile Strength and Elongation: Indicate the breaking load of the fabric.
Trapezoidal Tear Strength & CBR Puncture Resistance: Are two different methods of measurements indicating the strength of the fabric under tension.
Permittivity & Permeability: measure the rate of water flow through the fabric.
AOS (Apparent Opening Size): Fabrics with a higher percentage of open area experience less clogging.