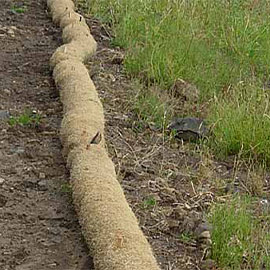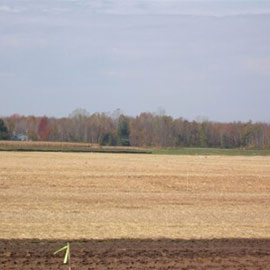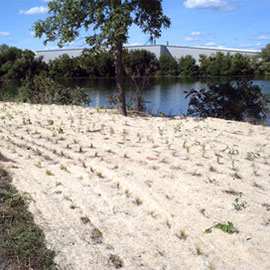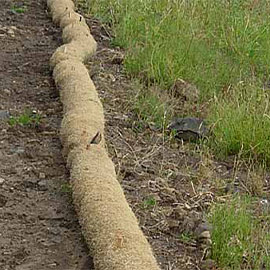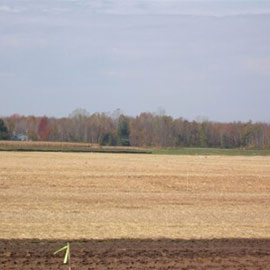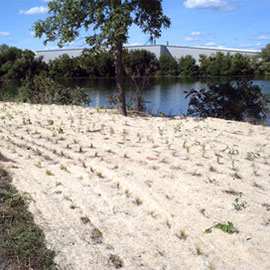 Erosion Control Blankets
Excelsior Matting
Erosion Control blankets are a popular choice to cover slopes and large open areas to prevent erosion and promote re-vegetation. Made from 100% Aspen wood shavings, our Excelsior matting provides a perfect matrix to plant seed in areas needing grass or other vegetation. Our erosion control blanket provides sediment control with moderate erosion and water flow in larger open areas and steep slopes for stabilization. Our Excelsior matting is used primarily for short-term projects with slower water flows on lower slopes. Our biodegradable blankets are made in the US, are affordable, and readily available. Call to talk with one of our team members about your specific application.
For more information on our Excelsior matting and blankets Contact Us or Call Us at 863-261-8388.
Note: Coir, like many products sourced from overseas, is less available due to trouble with supply and getting the products getting the products through port systems. Across the entire industry, Coir is not only less available, but also more expensive. However, we do have erosion control alternatives. Contact us to learn about our affordable and more readily available alternatives to coir, including these biodegradable options. Call or contact us for pricing or with questions at 863-261-8388.
Grass Seed Matting Features
Made of Aspen wood shavings
Made of biodegradable material
Plant-able
Bonds with soil for stabilization
Available in a variety of sizes
Used for temporary, semi-permanent applications
Erosion Control Matting Benefits
Controls erosion and soil movement
Naturally degrades over time
Encourages plant growth
Economical
Eco-friendly
Made in the US
Excelsior Matting and Blankets
Excelsior matting and blankets are a great solution for erosion and sediment control. Designed for use with low to medium water flows, this eco-friendly erosion control product are made to biodegrade with time. This makes the plant-able grass seed matting perfect for areas needing re-vegetation or restoration. This matting holds the seeds in place and keeps them from washing away, providing an suitable environment for seeds to germinate and grow. Once the seed takes root beneath the grass seed mat, the biodegradable fibers simply composts over time, enriching the surrounding soil.
Erosion Control Blanket Specifications
| | |
| --- | --- |
| Roll Width | 4 or 8 ft.(2.44 m) |
| Roll Length | 112.5 ft. (27.4 m) |
| Roll Area | 80 SY (67 m) |
| Recommended Slope | 3:1 |
| Recommended Flow | 6 fps (2.1 m/s) |
| Netting | Single or Double Polypropylene (photodegradable) |
| Matrix | 100% Excelsior Wood Fiber, 0.73 lbs/yd² |
Need more information on our biodegradable erosion control solutions? See our Erosion Control Line Card.
For more information on what straw erosion mat would be best for your project, give our sales team a call at 863-261-8388.
Excelsior Matting Applications
Excelsior matting and blankets are made with strong, biodegradable erosion control fibers designed to stabilize locations with slopes up to 3:1 and flows up to 6 fps This grass seed blanket is ideal for a variety of applications including stabilizing soil on slopes to revitalize a municipality's riverbank or shoreline. Excelsior erosion and sediment control blankets provide an economical and environmentally friendly choice.
Other Excelsior matting and blanket applications:
Stream Bank Restoration
Wetland Restoration
Slope Stabilization
Erosion Control Mats for Vegetation
Hillside Erosion Control
Channel Filtration and Control
Erosion Control Anchoring and Accessories
Regardless of which erosion control product you choose, every one requires stakes, staples, or pegs to install. These are accessories used in erosion control installation. For these and other installation accessories, contact our team.
Options include:
Stake and Staple Installer
Biodegradable Stakes and Pegs
Wooden Stakes
Sod Staples
See our Excelsior Products Flyer (PDF).
Questions about erosion blanket installation? Find out how we can help. Call us or Contact us for more information.
ADDITIONAL EROSION CONTROL OPTIONS
Choose from a wide selection of long-term, short-term, permanent, and temporary biodegradable erosion control solutions for soil retention and to keep project sites in compliance with erosion control regulations. Some of our other erosion control options are:
See all of our erosion control options on our Erosion Control Products page.
Do you have more questions Excelsior matting or other erosion control products? Give us a call or Contact Us for more information.
Need more information on our biodegradable erosion control solutions? See our Erosion Control Line Card.
Excelsior Mats/Blankets Frequently Asked Questions
Excelsior natural, Aspen wood mats are completely biodegradable and will promote regrowth as they degrade over time. This is a more environmentally friendly option compared to other erosion control products.
Excelsior mats and blankets are easily installed. Place the mat in an area that has been graded so that the mat comes in complete contact with the soil. We recommend that a trench be made at the top and bottom of your slope to backfill after the mat has been placed. Our alternative erosion mat is installed by unrolling the unit from top to bottom in the direction of the water flow. We recommend a 6 to 8 inch overlap. The erosion control mat is then secured using either stakes or staples. After your mat is securely in place, backfill the trench to further anchor your Excelsior mat.