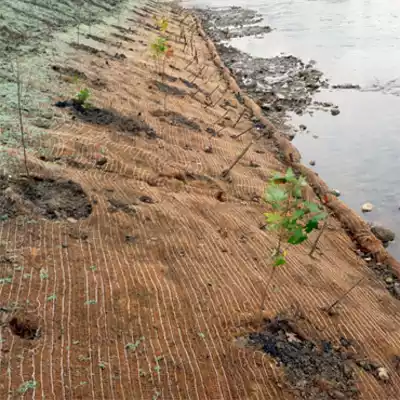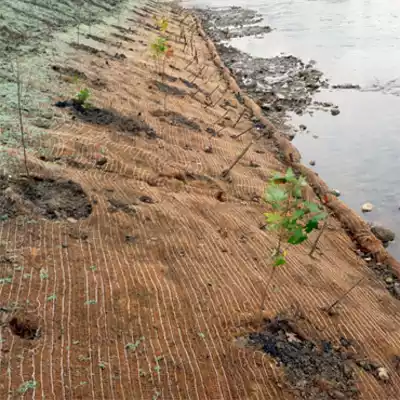 Jute Erosion Control Blanket
A Biodegradable Coir Blanket with Jute Netting
Jute Erosion Control Blankets provide biodegradable erosion control for soil stabilization project sites with steep slopes. This biodegradable erosion control blanket marries coir's erosion control benefits with the durability and longevity of jute netting.
Jute Erosion Blanket Features
Double-jute netting exterior
100% Coir Coconut Fiber matting
Lasts up to 24 months (longer term options are also available)
Jute Erosion Blanket Benefits
Fully biodegradable long-term erosion control
Can be used on steep slopes up to 1:1 and in high flow areas
Provides structure and support for new vegetation growth
Jute Erosion Control Blanket Details
Jute erosion control blankets' internal matting is made from 100% coir (coconut fibers) and wrapped securely in double-jute netting for added strength and support. Rated to last up to 24 months in the field, jute erosion control blankets are the solution for reliable ground coverage on slopes up to 1:1 or areas subject to high stormwater flows. Typically used for soil erosion control on steep banks and hillsides, Jute Erosion Blankets are durable and can withstand high stormwater flow areas when properly installed and anchored. In addition to erosion control, jute erosion blankets are helpful for slope stabilization and encourgaing new vegetation take root. Being fully biodegradable, they can be used in locations with sensitive environmental concerns. The project will also realize cost savings since there's no need to remove a jute erosion control blanket at the close of the project. The coir and jute erosion control blanket simply composts into the soil.
Need more information on our biodegradable erosion control solutions? See our Erosion Control Line Card.
If you have additional questions about jute erosion control blankets, call our product specialists at 1-863-261-8388.
Coir/Jute Erosion Control Blanket Specifications
Contents
100% Pure Coir Fiber
Netting
Biodegradable Double Jute
Thread
Biodegradable Jute Yarn or Cotton
Standard Width
8 feet / 2.44 meters
Standard Length
112.5 feet / 34.44 meters
Life
Long Term, approx. 24 months
Best Use
1:1 Slopes
High Flow Channels
Thread Spacing
1 1/2 inches
Jute Erosion Control Blanket Applications
Soil Stabilization: Jute erosion control blankets help increase soil stabilization by keeping exposed soil in place and supporting new plant life growth.
Erosion Control: The increased surface support offered by these blankets helps to prevent the effects of erosion in the project area. These blankets have been known to make riverbanks more stable and have also increased ground stability in areas during construction and road work.
Versatile: The jute erosion control blanket has a natural, durable design that has been used in several different locations including some of the following:
Construction site stabilization
Riverbank, shoreline, streamside, channel, and canal bank support
Soil stabilization for vegetation
Slope stabilization
Additional biodegradable options are available, whether for short-term or longer-term use. Contact us. We can help you select the right erosion control solution for your project. Note: For a fully biodegradable application, ask about biodegradable stakes and staples. You can contact our product specialists at 1-863-261-8388.
Jute Erosion Blanket Frequently Asked Questions
If you need something that will work on a steep streamside that can take a fair volume of stormwater when it rains, you're in luck. Jute Erosion Control Blankets are sturdy and reliable, and last up to 2 years on a project. Because they're durable, they're often recommended for projects with steep slopes (up to 1:1) and higher stormwater flow areas. We do offer a wide variety of other erosion control blankets and fabrics. We are happy to talk through the details of your project and help you when picking the best option for your needs.
Jute Erosion Control Blankets are a popular choice for "green" soil stabilization projects. They are constructed from only natural products. The inner matting is made of 100% coir (coconut) fiber. The outer wrapping is double-jute netting that holds the inner matting together and provides support for young plants as they establish roots on the project site. It is a temporary erosion control solution, as it does fully biodegrade, typically within 24 months of use. For this reason, it is typically used in conjunction with planting long-term vegetation at the same time. As the jute erosion blanket biodegrades, it composts and enriches the soil, and the vegetation's root systems takes over in stabilizing the slope. Call our sales team at 863-261-8388.