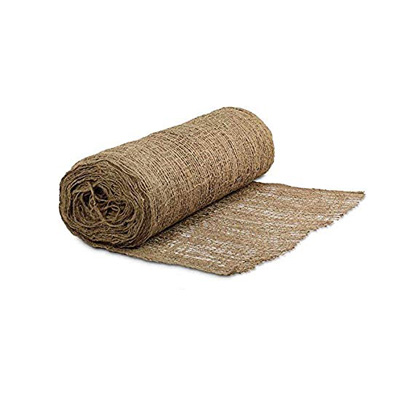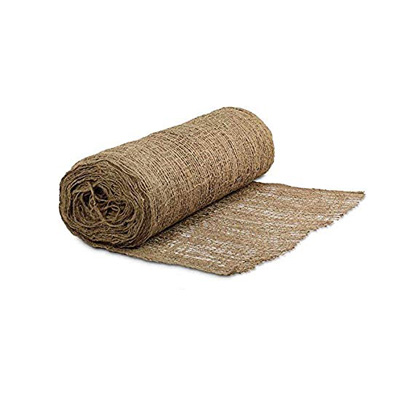 Jute Netting for Erosion Control
Biodegradable Jute Netting and Blankets
Strong and durable, jute netting provides a dependable solution for projects that need erosion control, mild to moderate slope stabilization, and new vegetation in challenging locations.
Jute Netting Features
Material: Biodegradable Jute Mesh
Jute Roll Width: 4 ft.
Jute Roll Length: 225 ft.
Typical Project Lifespan: 6-9 months
Jute Netting Benefits
Stabilizes Exposed Ground
Provides Support for Young Vegetation
Controls and Prevents Erosion
Biodegradable and Safe for Environmentally Sensitive Areas
Jute Netting for Erosion Control Details
Made from the same natural fibers as burlap, jute netting will eventually biodegrade, enriching the soil as it composts. By the time the jute netting has decomposed, planted, established vegetation will take over stabilizing the slope, controlling erosion for the long term.
For bulk pricing, jute netting for erosion control is available in pallets of either 9 or 12 rolls and ships to US locations (with some international availability also).
Additional biodegradable erosion control product options are available, whether for short-term or longer-term use. Contact us. We can help you select the right erosion control solution for your project. You can reach our sales team at 1-863-261-8388.
Jute Netting for Erosion Control - Specifications
| | |
| --- | --- |
| Jute Roll Size: | 4' x 225' |
| Rolls per Pallet | 9 or 12 |
| Jute Netting Fabric Thickness | 0.25 inch (6 mm) |
| Recommended Slope | 3:1 |
| Recommended Flow | 6 fps (1.8 m/s) |
| Recommended Shear Stress | 0.45 lbs./ft² (22 N/m²) |
| Fabric Open Area | 70-75% |
| Jute Mesh Size | 11 mm x 18 mm |
| Water Absorption | >450% of fabric weight |
| Jute Matting Roll Weight | 92 lbs (+/- 5%) (500 g/m²) |
Jute Netting for Erosion Control Applications and Installation
Jute netting is used for a variety of erosion control applications and is made solely of jute mesh. Options are also available that include coir, straw, or straw/coco blends surrounded by jute netting. Any of these options can provide you with a reliable netting fabric that will stabilize a project area and help facilitate vegetation growth. Use jute netting for:
Soil erosion control
Slope/hillside stabilization
Low-to-moderate flow drainage area stabilization
Backyard slope stabilization
Protects new vegetation growth
Choosing the right erosion control matting for a project isn't always easy. Please don't hesitate to contact our experts for assistance and pricing. Call us at 1-863-261-8388 for more information.
Jute Netting for Erosion Control – Installation:
Prepare the ground by removing stones and sharp objects that could puncture the netting. Add any needed soil amendments (ex. fertilizer), if planting vegetation with the project.
Grade the slope per the project's requirements.
Optional: Spread seed across the prepared soil area. Or you can choose instead to broadcast seed overtop the erosion control netting after it's been installed. Either application will work sufficiently.
Dig a small trench across the top of the slope to anchor the jute erosion control netting. The trench should be approximately 6" wide by 6" deep and span the entire width of the slope.
Install the jute erosion control matting by staking or stapling the netting to the trench. Allow 12" of the jute netting roll to extend uphill past the trench. Staples or stakes should not be placed any further apart than 12" for anchoring. Note: The type of soil will need to be considered when selecting stakes or staples.
Fill the trench and compact the soil. This will strengthen the anchoring of the jute netting, keeping it in place. Seed the dirt in the trench for long term soil stabilization. Then fold the 12" of exposed netting at the top of the trench back down over the trenched area. Secure with staples or stakes.
Unroll the remaining jute erosion control netting over the prepared area.
Where jute rolls are to be overlapped, allow at least 3" of overlap.
Stake or staple to secure the jute erosion control netting at all seams and edges.
Need more information on our biodegradable erosion control solutions? See our Erosion Control Line Card.
Jute Netting for Erosion Control– Frequently Asked Questions
Great question. When it comes to erosion control, you'll definitely want to consider your site conditions before choosing an erosion control product like jute erosion control netting. Jute erosion control netting is best used on sites with low-to-moderate slopes (up to 3:1). Water flow through the project area should also be low-to-moderate (no more than 6 feet per second). Under these conditions and if properly anchored, it should last in the field for 6-to-9 months.
We recommend following the installation recommendations for best field performance when installing jute netting. Environmental factors place more pressure on the jute netting than you might realize. Properly anchoring the netting helps keep the fabric securely in place and can make a significant difference in the success of the project.