US EROSION CONTROL PRODUCTS
Biodegradable erosion control products are useful for erosion control, slope stabilization, shoreline revitalization, and runoff control. Our Excelsior erosion control logs, mats, and wattles are made with naturally strong and durable fibers from shredded Aspen wood. The harvested Aspen shards create interlocking fibers with barbed edges that are great for erosion and sediment control. Excelsior's curled fiber structure allows soil to bond with it once it is wet. This holds the soil in place making a perfect environment for vegetation regrowth and stabilization. Because it's 100% natural, it simply composts after a period of time, enriching the soil around it.
Our US erosion control products are biodegradable, making them a great alternative to coir logs, mats and wattles.  Whether you need logs for shoreline erosion, wattles for perimeter control, or blankets for slope stabilization or vegetation regrowth, Excelsior is an eco-friendly choice for a wide variety of applications.  Call us today at for a free consultation or Contact Us to speak with one of our knowledgeable product specialists.
Note: Coir, like many products sourced from overseas, is less available due to trouble with supply and getting the products through port systems. Across the entire industry, Coir is not only less available, but also more expensive. However, we do have erosion control alternatives. Contact us to learn about our affordable and more readily available alternatives to coir, including these biodegradable options. Call or contact us for pricing or with questions at 863-261-8388.
Get a Quote
EXCELSIOR EROSION CONTROL PRODUCT APPLICATIONS
Excelsior biodegradable alternatives are used in a wide variety of applications. Made in the USA from Aspen wood shavings, our eco-friendly fabric is the perfect choice not only for slope and shoreline stabilization, but also for re-vegetation projects and filtration. Our erosion control blankets and mats are great for stabilizing slopes and hillsides. Erosion control logs are often used on slopes as well, but also help stabilize banks and shorelines from eroding. Wattle are designed as perimeter controls  and are used for curb cuts and drain outlets.
Our natural erosion control products are made from biodegradable materials so they won't harm wildlife or surrounding ecosystems. Excelsior Aspen wood fiber products can help reduce or eliminate erosion and sediment issues. Applications include:
Erosion Control
Streambank and Hillside Stabilization
Revegetation Projects
Spill Containment
Construction Site Perimeter Control
Beach Restoration and Clean Up
Stormwater Filtration
Inlet and Outlet Control
And More…
EXCELSIOR EROSION CONTROL LOGS
Excelsior erosion control logs are used for creating natural borders along waterways, hills, shorelines, and other slopes prone to erode. Our unique Aspen wood fibers work well to build up coastlines and other areas experiencing erosion, giving them time to stabilize and restore. These biodegradable logs are also plant-able, making them the perfect choice for re-vegetation and restoration efforts. Parks and Recreation departments use our alternative logs for ecofriendly, natural restoration of streams, creeks, and other waterways in public parks or recreation areas. Excelsior natural logs generally last between one and two years, allowing enough time for short-term stabilization projects. For more information about excelsior logs, see our alternative erosion control logs or speak with one of our team members.
EROSION CONTROL LOGS SPECIFICATIONS
| | |
| --- | --- |
| Roll Diameter | 9-20 in. Diameter |
| Roll Length | 10-25 ft. |
| Weight per Length | 2.5 -5 lbs./ft. |
| Filtration | High |
| Flow | Minimum Rate |
| Matrix | 100% Excelsior Wood Fiber, 0.73 lbs/yd² |
| Roll Diameter | 9-20 in. Diameter |
EXCELSIOR EROSION CONTROL WATTLES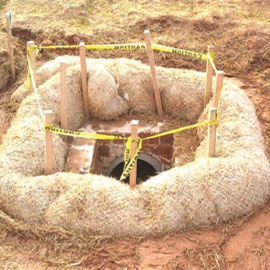 Similar to erosion control logs in design and purpose, Excelsior wattles differ in their core material density. Made with Aspen wood fibers evenly distributed throughout the cylinder, the biodegradable wattles are more flexible and less dense natural erosion control. Because they are able to contour to terrain and inlets, they are well suited for perimeter controls on slopes, check dams, at curb cuts and around drain inlets. Excelsior wattles also offer more filtration options than their log counterparts. They can be used as erosion preventatives by directing groundwater flow and effectively filtering out sediment. Construction sites use flexible fiber logs to keep contaminants contained and out of public areas, preventing regulatory fines. To find out more about Excelsior wattle and pricing options, call us today!
EROSION CONTROL WATTLES SPECIFICATIONS
| | |
| --- | --- |
| Roll Diameter | 9-20 in. Diameter |
| Roll Length | 10-25 ft. |
| Density | 2.08-3.82 lbs./ft. |
EXCELSIOR EROSION CONTROL MATS AND BLANKETS

Our biodegradable erosion control blankets and mats are designed for slopes with low to medium water flow. Excelsior fabric is made from 100% Aspen wood shavings to provide stabilization, support, and coverage along banks, channels, roads, and other low to medium-flow areas. The curled fibers with built-in swell factor, allow soil to bond with the fibers when it becomes wet. Our natural erosion control blanket stabilizes slopes up to 3:1 and flows up to 6 fps. Excelsior slope erosion products not only help prevent erosion, but promote new or re-growth of vegetation. Our Excelsior grass seed blanket is plant-able, holding soil in place to encourage new growth and regrowth of existing grass to create more stabilization. Blankets and matting are often used with an added layer of polypropylene netting to help contain the fibers and increase support. To find out more about Excelsior blankets and matting, call today!
EROSION CONTROL BLANKETS SPECIFICATIONS
| | |
| --- | --- |
| Roll Width | 4 or 8 ft. (2.44 m) |
| Roll Length | 112.5 ft. (27.4 m) |
| Weight per Length | 2.5 -5 lbs./ft. |
| Roll Area | 80 SY (67 m) |
| Recommended Slope | 3:1 |
| Recommended Flow | 6 fps (2.1 m/s) |
| Netting | Single or Double Polypropylene (photodegradable) |
| Matrix | 100% Excelsior Wood Fiber, 0.73 lbs/yd² |
ADDITIONAL EROSION CONTROL OPTIONS
Choose from a wide selection of long-term, short-term, permanent, and temporary bio-degradable erosion control solutions for soil retention and to keep project sites in compliance with erosion control regulations. Some of our other erosion control options are:
See all of our erosion control options on our Erosion Control Products page.
Need more information on all our biodegradable erosion control solutions? Find out more on our Erosion Control Line Card.