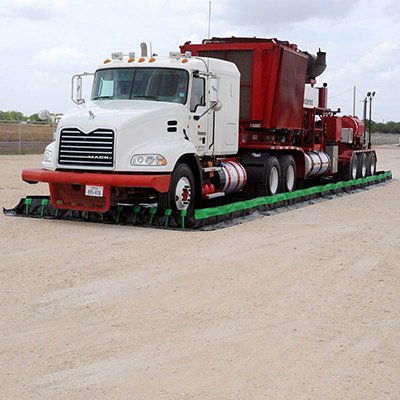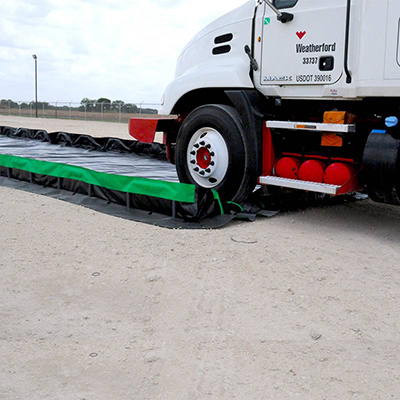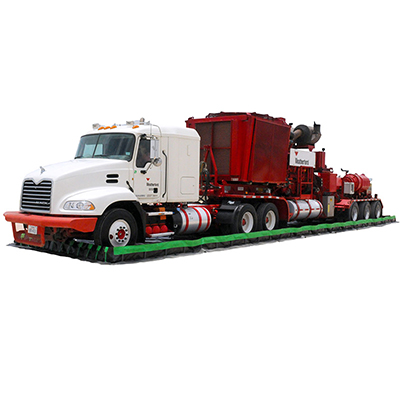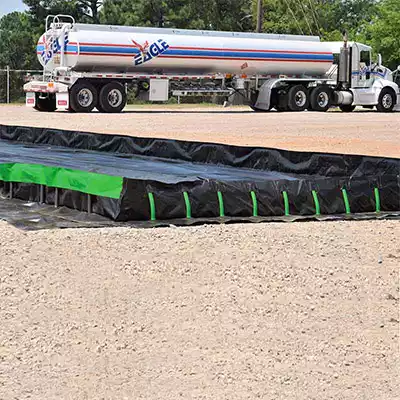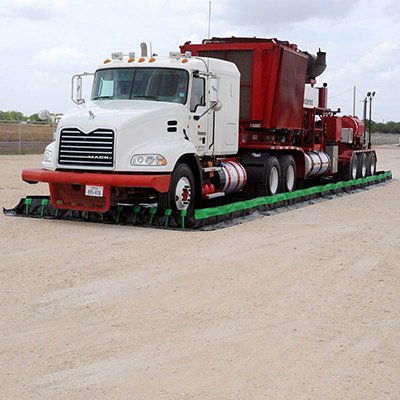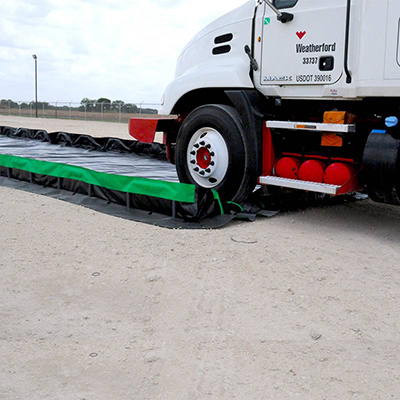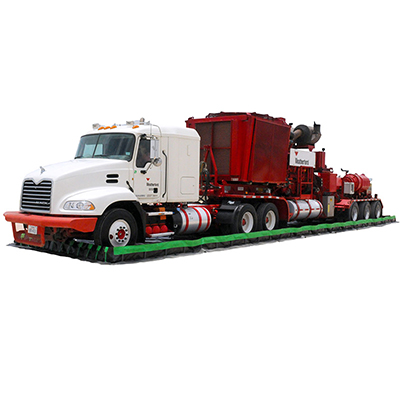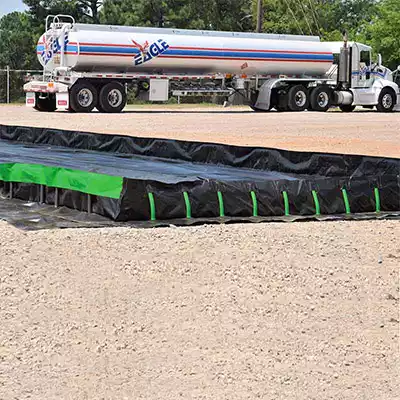 Ultimate Spill Berm
UltraTech 8506 Containment Berm
The Ultimate Model Spill Containment Berm is the perfect combination of economy and convenience with exceptional spill containment that you've been looking for in a spill containment berm. The Ultimate Model Spill Containment Berm is made up of long sidewalls that are held upright by PVC sidewall assemblies. The walls on either end are made from "living hinge" stakes that bend and snap back into place when they are driven over. For more information on our drive over spill berms, see our video on the Ultimate Model Spill Berm below. For more information that isn't listed below, Contact Us or Call Us at 863-261-8388.
Ultimate Spill Berm Features
Flexible Urethane Stake End Walls
Rigid PVC Sidewalls
Copolymer 2000 Material Construction
Ultimate Spill Berm Benefits
Easy Drive-In and Drive-Out Capabilities
Durable, Proven Spill Containment
Easy Setup and Takedown
Want to see how our different spill berms work? Watch our videos below for more information.
Drive Over Spill Containment Berm Details
Ultimate Model Spill Containment Spill Berm Video
The Ultimate Model spill berm is a true drive-over spill containment device that perfectly combines accessibility and convenience, as well as being budget-friendly. The living hinge design of this spill containment berm allows vehicles, equipment, 55-gallon drums, IBCs, and more to enter and exit the spill containment berm with ease. There's no need to manually raise or lower the end walls. These end walls are made with flexible, polyurethane stakes that bend in either direction without breaking. The long sidewalls are made from PVC assemblies and can be lowered by swiveling the feet when you need to transport the spill berm or store it. Available materials for construction include Copolymer 2000. The 12-inch high sidewalls give you excellent spill containment for leaks, spills, drips, and more. Setup is easy and only requires a few steps. For more information on spill berm setup, see the Applications and Installation tab below. Once the berm is positioned in the field, there is no more setup required. The Ultimate Model Spill Containment Berm keeps you in compliance with EPA 40 CFR 264.175 Containment of Containers Containing Free Liquid and SPCC - Spill Prevention, Control and Countermeasure Act. If you're interested in the complete list of chemicals compatible with the Ultimate Model Spill Containment berm from UltraTech, then please see our Downloads section below.
Ultimate Spill Containment Berm UltraTech 8506 Specs
| Part # | Dimensions ft. (m) | Capacity gal. (L) | Weight lbs. (kg) |
| --- | --- | --- | --- |
| UltraTech 8500 | 4 x 6 x 1 (1.2 x 1.8 x .3) | 179 (677) | 72 (32.7) |
| UltraTech 8501 | 10 x 10 (3.0 x 3.0) | 748 (2831) | 176.0 (79.8) |
| UltraTech 8502 | 12 x 26 (3.7 x 7.9) | 2,333 (8,831) | 189.0 (85.7) |
| UltraTech 8503 | 12 x 30 (3.7 x 9.1) | 2,692 (10,190) | 256.0 (116.1) |
| UltraTech 8509 | 12 x 36 x 1 (3.7 x 11 x .3) | 3,231 (12,230) | 283.0 (128.4) |
| UltraTech 8505 | 60 x 12 x 1 (18.3 x 3.7 x .3) | 5385 (20384.4) | 297.0 (134.5) |
| UltraTech 8508 | 14 x 54 x 1 (4.3 x 16.5 x .3) | 5,655 (21,406) | 368 (166.9) |
| UltraTech 8510 | 14 x 56 x 1 (4.3 x 17.1 x .3) | 5,864 (22,197) | 408.0 (185.1) |
| UltraTech 8506 | 50 x 15 x 1 (15.2 x 4.6 x .3) | 5610 (21236.2) | 326 (147.9) |
| UltraTech 8507 | 66 x 15 x 1 (20.1 x 4.6 x .3) | 7405 (28031) | 405 (183.7) |
COPOLYMER-2000 MATERIAL SPECS
Reinforced
English
Metric
Testing Method
Base Fabric Type
Polyester
-
-
Base Fabric Weight (nominal)
3.0 oz/yd2
102 g/m2
-
Finished Coated Weight
28.0 ± 2 oz/yd2
950 ± 70 g/m2
ASTM D751
Thickness
30 mils nominal
0.76 mm nominal
ASTM D751
Trapezoid Tear
30/30 lbf nominal
133/133 N nominal
ASTM D4533
Grab Tensile
250/200 lbf min
1112/890 N min.
ASTM D751 Grab Method
Hydrostatic Resistance
300 psi min
2.06 MPa min
ASTM D751, Procedure A
Adhesion
10 lbf/in min
9.0 daN/5 cm min.
ASTM D751 Dielectric Seam
Cold Crack
Pass @ -25° F
Pass @ -32° C
ASTM D2136 1/8 in mandrel, 4 hr.
Puncture Resistance
50 lbf typical
225 N typical
ASTM D4833
Dead Load
2 in seam, 4 hr, 1 in strip
100 lbf @ 70° F
50 lbf @ 160° F
5 cm seam, 4 hr, 2.5 cm strip
445 N @ 21° C
220 N @ 70° C
ASTM D751
Ultimate Spill Berm Applications
The Ultimate Model Spill Berm is a great combination of economy and convenience. The rigid sidewalls provide stability and containment while the flexible ending walls allow vehicles to easily enter and exit the spill containment berm. The Ultimate Model spill containment berm from UltraTech can easily hold items like 55-gallon drums, IBCs, and frac tanks, as well as vehicles like trucks, oil tanks, machinery and more. Using your spill containment device with the right accessories will allow you to extend the life of your spill containment berm. Accessories like a Ground Cloth, Track Belts, and the Ultra Berm Repair Kit will ensure you get the most out of the containment berm. The Ground Cloth lies underneath your spill containment berm and should be placed there before unrolling and setting up the berm itself. The Ground Cloth provides protection, keeping debris and other objects from puncturing or otherwise damaging the bottom of the spill containment berm. To protect the top of the spill containment berm from wear and damage from vehicular traffic, we suggest using a Track Belt. Because the Ultimate Model spill containment berm is a true drive-in and drive-out spill containment berm, Track Belts are important in extending the life of the spill berm.
The installation and set-up for the Ultra Containment berm is simple and easy.
STEP1: Select a level area and be sure that ground is swept clean of debris and sharp objects.
STEP2: The use of a protective ground tarp beneath the spill containment berm is recommended.
STEP3: Place the folded Berm at the setup location. Do not drag the folded Berm. Unfold Berm and position as desired. Position the frame legs facing toward the inside of the Berm. On the shorter ends insert the green urethane stakes through the oval shaped holes in the bottom of the Berm, through the black polyethylene base plates and into the pockets at the top of the wall. Firmly seat stakes.
STEP 4:If Track Belts are being used, place these in the unit at this time.
STEP 5: The Berm is ready for use.
The containment capacity of the spill containment berm will correlate to the dimensions selected. Please refer to the specifications above for the holding capacity of each berm size. Custom sizes are also available. While the berm can perform properly with liquids reaching the top of the spill berm wall, we recommend that you do not exceed the fill line. The fill line is 1 inch below the top of the spill berm. In the event that spill berm is knocked or bumped, liquids exceeding the fill line might splash over the side causing compliance breaches. For help in selecting the best berm size for your project, please contact us.
Ultimate containment berms are rugged and durable, and if a protective ground tarp and track belts are used, the likelihood of damage is greatly reduced. If you do experience a puncture or tear, repair kits are available (we recommend keeping one on hand for when these accidents happen). For additional assistance, please contact sales team. They can walk you through the best way to repair it. Structural damage to the frame assemblies or urethane stakes can often be repaired with replacements at an additional cost.
The Ultratech 8506 is one of our most popular sizes for the Ultimate Spill Bern. A full listing of the berm sizes is listed above in the product specifications section. If the berm wall size or containment area dimensions that you need aren't listed, we do offer custom sizes. Simply call us, and we'll be happy to work with you on getting just the size berm you need.