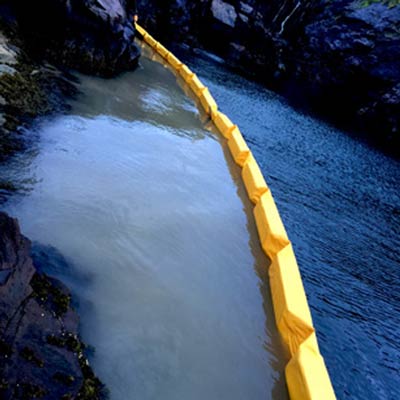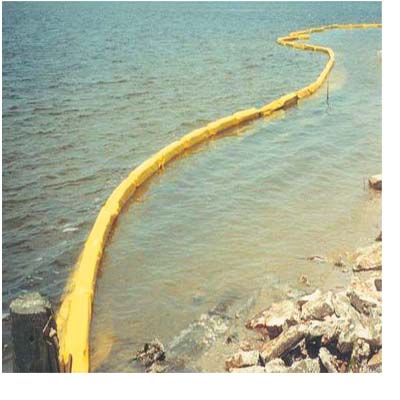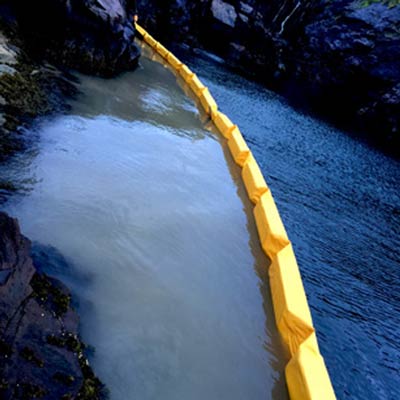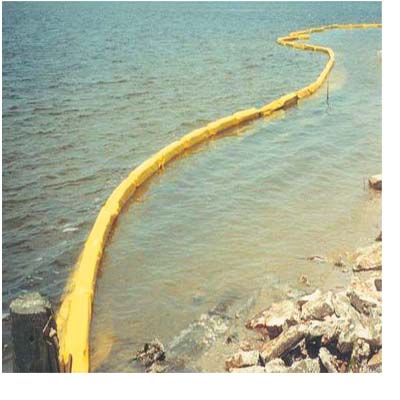 Type 3 DOT Silt Screens
Floating Silt Barriers for DOT Projects
For marine construction in locations with stronger currents, Type 3 DOT Floating Silt Screens incorporate the strength of a traditional silt barrier's PVC fabric with the filtration properties of geotextile fabric.  Type 3 DOT Silt Screens are designed to contain sediment-filled water while permitting filtered water flow through the turbidity curtain. In addition to keeping your construction site in compliance, the permeable panel reduces pressure on the curtain.  The filtration panel also helps to speed up settling time.  These curtains typically meet DOT compliance requirements for projects requiring Type 3 silt screens.
Type 3 DOT Silt Screens Features
Choice of 6 or 8" float
18 oz PVC and 6 oz geotextile filtration fabric
Universal connectors, bottom corner stress plates, and more
Type 3 DOT Silt Screens Benefits
Filters and contains suspended sediment-filled water
Allows some flow-through while maintaining compliance
Meets most DOT project requirements
Type 3 Silt DOT Curtain details
Standard sizes for Type 3 DOT Silt Screen are 50 ft. or 100 ft. lengths.  The most commonly requested curtain depth is 5'. However, panels are available in depths ranging from 3 ft. to 100 ft. We also offer other Type 3 Silt Barrier options. If you have questions or need assistance, please call our team for more information at 863-270-4754.
.
For longer term control in moving water areas, such as river bank erosion sediment settling and control, Type 3 silt curtains are also available in a Heavy Duty model. These turbidity curtains feature an impermeable 18 oz. or 22 oz. fabric for a stronger and effective containment around your job or construction site.
Type 3 DOT Silt Screen Specifications
Standard Length
50 or 100 ft.
Depth
3 to 20 ft.
Flotation
6" Float
8" Float
Fabric
18 oz. Impermeable PVC w/ 6 oz. Monofilament Fabric
Section Connectors
Universal Slide Bulk Connectors
Skirt Connectors
Grommets
Bottom Connectors
Bottom Corner Stress Plates
Bottom Chain/ Low Tension Cable
Heavy 5/16" Steel Ballast Chain
Tension Cables
Dual 5/16" Galvanized Steel Cable
*Custom Sizes and Hardware Available
Type 3 DOT Silt Screen Applications & Accessories for Anchoring and Installation
Protect your floating silt barriers with proper installation using these marine accessories:
Anchor Kits: pre-assembled for your convenience
Tow Bridle: helps distribute weight and stress load to prevent damage during towing
Reefing Lines: gives you control over how much curtain to unfurl for each panel section, so that the curtain isn't dragging and catching on the water body's floor
Tidal Compensator: Adjusts automatically keeping the floating silt barrier positioned correctly with the changing tides
Permeable Silt Screens Frequently Asked Questions
In addition to the Type 3 silt screens, we also offer two other permeable models designed to filter sediment, silt, and other materials.
Type 1 Silt Screens: Geotextile Silt Screen Curtains are designed for use in calm water areas such as ditches, streams, and other low flow areas.
Type 2 Silt Screens: Used for remediation projects, long-term turbidity control, new infrastructure site control, and multiple deployments
Anytime you are implementing a floating silt barrier in salt water oceans or lakes, it is recommended that your barrier features Stainless Steel Cables and Zinc Anode Components. These components offer a higher resistance to corrosion, which is common with extended salt water use. If you are working on a short term project, standard galvanized components will work in salt water areas for a period up to 12 months.