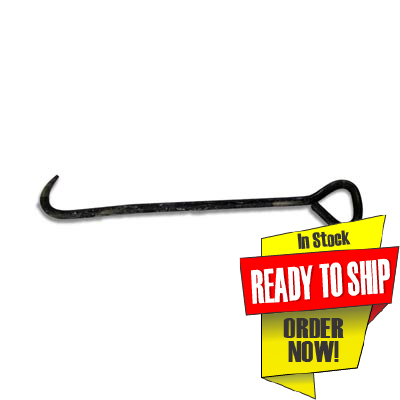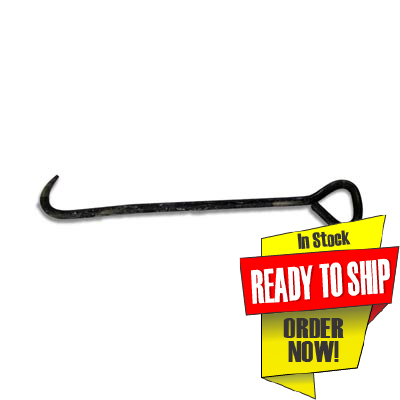 Grate Hooks
Grate Lifting Hooks for Storm Drains
Grate hooks make lifting storm drains easy. Oftentimes, storm drain grates are heavy and cumbersome and require extra manpower to lift. With grate hooks, you can lift and move storm drain covers without hurting or injuring yourself. Grate hooks are simple yet effective tools that can assist you in implementing Stormwater Management solutions.
We provide the best prices possible, fast shipping directly to you, and knowledgeable representatives to answer your questions. Call us for more information about storm drain products!
Grate Hooks Features
Heavy Duty Steel Hook
Weight: 4 lbs.
Length: 26 in.
Grate Hooks Benefits
Reduces Injury and Strain of Grate Lifting
Helps With Stormwater BMP Installation
Easy to Use and Transport
Grate Lifting Hooks Cleanup
Grate hooks are a great way to install your stormwater BMPs correctly and safely. Storm drain covers and grates often look different depending on what part of the country they are in. A drain cover opener is a versatile tool able to help you in your efforts. Storm drain grates can often be heavy and cumbersome, but with grate hooks, you can effectively move them without hurting your hands and throwing your back out. To use a drain cover opener like this, simply insert the hook portion of each of the grate lifting hooks underneath the grate and grasp the easy-to-hold handle. Ready to get some catch basin lifting devices of your own? Call our sales team for more information.
Ultratech Ultra Grate Hooks Specifications
| | |
| --- | --- |
| Part Number | Ultratech 9235 |
| Dimensions | 26 L x 5 W (handle) x .75 thick |
| Weight lbs. (kg) | 4.0 (2.0) |
Grate Hooks Applications
Grate hooks are a simple, universal stormwater BMP tool that can be used virtually anywhere by anyone. It doesn't require electricity or much labor. Catch basin lifting devices, like grate hooks, keep your hands away from storm drain grates and make installing stormwater BMPs faster and easier. Grate lifting hooks allows you to lift storm drains with your legs and not your back.
Grate Hooks Frequently Asked Questions
Having grate hooks in your arsenal when it comes to a stormwater management plan, will take the strain off your hands and back when installing stormwater BMPs. If you are overseeing a stormwater management team, you can be confident that your employees will be safe when installing stormwater BMPs.
Grate hooks are an easy-to-use tool that keeps you safe. The heavy-duty steel stands up to harsh environments and against heavy storm drains. The compact style and easy-to-transport functionality of grate hooks makes them, not just good, but great for stormwater management projects.