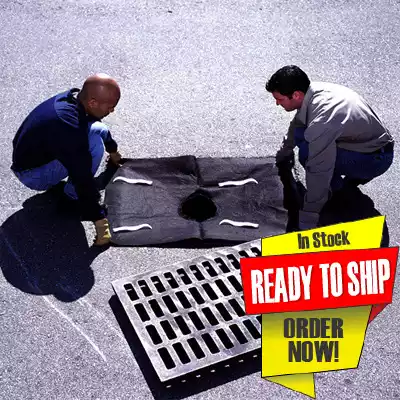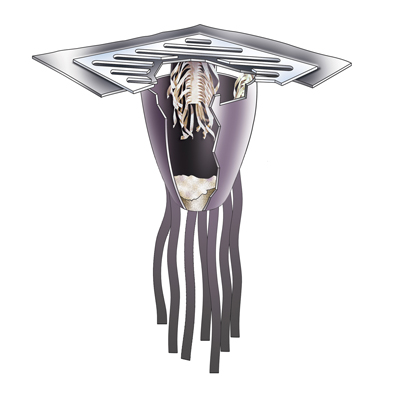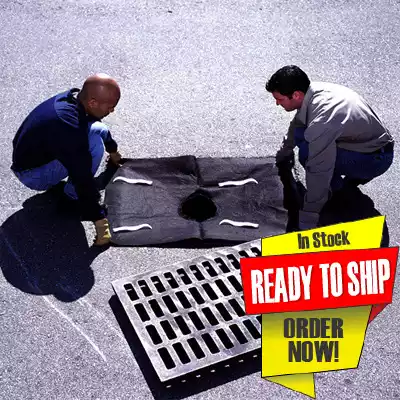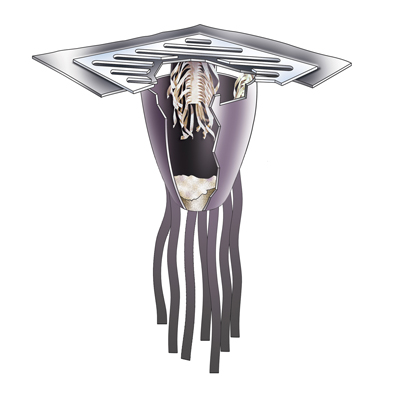 Stormwater Treatment Filter
Ultra Drain Guard – Ultimate Model
The Ultimate Model Ultra Drain Guard is a catch basin insert and stormwater treatment filter that captures and removes dirt, sediment and hydrocarbons. It has effective antimicrobial coated strips of fabric at the bottom. The Ultimate Model Storm Drain Guard has the same hydrocarbon and sediment removal properties as other drain guard catch basin filter bags, but this model also uses Ultra-Filter-Tex fabric strips that are coated in antimicrobial. For more information about our Catch Basin Filter Options, contact us.
We provide the best prices possible, fast shipping directly to you, and knowledgeable representatives to answer your questions. Call us for more information about catch basin filter options! Call us at 863-261-8388 for more information about catch basin filter options!
Ultra Drain Guard – Ultimate Model Features
1.5" x 20" Antimicrobial Filter-Tex Strips
Oil and Sediment Filtration
Addresses Single-Celled Organisms in Stagnant Water
Ultra Drain Guard – Ultimate Model Benefits
Antimicrobial "Tentacles" Sets the Catch Basin Apart
Out-of-the-Way Storm Drain Protection
Stop Pollutants from Entering Waterways
Ultimate Model Catch Basin Filter Bags Details
The Ultimate Model Ultra Drain Guard captures silt, sediment, and debris, filter oils and hydrocarbons, and deals with the stagnant water at the bottom of a storm drain that can contain bacteria, fungi, and yeast. The Ultimate Model Drain Guard is made with strips of Ultra-Filter-Tex AM (Antimicrobial) that hang down into the water at the bottom of the catch basin. These strips, often referred to as "tentacles," help address the single-celled organisms in the water that can contribute to issues related to bacteria and algae. As a stormwater treatment filter, this drain guard will tackle the bacteria in stormwater as it's also capturing sediment and filtering oil. The dimensions of the stormwater treatment filter are 48" x 36" x 38" (1219.2 x 914.4 x 965.2 mm).
Find out more about all the kinds of drain guards we carry by watching our video below.
Ultra Drain Guard – Ultimate Model Specs
| Part Number | Quantity | Dimensions in. (mm) | Weight lbs. (kg) | Containment Capacity gal. (L) | Weight Capacity UDL (lbs) |
| --- | --- | --- | --- | --- | --- |
| Ultratech 9376 | 1 | 48 x 36 x 38 (1219.2 x 914.4 x 965.2) | 3 (1.4) | Up to 1.57 gallons (6 L) of Oil | Up to 40 lbs. (18 kg) of Sediment |
Non-woven, Polypropylene Geotextile Material Specifications
Properties
ASTM Test
Value
Grab Tensile
D 4632
205 lbs
Elongation
D 4632
50%
Trapezoid Tear
D 4533
85 lbs
Puncture
D 4833
525 lbs
CBR Puncture
D 6241
600 lbs
Mullen Burst
D 3786
420 psi
Permittivity
D 4491
1.4 sec-1
A.O.S. (U.S. sieve no.) / Microns
D 4751
80 / 180
UV Stability (strength retained %) 500 hrs
D 4355
70%
Fabric Weight (oz/yd2) (typical)
D 5261
8 oz/yd2
Flow (through material)
Flow (bypass ports gpm) *
Flow (bypass ports cfs) *
D 4491
90 gpm/ft2
770 gpm
1.7 cfs
* Larger bypass flow rate designs are available
Stormwater Filter Downloads
Ultimate Model Ultra Drain Guard Applications
In catch basins where stormwater pools and is prone to growing bacteria, algae, or fungi growth, you'll want that extra protection that the Ultimate Model Ultra Drain Guard offers. The strips of Ultra-Filter-Tex will kill destructive bacteria that it comes in contact with. The sewn in antimicrobial strips are the only difference between the Ultimate Model Drain Guard and the standard Ultra Drain Guard, but make all the difference in these circumstances. Think of this stormwater treatment filter as giving you that extra protection in the catch basin. Municipal stormwater management plans will benefit from having a storm drain guard that deals with bacteria in stormwater.
Stormwater Treatment Filter FAQs
The Ultimate model takes the proven performance of the Ultra Drain Guard one step further, by adding antimicrobial strips that float within the catch basin to mitigate bacteria, fungi and yeast growth. The strips are sewn into the bottom of the Oil and Sediment Plus Drain Guard. So, you get the sediment and oil filtering power of the standard drain guard along with the active bacterial fighting power of the antimicrobial strips.
Other products we offer that filter contaminants right in your catch basin are the HydroKleen, the Heavy Metal Model Ultra Drain Guard, and the Ultra Filter Sock. The Ultra Hydrokleen is a catch basin insert that has insertable filters to capture oil, phosphorous, heavy metals, and other chemicals. The Heavy Metal Model Drain Guard has quilted portions in the catch basin bag that filter heavy metals specifically. The Ultra Filter Sock is used in front of storm drains and around downspouts and can be customized to remove the same pollutants that the HydroKleen can remove.