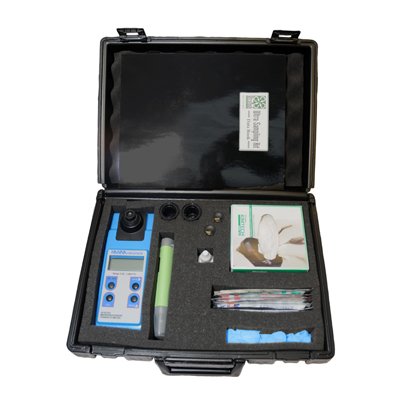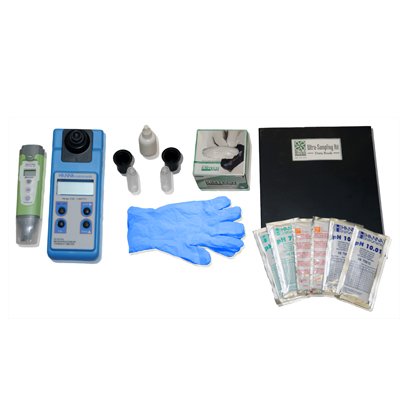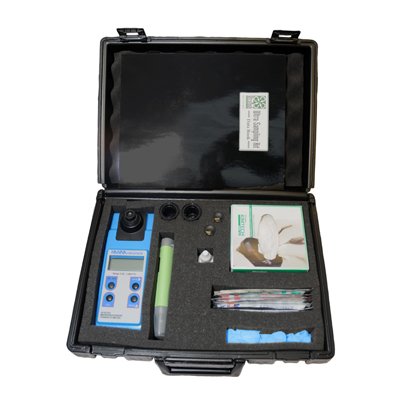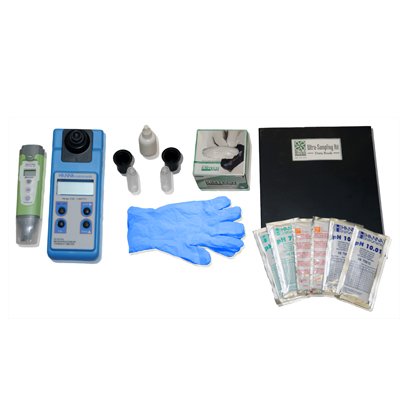 Stormwater Sampling and Turbidity Testing Kit
Stormwater Sampling Kits for Analysis
Stormwater sampling and turbidity testing kits are designed to make testing stormwater quick, easy, and accurate. Kept in a convenient carry case, the Sampling Kit lets you test stormwater runoff easily right there in the field. Use the results from the sample test to document your jobsite's compliance with stormwater regulations. The Stormwater Ultra-Sampling Kit uses a microprocessor-based turbidity meter to test water and measure important compliance indicators such factors as pH and turbidity levels.
We provide the best prices possible, fast shipping directly to you, and knowledgeable representatives to answer your questions. Call us for more information about stormwater management products!
Stormwater Sampling and Testing Kit Features
Turbidity Meter & pH Meter
Durable Carrying Case
Data Book, Lint-Free Wipes, Nitrile Gloves
Stormwater Sampling and Testing Kit Benefits
Prove Effectiveness of Stormwater Management Tools
Comply with NPDES Samplings and Monitoring Requirements
Laboratory-Level Precision While in the Field
Stormwater Sampling Kits Details
Convenient and economical, the Ultra Stormwater Sampling kit provides you with the tools you need to prove the effectiveness of your stormwater management products. Capturing pieces of debris and trash with a stormwater drain guard is provides obvious proof of the filter's benefits, but what about the smaller pollutants that can't be discerned with our eyes. For this, you'll need a stormwater sampling kit. The Ultra Sampling Kit includes a turbidity meter, pH meter, and pH and turbidity meter calibration solution. The stormwater sampling kit itself is held in a durable case and comes with a data book, lint-free wipes, and nitrile gloves.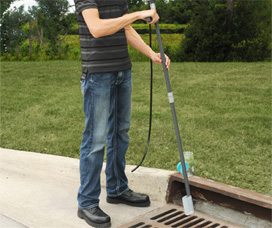 The stormwater sampling kit includes everything you'll need to accurately test stormwater pH and turbidity while out on the job. The microprocessor-based turbidity meter will give you laboratory-level precision when you test. The pH meter has a water and dustproof housing container that is designed for dirty and damp field conditions. The ergonomically designed LCD display allows you to easily see measurements while working outside.
For quick and easy collection of the stormwater sample without having to lift storm drain grates, see: Ultra stormwater sampling pole.
Stormwater Sampling Equipment Specs
| | |
| --- | --- |
| Part Number | 9297 |
| Model | Ultra-Sampling Kit |
| Dimensions in. (mm) | 15 x 11 x 5.5 (381 x 279.4 x 139.7) |
| Weight lbs. (kg) | 5 (2.3) |
Stormwater Sampling Kit for Turbidity Testing and Other Applications
When needing to comply with different regulations, like the NPDES Samplings and Monitoring Requirements, having an Ultra Sampling Kit for turbidity testing and stormwater testing is a great asset. The turbidity and pH meter includes everything you need for accurate measurements. The portability of the stormwater sampling kit makes testing stormwater management devices, like drain guards, turbidity curtains, and stormwater filtration devices in multiple locations easy.
When testing stormwater in a storm drain basin or in a hard-to-reach location, you can use the Ultra Stormwater Sampling Pole. The stormwater sampling pole allows you to conveniently draw water out of storm drain catch basins without having to remove the storm drain grate or drain guard.
Stormwater Sampling Kit FAQs
While you can definitely see the larger items that your drain guard or stormwater management device catches, like trash, debris, and large amounts of sediment, you can't be totally sure that the water still going into the storm drain is in compliance. In order to prove the effectiveness of the stormwater management device, you need to test samples of water periodically to stay in compliance.
This stormwater sampling kit is portable, ergonomic, and compact, while giving you laboratory-level accuracy. You can take the Ultra Sampling Kit from storm drain guard to storm drain guard without having to drag around extra equipment. Everything you might need to collect a sample and test it is at your fingertips.