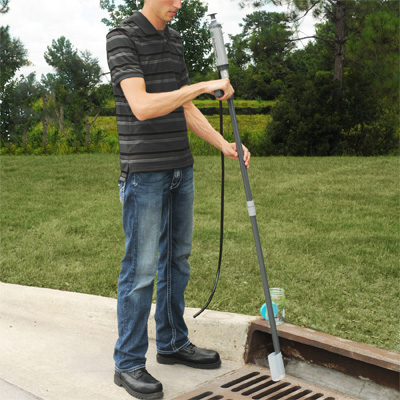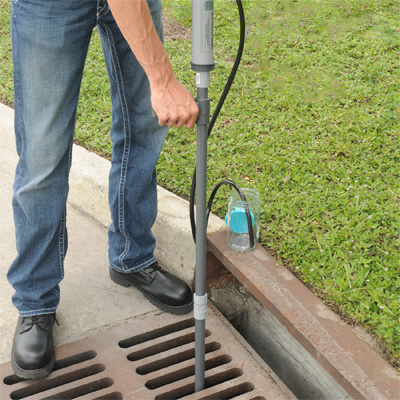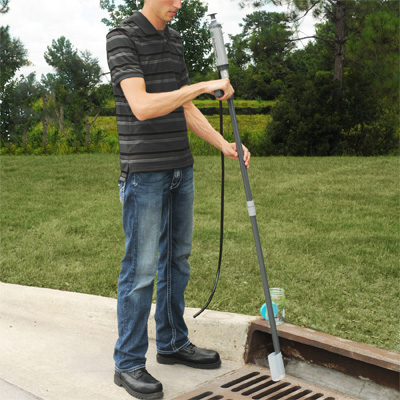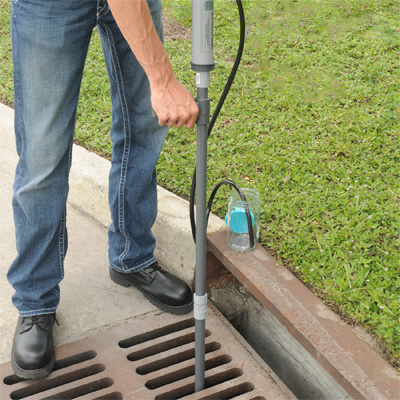 Ultra Stormwater Sampling Pole
Stormwater Sampling Equipment
The Ultra stormwater sampling pole can prove just how effective your stormwater management device is to satisfy compliance assurance and documentation. But how does the stormwater management sampling device work? (see video below!) With this device you can conveniently draw a water sample from a storm drain basin without needing to lift the grate or removing the storm drain filter. Then test the water right there, on-site, using the Ultra Stormwater Sampling Kit to make sure that the storm drain filter is removing the pollutants as required for compliance.
We provide the best prices possible, fast shipping directly to you, and knowledgeable representatives to answer your questions. Call us for more information about stormwater management products!
Ultra Stormwater Sampling Pole Features
All PVC Construction
Equipment Easily Disassembles
Built-In Pump To Draw Out Water
Ultra Stormwater Sampling Pole Benefits
Meets Regulatory Sampling Requirements
Can be Accomplished With Stormwater Device in the Basin
Collection Cup at End of Device Fits Through Most Storm Drain Grates
Stormwater Sampling Equipment Details
The all-PVC construction of the stormwater sampling pole makes it easy to take samples of stormwater when your stormwater filtering device is in place. The PVC construction wont rust or corrode. You can easily test the water you collect because the built-in pump draws water out so that it can be collected for NPDES sampling.
When you need to meet regulatory sampling requirements, like those of the National Pollutant Discharge Elimination System (NPDES) Compliance Monitoring Program, having a reliable tool like the Ultra stormwater sampling pole makes it so much easier. Dimensions of the stormwater sampling pole are: 69.5 x 6.5 x 3.3 (1765.3 x 165.1 x 82.6). The unit weighs 5 pounds or 2.3 kg.
We also carry the Ultra stormwater sampling kit that will allow you to have everything you need to accurately measure your stormwater BMPs' effectiveness. From pH levels to turbidity levels, you will be able to better comply with NPDES sampling and monitoring requirements with this sampling kit.
Stormwater Sampling Pole Specs
| | |
| --- | --- |
| Part Number | Ultratech 9247 |
| Model | Ultra-Universal Sampler |
| Dimensions in. (mm) | 69.5 x 6.5 x 3.3 (1765.3 x 165.1 x 82.6) |
| Weight lbs. (kg) | 5 (2.3) |
Stormwater Sampling Applications and Instructions
After you remove the packaging material from the Ultra Stormwater Sampling Pole, the first thing you'll want to do is gently shake the sampling pole so that you can hear the check valve moving freely. The rattle of the check valve will ensure that the stormwater sampling pole is ready for use checking your stormdrain BMP.
When using the Universal Stormwater Sampling Pole, you don't have to remove the storm drain grate. The stormwater sampling pole is designed to fit through the standard 1" grate opening, and if a storm drain protection device is being used, then you can fit the pole through one of the overflow ports. Position the stormwater testing pole so that the sample cup can capture the effluent from the storm drain protection device.
At the end of the stormwater sampling device is a clear plastic hose. Have a cup or some other vessel ready to catch the sample. Once you have the stormwater sampling device in position, it should take 5 or 6 pumps to prime it. It is recommended to pump at least 16 ounces of water through the stormwater sampler in order to make sure there's no contamination from previous uses. You should continue pumping until the desired sample is obtained.
Stormwater Sampling Pole FAQs
We recommend that you clean the stormwater sampling pole with a solution of bleach and fresh water. The solution should be a 1:3 concentration of bleach and water followed by fresh water. This should be done after each use to ensure that subsequent samples are not contaminated.
No, you do not have to lift the storm drain grate. The convenient stormwater sampling pole can fit through a 1" storm grate opening. Best of all, you can test the effluent from the storm drain when the catch basin protection device in being used as well.
We also carry the Ultra-Sampling Kit, a convenient, economical kit that makes stormwater sample testing quick and easy. For more information on our sampling kit, give our sales team a call at 1-863-261-8388.