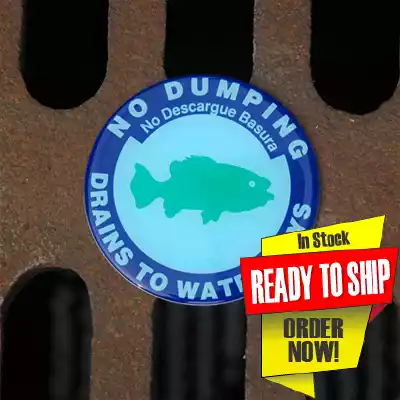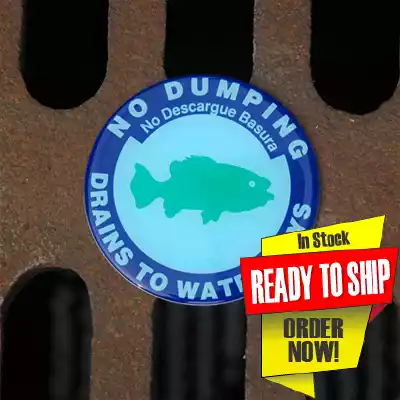 Stormwater Drain Markers
Storm Drain Labeling to Stop Pollution
Alert the public that storm drains are no-dumping zones, with Stormwater Drain Markers. These storm drain signs inform the public that water and debris entering that location flow directly into waterways.
Very few people realize that 80 percent of storm drains lead to open waterways without being treated first. With these noticeable adhesive drain marker, you not only help increase awareness, but also encourage individual responsibility in reducing water pollution. When used as a Best Management Practice in Storm Water Pollution Prevention plans, storm drain markers support compliance requirements with NPDES, 40 CFR 122.26 (1999).
We provide the best prices possible, fast shipping directly to you, and knowledgeable representatives to answer your questions. Call us for more information about storm drain pollution products!
Ultra Stormwater Drain Markers Features
Permanent Adhesive Drain Marker
Will not Rust or Corrode
Heavy-Duty, Scratch-Resistant
Ultra Stormwater Drain Markers Benefits
Quick and Easy to Install
Educate The Public about Drain Safety
Environmentally Friendly Materials
Storm Drain Sign Details
The Ultra Drain Marker is designed for a long field use. Made with scratch-resistant, heavy-duty plastic, the Ultra Drain Marker won't rust or corrode. The drain marker is more environmentally friendly than using paint and stencils. These Drain Markers are also a great choice for your budget. The Ultra Drain Markers are less expensive than brass or ceramic markers. Unlike ceramic markers, the Ultra Drain Marker won't crack or crumble. Unlike aluminum storm drain labelling that bends and can have sharp edges, and unlike brass markers which tarnish, our drain markers are easy to use and install. Weather, location, foot traffic, and UV degradation are all factors that determine its lifespan. While there's no simple to answer to how long an Ultra Drain Marker will last, they are durable, informative, and are made to last. Each Drain Marker kit comes with adhesive and 25 markers.
Storm Drain Marker Specs
| | |
| --- | --- |
| Part Number | 9208 |
| Quantity | 25 |
| Model | Kit - 25 pcs., Adhesive |
| Dimensions in. (mm) | 3.9 x 3.9 x 0 (98.6 x 98.6 x 0) |
Storm Drain Sign Installation
One of the many advantages of the Ultra Drain Markers is its quick and easy installation. First, for Ultra Drain Marker Installation, the surface area must be clean and free of debris. Clean the surface with a wire brush to ensure a dry, clean surface. Anything on the surface area, like paint or oil, will affect adhesion. Apply a bead of adhesive on the back of the marker. Start with 1/8" in from the outside edge of the drain marker and apply around the entire edge and work your way to the center. Place the marker on the surface, pushing down hard in a twisting motion, forcing adhesive out from the edge. This will seal the entire marker edge to the surface. You don't need a large amount of adhesive for the drain markers. At 75 degrees Fahrenheit, adhesive will take one hour to skin over and then will become hard to the touch in 4 hours. A full adhesive cure will take 18 hours.
Stormwater Drain Markers FAQs
You can customize your Ultra Drain Markers with your own colors, design and text. This makes your Ultra Drain Markers more applicable to your location.
There are several reasons why the Ultra Drain Markers are superior to other drain markers on the market. For one, the Ultra Drain Marker makes remarking unnecessary for years. When you use paint and stencils, you need to remark annually. With Ultra Drain Markers, you have a neat uniform appearance that can span the entirety of your marking locations. The Ultra Drain Markers are also environmentally friendly.