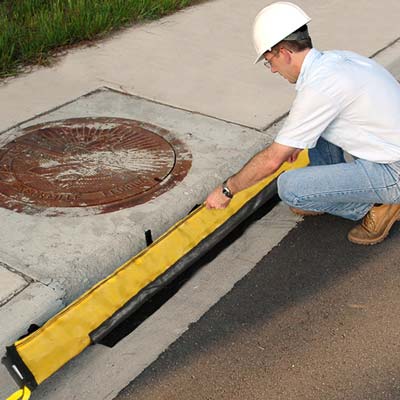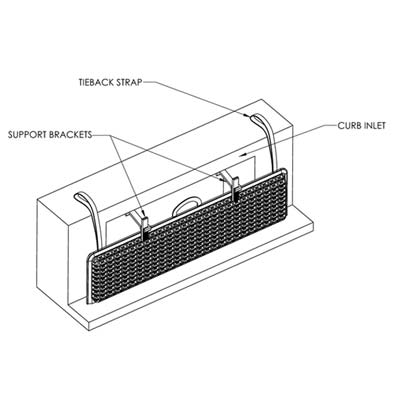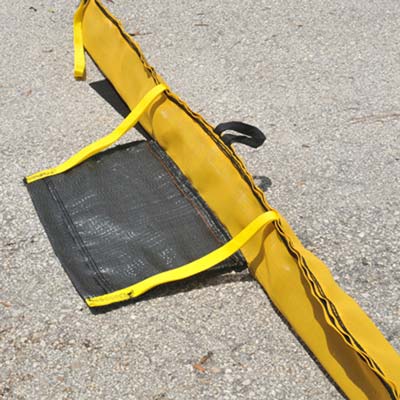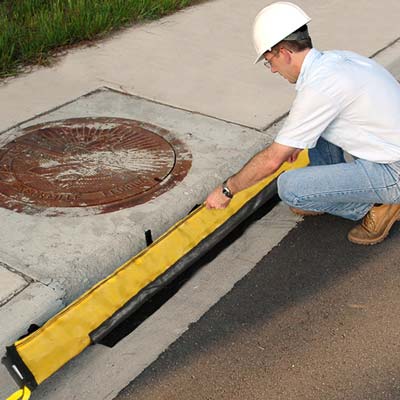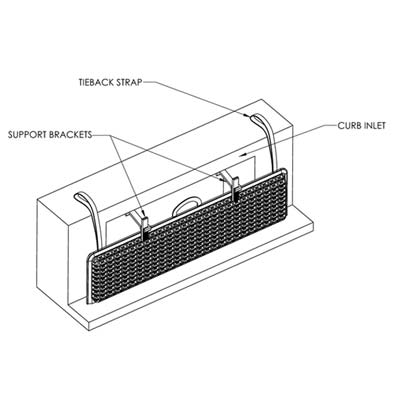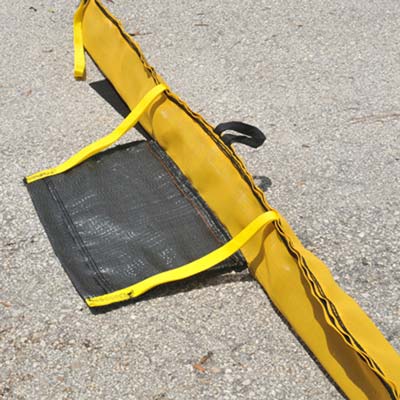 Stormwater Inlet Filter
Curb Gutter Guard Inlet Filtration
The stormwater inlet filter is designed to control high-volume flows into curb inlets. The gutter drain guard's strong, rigid inner frame works in conjunction with a multi-dimensional outer frame to prevent debris and sediment from clogging the stormwater inlet. The Ultra Gutter Guard Plus is an unobtrusive and durable storm drain filter.
We provide the best prices possible, fast shipping directly to you, and knowledgeable representatives to answer your questions. Call us for more information about storm drain filtration products.
Stormwater Inlet Filter Features
Tie Back Straps for Anchoring
Modular, 3-Foot Inner Frames
Counterweight Inserts
Over the Drain Debris Filter Benefits
Durable Stormwater Filtration
Low-Profile Design
Multiple Installation and Stabilizing Details
Gutter Drain Guard Details
The gutter drain guard is a low-profile stormwater filtration device designed for longer term use. This curb gutter guard will filter out sediment, silt, and debris while staying out of the way of pedestrians, vehicles, and streetsweepers. The Ultra gutter guard plus will lie flat against the stormwater inlet and is installed using stabilizer arms. Additionally, with counterweight sleeves and tie back straps the gutter drain guard will have maximum stabilization when installed. The height of the catch basin log is 6". The lengths of the catch basin log are 6', 9', 12', and 15'. The gutter drain guard is designed to remove silt, sediment, and debris. Inlet filtration of hydrocarbons and heavy metals is best with other stormwater inlet filter devices.
Ultratech Ultra Gutter Guard Plus Specs
| | | | | |
| --- | --- | --- | --- | --- |
| Part Number | Ultratech 9151 | Ultratech 9158 | Ultratech 9154 | Ultratech 9159 |
| Weight lbs. (kg) | 10.0 (4.5) | 13.0 (6.0) | 16.0 (7.0) | 20.0 (9.0) |
| Dimensions in. (mm) | 6' L x 6" H (1,829 x 152) | 9' L x 6" H (2,742 x 152) | 12' L x 6" H (3,658 x 152) | 15' L x 6" H (4,572 x 152) |
Curb Gutter Guard Installation and Use
The curb gutter guard is made to stay out of the way while filtering stormwater runoff. Inlet filtration is incredibly important. Whether on a construction site or controlling silt and sediment around a busy industrial park, having an Ultra Gutter Guard Plus to efficiently keep debris, silt, and sediment from the stormwater system is a great storm drain filter to use with your SWPPP. One advantage of the catch basin log is its ability to be made compact for storage. When you remove the stormwater inlet filter grids for installation, you'll need to snap off the stabilizer arms and set them aside. Once you slide the grids together, you can place them into the outer stormwater inlet filter sleeve. Next, install the stabilizer arms, and then seal the hook and loop fastener strips. A counterweight can be placed in the sleeve in the back of the curb gutter guard. Slide the gutter drain guard into the curb stormwater inlet opening, ensuring an overlap of 12" on either side. For even more anchoring, use the tie back straps.
Stormwater Inlet Filter Frequently Asked Questions
The Ultra gutter guard plus requires time to install. You must first assemble the frames that make up the catch basin log and then place those internal support structures into the filtration sleeve. Use the counterweight and tie back straps to stabilize the stormwater inlet gutter drain guard. The stormwater filter provides durable inlet protection.
The stormwater inlet filter has a pouch in the back of it designed for a counterweight to stabilize it. Additionally, tie back straps can provide additional anchoring when needed.