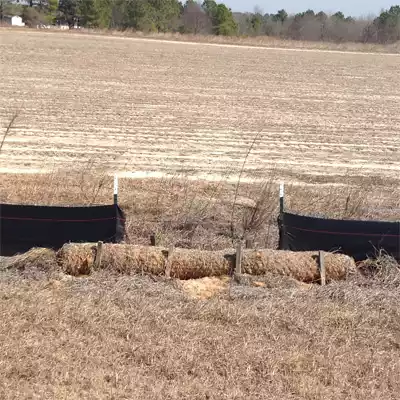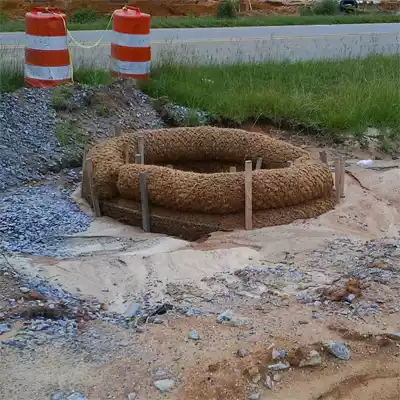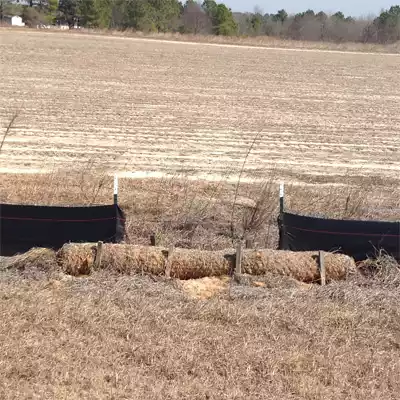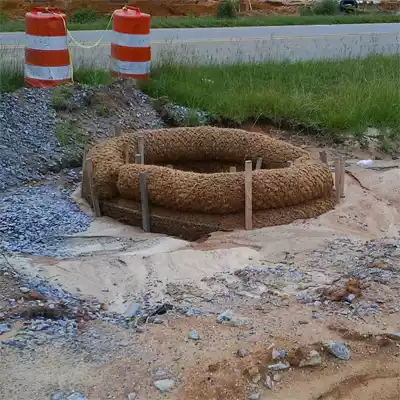 Coir Wattles
Erosion Control Wattles and Coir Fiber Rolls
Whether for stormwater filtration or slope stabilization, coir wattle is a popular and economical choice. Constructed from all-natural materials the outer netting is coir twine, and the inner batting is made from coir fiber. Use our coir wattles create a natural barrier that can reinforce your location while effectively filtering water. For projects requireing greater support,consider Coir Logs.
Coir Wattle Features
100% Biodegradable
Strong Outer Netting Casing
6" or 9" Diameters and 10' or 20' Length
Coir Wattle Benefits
More Flexible and Lighter than Coir Logs
Fast and Easy to Install
Erosion Control and Filtration
Information about Erosion Control Wattles Details
Erosion Control Wattles are very versatile and can be used for a variety of purposes, including as a plantable check dam, a stormwater filtration BMP, and to reinforce hillsides, slopes, and riverbanks. Because they are strong, durable, and also provide filtration, they are a common choice for use in restoration and construction site projects.
Coir Wattle Advantages
Safe for the Environment
Economical
Versatile Fiber Rolls
Easy to Move
Low Maintenance
Filters Runoff and Discharge
Flexible Exteriors
Fast and Easy Installation
High Performance and Effectiveness
Helps Protect Storm Drains and Curb Inlets
Reusable, Natural and 100% Biodegradable
Strong and Durable Outer Netting
No Removal or Disposal Costs
Coir Wattle Specifications
| | | |
| --- | --- | --- |
| Diameter | 6" (15 cm) | 9" (23 cm) |
| Length | 10' or 20' (3.05 m or 6.10 m) | 10' or 20' (3.05 m or 6.10 m) |
| Weight | 1.5 lbs/ft (2.23 kg/m) | 3.0 lbs/ft (4.46 kg/m) |
| Density | 7 lbs/cubic foot | 7 lbs/cubic foot |
| Inner Core | Double Cleaned Unsorted Coir Fiber | Double Cleaned Unsorted Coir Fiber |
| Netting | Coir Twine with Knotted Junctions | Coir Twine with Knotted Junctions |
Coir Wattle Applications
Sediment Control for Construction Projects: Coir coconut fiber wattles are often used to help protect the construction area by keeping the exposed soil in place. Placed properly, coir wattles are a recognized BMP and can be included in a project's SWPPP plan. With their ability to effectively filter materials has also made them perfect for handling stormwater runoff as leaves the site.
Check Dams for Water Diversion Channels: Coir fiber wattles are popular for use as a check dam, primarily as a result of their good filtration rates and their affordability. Using coir wattle, check dams can facilitate permanent vegetation growth through the wattle.
Slope Length Reduction in Steep Slopes: Wattles can be used to stabilize slopes and change the dynamics of the slope, including reducing the length of slopes .
Stormwater Runoff Control: As mentioned above, one of the most beneficial features of these wattles is their ability to filter water as it flows through the wattle. Their filtration properties, afforability, and ease of installation make them a favorite for use as curb inlet filters or wrapped around storm drains to help protect water systems.
Other uses: Site perimeter control, drain protection, wetland restoration, erosion control, gravel driveway edging.
Is coir considered a "green" environmentally friendly product?
Yes. Coir erosion control products are made from the all-natural fibers that line a coconut shell. They are durable, and salt-water resistant, and harvesting the coir in no way impacts the trees farmed. In fact, it provides a practical use for a biproduct of coconut farming. What's more, it is 100% biodegradable. Coir wattle is installed as a temporary slope stabilization or erosion control measure to provide support and protection while young vegetation gets established. As time passes, the vegetation gets stronger and the coir decomposes. Eventually the coir completely composts into the soil.
Other Coir Product Options
Similar in both design and construction, Coir Logs (also known as. Coconut Fiber Logs) are densely packed erosion control logs used for tougher erosion control requirements, such as along stream banks, riverbanks, and slopes. Coir Mats (also called coir blankets) are flat carpets of coconut coir that can be used for erosion control or slope stabilizaton over larger areas. They are plantable. Since they are biodegradable, they enrich teh soil as they decompose. At the same time, the vegetation grows stronger and no longer needs the coir for support. With coir products, there is no need to remove them at the project's end. View these and other erosion control products below:
See also this affordable USA made alternative to coir: Excelsior Erosion Control Excelsior Logs.
Coir Wattle Frequently Asked Questions
Coir wattles are versatile used in a wide range of erosion and sediment control applications, including for erosion control along stream banks, in low flow streams as a check dam, along construction entrances for sediment control, and curved around storm drains as a stormwater filter.
Erosion control wattles can be made from different natural fiber products for density and filtration. The two most common options are coir or straw wattles. Coconut Coir Wattles: The coir wattle is a popular option for erosion control and is constructed using coconut coir fiber materials. These wattles are designed to help filter materials and control erosion in your location. Straw Wattles: The second common type of wattle is the straw wattle. These wattles will typically feature an outer jute netting and an interior made from straw fibers. Sizing for wattles erosion control can vary depending on your location, the wattle material, and erosion control requirements. Sizing ranges in lengths of 10, 15, 20, and 25 feet and diameters of 6, 9, 12, and 20 inches. Also, check your specs and state requirements as some states have restricted the use of straw for erosion control.