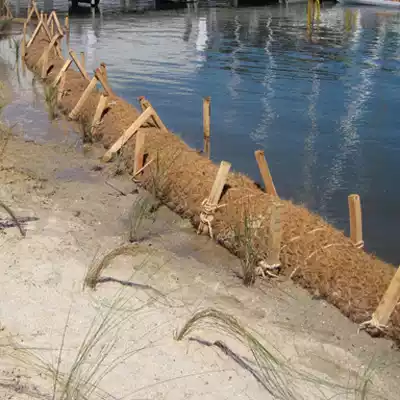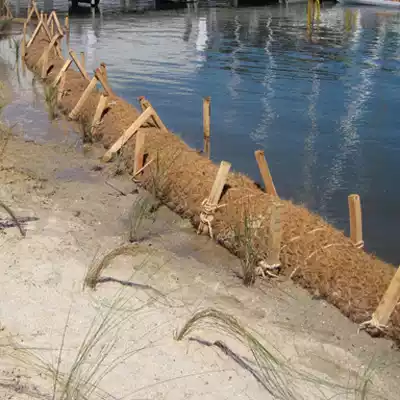 Erosion Control Coir Log
Coir Fiber Rolls for Filtration and Stabilization
Erosion Control Coir Log is a natural and biodegrable solution for soil stabilization and erosion control along riverbanks, slopes, streams, hillsides, and other erosion prone areas. For a full listing of erosion control options see: Erosion Control Products
Coir Fiber Roll Features
Interior: Coir Fiber Batting
Exterior: Coir Twine Netting with 2"x2" pattern
Log Sizes: 12 inch, 16 inch, or 20 inch
Coir Fiber Roll Benefits
Biodegradable
Multiple Logs Can be Joined Together via Coir Twine
High Strength Materials
Resistant to Water Flows and Small Waves
Helps Provide a Durable Barrier
Creates an Area for Vegetation to Grow
Coir Fiber Roll Details
Offering a high level of strength and reinforcement, our coir fiber rolls feature densely packed mattress coir fibers that are placed inside a tubular coir twine netting. Both components are all-natural and biodegradable, making coir logs safe for the surrounding environment. Simply call our knowledgeable team at 1-863-261-8388 for more information.
The most appropriate size for coconut fiber logs depends on the flow and slope of your project. Standard coir logs are available in diameters between 12 and 20 inches and 10 feet in length. Twine can be used to join multiple sections of coir fiber rolls together to form longer sections.
Erosion Control Coir Log Specifications
Standard Density Coir Logs
These are the industry standard for use in average conditions and at a price point that's budget friendly. 100% Biodegradable, the Standard Density Coir Logs are made of 100% coir encased in a 2"x2" coir netting. Coir Logs promote a natural solution to erosion control and slope stabilization, while creating an environment that supports vegetative growth for long term erosion control as the coir eventually biodegrades.
High Density Coir Logs
High density coir logs are recommended for use on rigorous terrain, areas exposed to high flow or harsh environmental conditions. They are also a reliable erosion control solution for streambanks and lakeshores, as well as for slope stabilization. Manufactured with 100% coir fibers encased in a rhombic coir netting, these high-density coir logs are known for solid performance in the most demanding situations and for the longest duration in the field.
Pre-Drilled Coir Logs
Amazingly convenient, the installation of these coir logs is a snap. They use fewer stakes; simply secure them with stakes through the pre-drilled slots in the logs. The slots can also be used for planting seedlings. The slots are approximately 2 feet apart. Pre-Drilled Coir Logs are available in standard or high-density options and a variety of sizes.
Diameter
12" (30 cm)
16" (40 cm)
20" (50 cm)
Weight
5.5 lbs./ft.
(8.2 kg/m)
9.5 lbs./ft.
(14.1 kg/m)
15 lbs./ft.
(22.3 kg/m)
Density
7 lbs./ft³ (112 kg/m³) or
9 lbs./ft³ (13.4 kg/m³)
7 lbs./ft³ (112 kg/m³) or
9 lbs./ft³ (13.4 kg/m³)
7 lbs./ft³ (112 kg/m³) or
9 lbs./ft³ (13.4 kg/m³)
Lengths
10 ft.
(3.05 m)
10 ft.
(3.05 m)
10 ft.
(3.05 m)
Outer Net
80 lbs. (356 N)
3 Ply Coir
80 lbs. (356 N)
3 Ply Coir
80 lbs. (356 N)
3 Ply Coir
Openings
2" x 2"
(5 cm x 5 cm)
2" x 2"
(5 cm x 5 cm)
2" x 2"
(5 cm x 5 cm)
Inner Core
Coir Mattress Fiber
Coir Mattress Fiber
Coir Mattress Fiber
Erosion Control Coir Logs Downloads
Erosion Control Coir Log Applications
Stabilization on Slopes
Restoration of Marshes
Reinforcement of Banks
Erosion Control Along Shorelines
Beach Restoration
Ask about our erosion control accessories! Accessories can be critical to installing any of our coir fiber rolls, coir mats, or erosion control blankets. Available accessories include:
Biodegradable Stakes
Wooden Stakes
Staples
Pegs
Coir Twine
Erosion Control Coir Log Frequently Asked Questions
Coir is an all-natural fiber taken from the husks of coconuts. Brown coir, taken from fully ripe coconuts, is strong and thick. Coir products work as erosion control solutions for multiple reasons. Coir is relatively waterproof and resistant to saltwater damage. Coir also has a hairy, rough texture, so soil and seeds are more likely to cling to it.
The lifespans of coir products vary, depending on the product type and site environment. Coir logs and wattles generally last 2 to 6 years. Most coir blankets and mats last from 4 to 6 years. Shorter-lived mats are also available. A temporary erosion control mat generally lasts between 9 and 24 months.
Coir products are 100% biodegradable. Over the course of their lifespans, microorganisms in the soil consume the coir, enriching the surrounding soil. The composting process that occurs over time with coir aids fertilization and helps plants continue to protect against erosion after the coir is gone.