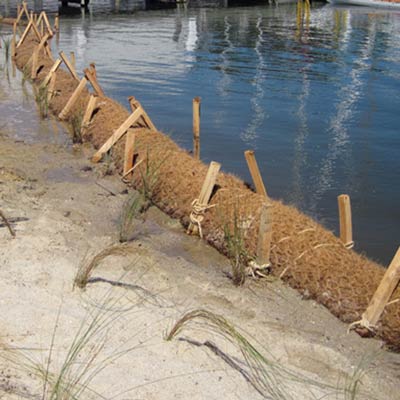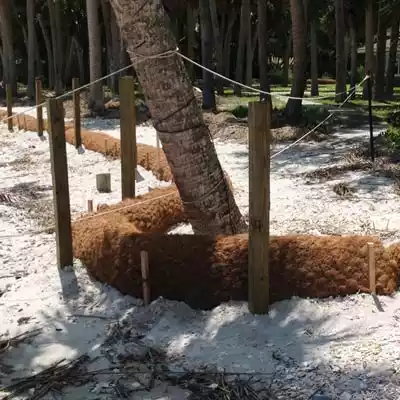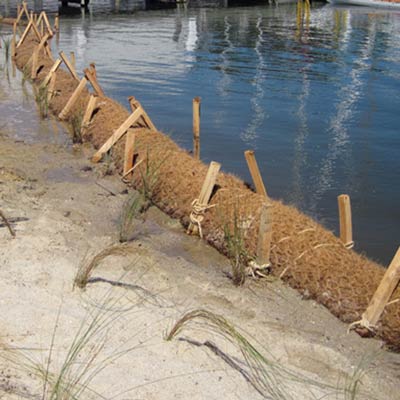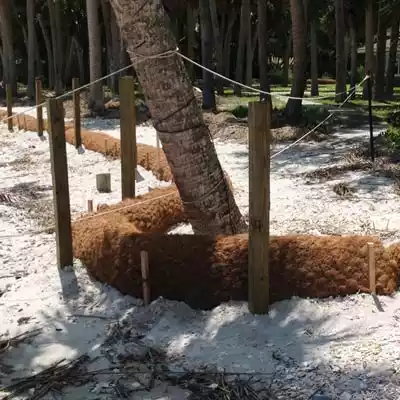 Erosion Control Logs
20" Coconut Logs for Erosion Control
Erosion control logs provide the all-natural, robust erosion control that you need for your environmentally sensitive locations. Build into existing contours with a 20-inch diameter coconut log, which have a typical lifespan of 2 to 5 years. We also carry coconut coir erosion control logs in other sizes, see: Coir Log Options.
20" Erosion Control Logs Features
Diameter: 20 inches
Length: 10 feet
Weight: 15 lbs./ft
20" Erosion Control Logs Benefits
Natural and Biodegradable
Microclilmate for Saplings and Seeds
Strong Erosion Control
Biodegradable Erosion Control Logs Details
With a diameter of 20 inches, biodegradable erosion control logs build into the contours of your slopes and hills, giving them added stability and strength for years to come. Additionally, fiber logs for erosion control have a typical lifespan of 2-5 years, depending on site conditions. This lifespan and the erosion control logs' all-natural qualities make it essential for encouraging vegetative growth and natural erosion control.
20" Erosion Control Logs Specifications
Standard Density Coir Logs
These are the industry standard for use in average conditions and at a price point that's budget friendly. 100% Biodegradable, the Standard Density Coir Erosion Control Logs are made of 100% coir encased in a 2"x2" coir netting. Coir Erosion Control Logs promote a natural solution to erosion control and slope stabilization, while creating an environment that supports vegetative growth for long term erosion control as the coir eventually biodegrades.
High Density Coir Logs
High density coir erosion control logs are recommended for use on rigorous terrain, areas exposed to high flow or harsh environmental conditions. They are also a reliable erosion control solution for streambanks and lakeshores, as well as for slope stabilization. Manufactured with 100% coir fibers encased in a rhombic coir netting, these high-density coir erosion control logs are known for solid performance in the most demanding situations and for the longest duration in the field.
Pre-Drilled Coir Logs
Amazingly convenient, the installation of these coir logs is a snap. They use fewer stakes; simply secure them with stakes through the pre-drilled slots in the logs. The slots can also be used for planting seedlings. The slots are approximately 2 feet apart. Pre-Drilled Coir erosion control Logs are available in standard or high-density options and a variety of sizes.
| | |
| --- | --- |
| Dimensions | 20" Dia. x 10' Length |
| Density | 7 lbs/cubic foot or 9 lbs/cubic foot |
| Weight | 15 lbs/ft |
| Outer Net | 80 lbs |
| Outer Net | 3 Ply Coir |
| Inner Core | Coir Mattress Fiber |
Erosion Control Logs Downloads
Fiber Logs for Erosion Control Installation
Erosion control logs are effective and easy to install. Coconut logs erosion control products do not require removal once they've been installed. The coconut coir erosion control logs will completely biodegrade overtime, depending on the conditions of your site. Your site requirements might also require different anchor spacing and installation requirements. For more information on erosion control logs installation accessories and anchors, give our sales team a call today.
See also this affordable USA made alternative to coir: Excelsior Erosion Control Excelsior Logs.
Coconut Logs Erosion Control Frequently Asked Questions
Coconut coir logs have a typical lifespan of 2 to 5 years, depending on your site conditions. These conditions could be the slope of hillside, wind, rain, water flows, and the climate of your site. Fluctuating weather patterns and storms can influence how your biodegradable erosion control logs will hold up and perform during its lifespan. Different diameters of coconut logs will be able to handle different flows and water stream sizes.
Coconut logs are great for use with vegetation and plants. The natural properties of the erosion control log encourage plant growth. By using seedlings and saplings with your fiber logs for erosion control, you help establish strong root systems that will theoretically last long after your biodegradable erosion control logs have degraded.