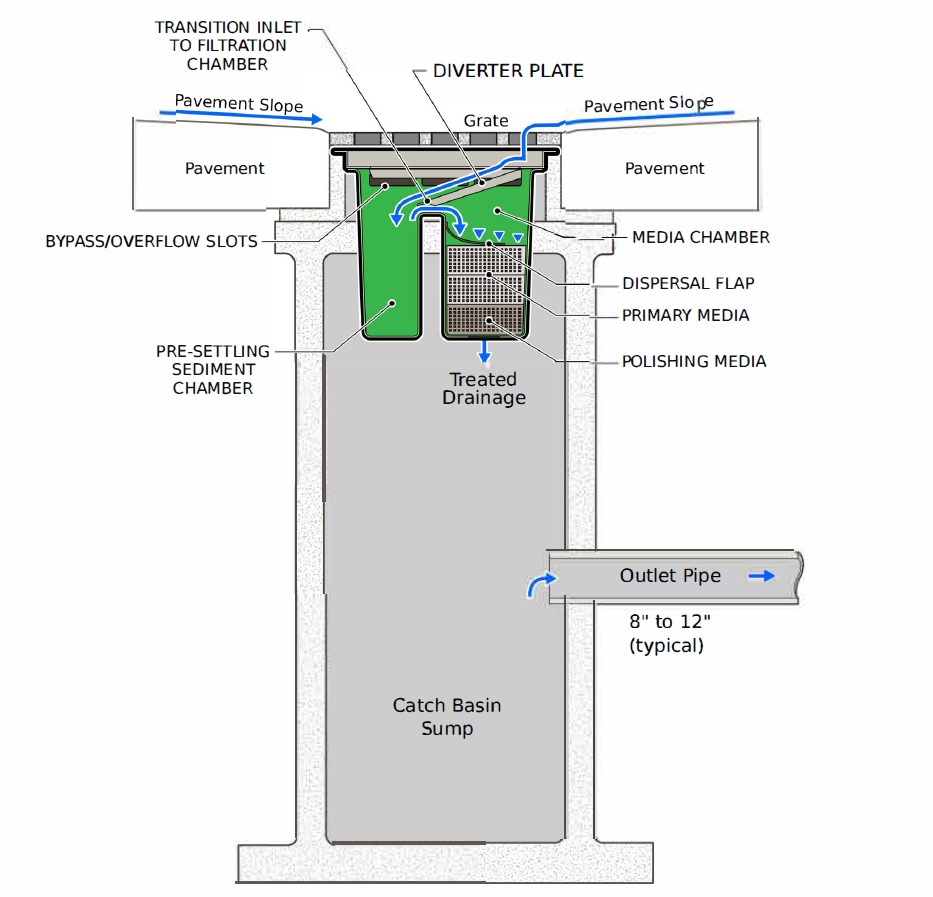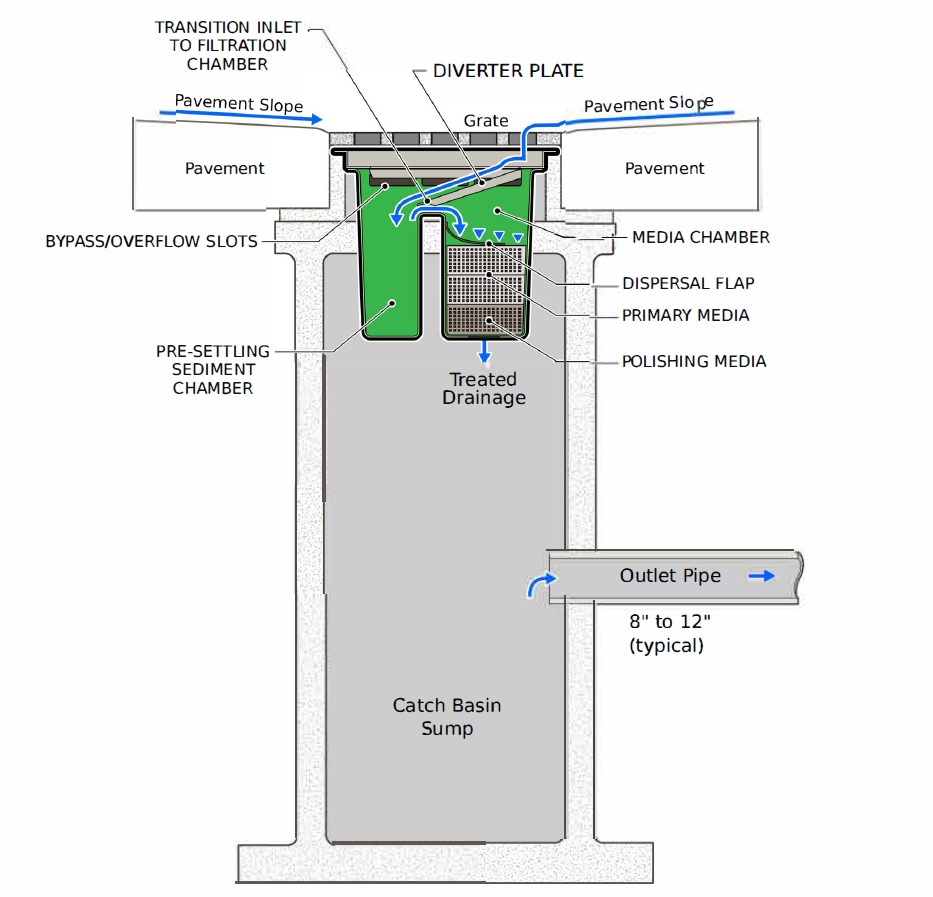 Catch Basin Insert
Hydrokleen Catch Basin Filter Insert for Treating Stormwater
Buy the Catch Basin Insert for superior stormwater treating, from One Clarion, your trusted and authorized Ultratech dealer. Ultratech's HydroKleen catch basin filter insert is an advanced stormwater filtration system that removes multiple types of pollutants from stormwater runoff before they enter the stormwater system. Designed to fit up to three filters, each with unique filtering capabilities, the catch basin insert will fit in round or square catch basin grates (See Video Below).
We provide the best prices possible, fast shipping directly to you, and knowledgeable representatives to answer your questions. Call us for more information about catch basin filter options!
Catch Basin Insert Features
Three Filter System
Dimensions: 15" x 19" and 19" Deep
Exceeds 80% Sediment Removal
Catch Basin Insert Benefits
Customized Sizes Available
Filters Multiple Pollutant Types
Excellent for Hot Spot Drains
Stormwater Catch Basin Inserts Details
A catch basin insert like the HydroKleen will be able to filter and catch multiple types of chemicals and pollutants in one insert. It is for hot-spot drains where multiple contaminants and pollutants can enter a sensitive storm drain, The catch basin filter insert will fit three filters depending on the type of filtration you need. Find out how a catch basin insert works. Watch the video below!
With the catch basin insert for treating stormwater, you can mix and match the type of filtration you need. The Sorb 44 filter is used to remove oils and hydrocarbons; the Phos Filter is used for removing phosphorous; and the Heavy Metal Removal filter extracts zinc, lead, copper, and other heavy metals. Lastly, the Activated Carbon Filter is used to polish water, remove chemicals, hydrocarbons, and other elements from water before it finally enters the storm drain water system. The catch basin insert also has a by-pass system to prevent flooding and ponding.
Catch Basin Filter Insert Types:
Sorb 44
Phos Filter
Activated Carbon
Heavy Metal Removal
Hot spot drains that encounter a variety of pollutants and contaminants will sometimes be affected by construction sites, which carry from them sediments, hydrocarbons, and chemicals. For this reason, hot spot drains will require custom sized stormwater catch basin inserts with different types of filters. Whether you need a catch basin filter insert with a recessed frame, flat frame, or a custom frame, we can help you determine your best options.
Ultratech Ultra HydroKleen Catch Basin Insert Specifications
Part Number
Description
Fits Drains in. (mm)
Ultratech 9870
Flat Frame
20 - 25 (508 - 635)
Ultratech 9871
Flat Frame
26 - 33 (660 - 838)
Ultratech 9872
Flat Frame
34 - 48 (863 - 1,219)
Ultratech 9873
Recessed Frame
20 - 25 (508 - 635)
Ultratech 9874
Recessed Frame
26 - 33 (660 - 838)
Ultratech 9875
Recessed Frame
34 - 48 (863 - 1,219)
Ultratech 9478
Custom Frame
Custom
Ultratech 9876
Sampling Option
Note: Ultratech Ultra Hydrokleen units are custom made to fit each individual catch basin. For pricing please contact one of our One Clarion product specialists to guarantee your catch basin inserts and filter media are the best for your needs.
Hydrokleen Media Blends
| Part Number | Media Description |
| --- | --- |
| Ultratech 9463 | Activated Carbon |
| Ultratech 9462 | Sorb 44 |
| Ultratech 9461 | Phos Filter |
| Ultratech 9460 | Heavy Metal Removal |
Catch Basin Insert Installation Instructions and Maintenance
Once you've determined what frame style of catch basin insert you need and the types of filtration your storm drains need, you will be ready to correctly install and maintain you catch basin insert for treating stormwater. First remove the grate from your stormwater drain and clean the debris from the location. Next, take the catch basin insert and place it in the opening of the storm drain so it rests flush, remove the hard black plastic diverter plate and the rubber dispersal pad that covers the media side of the unit. Take your storm drain filters and place them flat inside the filter chamber. Replace the rubber pad and the diverter plate, along with the storm water drain grate.
For your catch basin filter insert to work at its ultimate potential, you will need to properly maintain it. The catch basin insert should be checked every three months and after major rainfall events. Check the sediment chamber and remove the caught sediment and debris when it is full. Usually, the filters for the catch basin insert for treating stormwater will need to be changed every six months. Of course, this will depend on specific site conditions. Dispose of sediment and used filters according to state and federal regulations.
Catch Basin Filter Insert Frequently Asked Questions
You can fit up to three filters in the catch basin insert, depending on the type of pollutants you are experiencing. You can mix and match different filter types. The three-filter system makes the stormwater catch basin inserts a "true filter" by EPA standards.
The order of filters for the catch basin insert for treating stormwater will depend on your site conditions. The concentration of pollutants will determine what filters go first or last in your catch basin insert. Usually, Sorb44, to capture oil and hydrocarbons, will be used first to keep the oil from binding the other storm drain filters. The activated carbon filter will usually be used last as it is a polishing filter to remove as many leftover contaminants as it can. For more information on the catch basin filter order, give us a call and we can answer your questions.