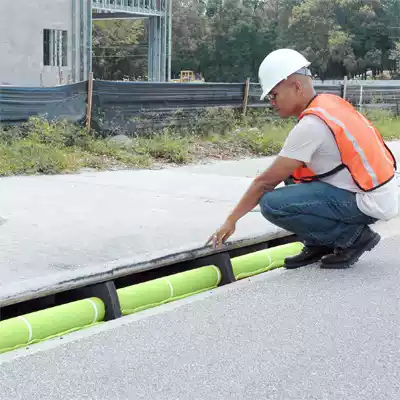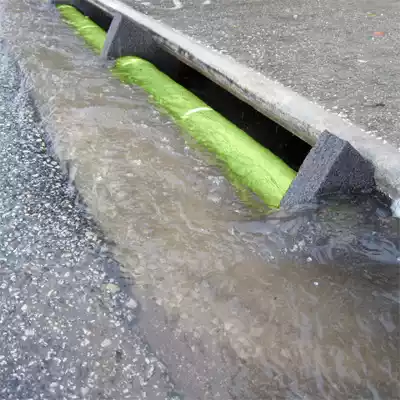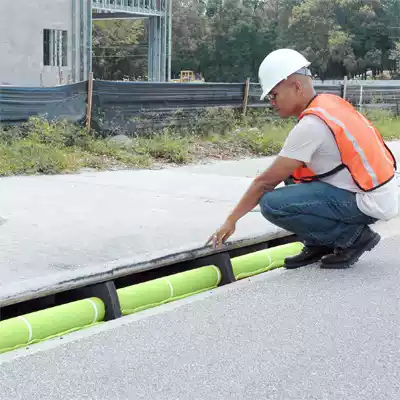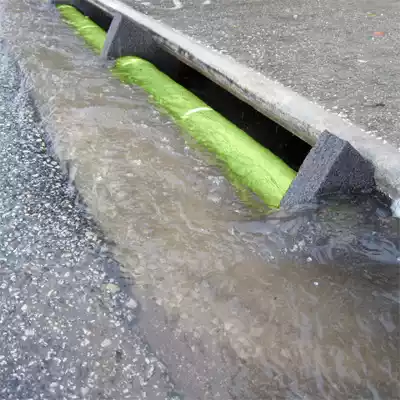 Ultra Curb Guard Plus
Curb Inlet Filter for Stormwater
Ultra Curb Guard Plus Model will protect curb inlets from sediment-filled stormwater runoff. The curb inlet guard can handle large amounts of water and stays in place during large rainfall events. The curb inlet filter fits securely in place and the polypropylene material and design allows large amounts of water to flow through without ponding or flooding. The Ultra Curb Guard Plus is easy to install and can be connected to form almost any length. See the instructional video on storm drain filters below for more details.
We provide the best prices possible, fast shipping directly to you, and knowledgeable representatives to answer your questions. Call us for more information about storm drain filtration options.
Ultra Curb Guard Plus Features
Polypropylene Material & Modular Design
Modular Design with Heavy Duty Foam
Withstands Heavy Flows
Ultra Curb Guard Plus Benefits
No Ponding or Flooding
Units Connect to Form Lengths
Captures Sediment from Runoff
Curb Inlet Filtration Details
Because streetside curb inlets see a lot of stormwater runoff, it's important that they get the proper protection and filtration. When these large rainfall events happen, you want to make sure that your curb inlet protection device stays in place. This is where the Ultra Curb Guard Plus Model comes in. Made with woven polypropylene material that has a high flow rate and built with a modular design to fit any curb inlet, the Ultra Curb Guard Plus will provide durable stormwater filtration. Wedge-shaped foam holds the unit in place. While curb inlets can be virtually any length, the Ultra Curb Guard Plus can be cut to form any length. The specially engineered design of this product allows large amounts to be filtered. When new, the flow rate of the Ultra Curb Guard Plus is 456 GPM.
Recycled Ultra Drain Guard Specs
| Part Number | Dimensions in. (mm) | Weight lbs. (kg) |
| --- | --- | --- |
| Ultratech 9248 | 36 x 4 x 4 (914.4 x 101.6 x 101.6) | 6 (2.7) |
| Ultratech 9251 | 48 x 10 x 10 (1219.2 x 254 x 254) | 8 (3.6) |
Ultra-Filter-Tex Material Specifications
Property
Test Method
Value
Material: Woven Monofilament Polypropylene Geotextile
Grab Tensile Strength
ASTM D 4632
370x200 lbs.
Elongation
ASTM D 4632
15%
Puncture Strength
ASTM D 4833
90 lbs.
Mullen Burst Strength
ASTM D 3786
450 psi
Trapezoid Tear Strength
ASTM D 4533
115x75 lbs.
UV Resistance (at 500 hrs
ASTM D 4355
90%
Apparent Opening Size (AOS)
ASTM D 4751
40 U.S. sieve
Percent Open Area
COE-02215
10%
Permittivity
ASTM D 4491
2.1 sec-1
Water Flow Rate
ASTM D 4491
145 gpm/ft2
Ultra-Filter-Tex Specifications
| Property | Value |
| --- | --- |
| Flow Rate (per piece in new condition) | 456 gpm |
Ultra-Filter-Tex Product Note
Ultra-Curb Guard Plus Models are assembled from a woven monofilament polypropylene geotextile that has been stabilized to resist degradation due to ultraviolet exposure, is resistant to commonly encountered mildew, insects and soil chemicals, and is non-biodegradable.
Ultra Curb Guard Plus Applications
When you have curb inlets that need filtration, you can count on the Ultra Curb Guard Plus. The Ultra Curb Guard Plus will filter out large amounts of stormwater runoff, stopping sediment, trash and debris from entering the stormwater system. Construction sites, municipalities, and facilities dealing with polluted stormwater runoff will need to keep in compliance with different regulations regarding stormwater. The Ultra Curb Guard Plus helps you comply with these rules and regulations:
Stormwater Management Regulation 40 CFR 122.26
National Pollutant Discharge Elimination System (NPDES)
Total Maximum Daily Load (TMDL)
The Ultra Curb Guard Plus doesn't filter oil or hydrocarbons. It is designed to expertly tackle sediment, trash, and debris in curb inlets.
One of the best indicators of a good stormwater BMP is its ability to stay in place while being used. If a product can't stay where you place it, then it's not working for you at all. With the Ultra Curb Guard Plus, the heavy duty foam inserts keep the curb inlet protection device in place, especially during heavy rainfall events. Another advantage of the Ultra Curb Guard Plus is its low profile design. Unlike other products, like gravel bags, which can sometimes get in the way of vehicles or bikes, this curb inlet filtration device, sits out of the way of people.
As of right now, the Ultra Curb Guard Plus filter sediment, trash, and debris. It does not have a mechanism for filtering hydrocarbons or oil. However, we do have different stormwater management products that do filter both sediment and oil. The Ultra Curb Guard Insert Style is one example. For other examples, give our sales team a call.