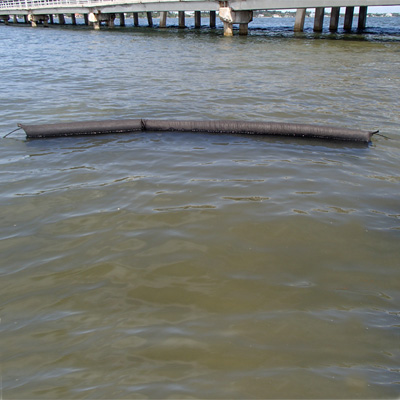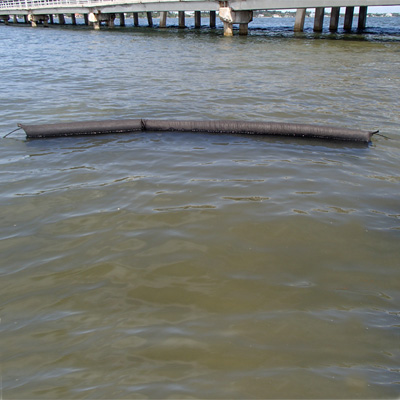 Type 1 Permeable Silt Screen
Geotextile Curtain for Filtering Sediment
The Type 1 Geotextile Silt Screen is an all permeable curtain that provides both containment and filtration in calm water areas. Made from an eight ounce (8 oz.) nonwoven geotextile, our curtains are often used in areas with mild conditions.
Geoxtextile Silt Screen Features
Impermeable PVC Material
Permeable Geotextile Filter Panels
Contractor or DOT Models
Geoxtextile Silt Screen Benefits
Allows Silt Enough Time to Settle
Permeable Panels Provide Filtration
Flow Through Permeability Eases Pressure on Curtain
Type 1 Silt Curtain Details
Geotextile curtains are constructed with either a 4" or 6" float and have a bottom skirt ranging anywhere from 3' to 10'. Silt screen curtains are intended for short term projects.
Ditches
Shallow Water
Calm Water Areas
Temporary Silt Containment Requirements
Type 1 Silt Screen Curtain Additional Models
For certain locations, having a more robust design is required in order to effectively keep silt contained. For these areas, standard impermeable Type 1 silt curtains (18 oz. PVC) are also available.
Contractor (13 oz. PVC, 4" Floats)
DOT (18 oz. PVC Fabric)
Economy (13 oz. PVC, 4" or 6" Floats)
Type 1 Silt Screen Typical Specifications
Standard Length
50'
Depth
3' to 10'
Flotation
4" Float
6" Float
Fabric
8 oz. Nonwoven Geotextile
Section Connectors
Grommet Section Ties
Bottom Chain
5/16" Heavy Ballast Chain
Silt Screen Accessories for Anchoring and Installation
Protect your floating silt barriers with proper installation using these marine accessories:
Anchor Kits: pre-assembled for your convenience
Tow Bridle: helps distribute weight and stress load to prevent damage during towing
Reefing Lines: gives you control over how much curtain to unfurl for each panel section, so that the curtain isn't dragging and catching on the water body's floor
Tidal Compensator: adjusts automatically keeping the floating silt barrier positioned correctly with the changing tides.
Type 1 Permeable Silt Screen Frequently Asked Questions
For any location with a current, waves, or tides, Type 2 and Type 3 moving water silt curtains are required. These curtains include the following additional heavy-duty components:
Tension Cables
Section Connectors
Bottom Stress Plates
For more information about silt screen curtains, view our complete Silt Curtain Variety.
While (permeable) geotextile silt screen curtains are a good option for sites that require a permeable calm water barrier, many sites require an impermeable curtain in order to meet site requirements. Impermeable silt curtains should be used any time you are dealing with longer term applications, DOT requirements, or significant silt requirements. Some benefits of the standard silt curtains include:
Impermeable PVC Material
Increased Strength
Allows Silt Enough Time to Settle
Contractor or DOT Models
Permeable floating silt screen is available in Type 1, Type 2 and Type 3 models, with options to accommodate project sites with stronger currents and wind exposure.