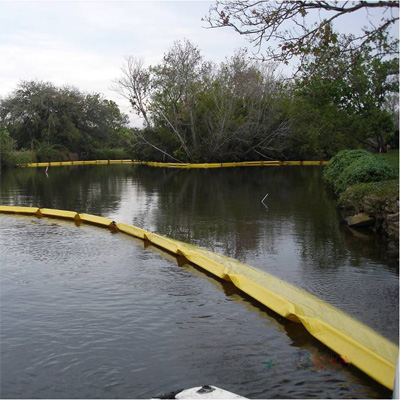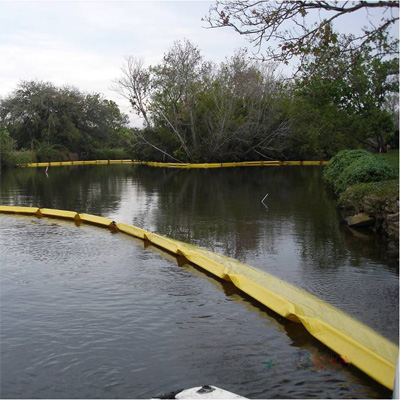 Type 1 Silt Barrier
Calm Water DOT Silt Curtains
Use Type 1 DOT Silt Barrier for marine construction projects in calm water ponds, lakes, canals, and roadside swales. This floating silt barrier is rated to satisfy most DOT compliance requirements for containing the sediment-filled water that construction kicks up until it's once again settled to the bottom. Silt barrier prevents water pollution and helps construction sites stay in compliance and avoid fines.
DOT Type 1 Silt Barrier Features

50' or 100' sections
Curtain panel depths of 3' to 20'
Quick Section Interconnects
Geotextile Skirts Available Upon Request

DOT Type 1 Silt Barrier Benefits

Meets and Exceeds Most State US DOT Requirements
Designed for use in Protected Waterways
Inexpensive BMP Solution
Strongest of the Type 1 Silt Barriers
DOT Type 1 Silt Barrier Details

All Type 1 DOT silt curtains are designed to meet or exceed DOT requirements. Type 1 DOT Silt Barrier is the strongest of the Type 1 models. It is designed for calm water locations with very little or no current. Because of its durable construction, Type 1 DOT silt barrier is also commony used for longer term projects.
Choosing the right turbidity barrier for your project will depend on several factors. Any time you are considering using a barrier for your location, we advise customers to review the following conditions on their location:
Water Conditions
How fast is the water moving?
Are there waves or frequent changes in water levels?
Site Conditions
How long will the project last?
How deep is the water in the project's conatinment area?
Is there wind? If so, what is the wind speed?

Silt barriers typically come in standard lengths and depths, . However, they can easily be customized with curtain depths up to 100 feet as needed. If you have a project with specific requirements, please call us or send us a form highlighting details about your project.
DOT Type 1 Silt Barrier Specifications
| | |
| --- | --- |
| Flotation | 6" Marine Grade Flotation |
| Fabric | 18 oz. Heavy Duty PVC Fabric |
| Section Connectors | Reinforced Grommet Section Ties |
| Bottom Chain | Heavy 1/4" Galvanized Steel Ballast Chain |
| Standard Length | 50' or 100' |
| Depth | 3' to 20' |
| Length (Metric) | 15.2 m or 30.5 m |
| Depth (Metric) | 0.9 m to 30.5 m |
Type 1 Silt Barrier Applications and Installation

Type 1 Silt Barriers are available in several different models and are specifically designed for use in calm water and low flow areas. For areas with currents, waves or tides, please see: Type 2 Silt Barrier and Type 3 Silt Barrier.
Calm Water Lakes
Calm Water Ponds
DOT Projects
Small Streams
Roadside Swales
In addition to the DOT Barrier featured above, we also make other Lighter Grade Silt Curtains to control silt during short term projects or in shallow areas. These include:
Type 1 Contractor (13 oz. PVC, 4" Floats)
Type 1 Economy (13 oz. PVC, 4" or 6" Floats)
Type 1 Geo (8 oz. Nonwoven Geotextile)
Protect your floating silt barriers with proper installation using these marine accessories:
Anchor Kits: pre-assembled for your convenience
Tow Bridle: helps distribute weight and stress load to prevent damage during towing
Reefing Lines: gives you control over how much curtain to unfurl for each panel section, so that the curtain isn't dragging and catching on the water body's floor
Tidal Compensator: adjusts automatically keeping the floating silt barrier positioned correctly with the changing tides.
Type 1 Silt Barrier Frequently Asked Quesitons
DOT Silt Barrier simply means that it is specifically designed to meet (or exceed) the requirements of the vast majority of US states' DOT requirements. While it is always advisable to confirm that the specs for your project match the specifications of the silt barrier, this curtain is highly likely to satisfy DOT project requirements.
Anchor placement is the unsung hero that will determine if your DOT silt curtain project will be successful and satisfy compliance requirements. Your project specs will likely include specific placement targets for the anchors, but if not, please contact us. Anchor placement is impacted by natural forces that place stress loads on the curtain, such as current, wind, depth, tides, stormwater impact, and other factors. Placed in the wrong locations, the containment will fail and the curtain could be severely damaged. Without enough anchors, your floating silt barrier can take flight and float away (yes, this has happened!). For convenience and to save time on the job site, pre-assembled marine anchors are available.
For project sites with up to 1 knot of current and light wave action (no more than 1-foot swells), Type 2 turbidity curtain is going to be the best option for your project's success. It is a more durable curtain, designed for more rigorous conditions than Type 1. Type 1 silt barrier is for calm water conditions.