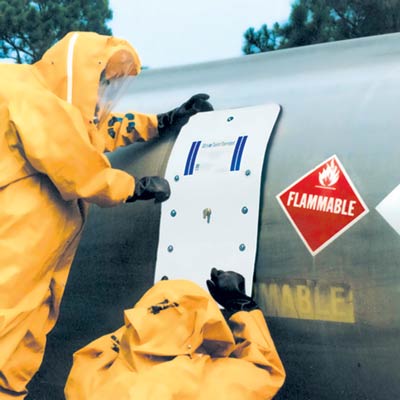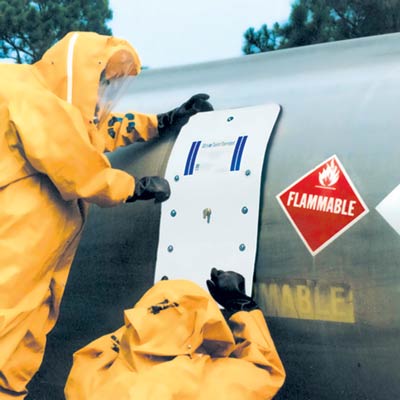 Tanker Tourniquet
For Tanker Truck Spill and Tanker Accident
The tanker tourniquet is a tanker truck spill containment solution designed to address overturned tanker, tanker accident, and damaged tanker trucks situations. The tanker tourniquet seals away leaks and damage, securing a Spill Containment situation.
Tanker Tourniquet Features
3.5"x16" Sealing Area
Stainless Steel Backing Plate
EPDM Sealing Bladder
Tanker Tourniquet Benefits
Stops and Seals Leaks on Tankers
Reduces Spills From Overturned Tanker
Compatible with Variety of Chemicals
Tanker Tourniquet for Tanker Truck Spill Details
Minimize a tanker truck spill with a tanker tourniquet. The tanker tourniquet works with strong magnets and a chemical-resistant sealing pad to stop leaks at the source. Think of the tanker tourniquet like a magnetic bandage that secures a puncture wound on an overturned tanker. With the strong force from the magnets, the compression material of the tanker tourniquet fully seals the rupture. Full dimensions of the tanker tourniquet include 15.75" x 32.25" x 3.25", while the sealing dimensions are 3.5" x 16".
Need more information on our spill containment solutions? Give us a call!
Ultratech Ultra Tanker Tourniquet Specifications
| | |
| --- | --- |
| Part Number | 2000 |
| Description | Tanker Tourniquet |
| Dimensions in. (mm) | 15.75 x 32.5 x 3.5 (400 x 819 x 83) |
| Weight lbs. (kg) | 19.0 (8.7) |
Tanker Tourniquet Chemical Compatibility
The tanker tourniquet is compatible with a wide variety of liquids that may be associated with a tanker accident or overturned tanker situation. Some chemicals that the tanker tourniquet sealing pad is compatible with include Antifreeze, Butanol, Formic Acid, Methanol, and more. For more information on what chemicals are compatible with the tanker tourniquet and what tanker truck spill containment leaks the sealing pad can handle, check out our helpful tanker tourniquet compatibility chart. When lives are on the line with an overturned tanker and a tanker accident, a tanker tourniquet will quickly and effectively stop spills.
Tanker Tourniquet Frequently Asked Questions
The sealing pad on the tanker tourniquet is made with a material called EPDM (or ethylene propylene diene monomer rubber), which is a type of synthetic rubber. This material has excellent compatibility with a wide variety of chemicals. For more information on chemical compatibility, see our compatibility chart.
The tanker tourniquet comes with eight rare earth, spark resistant magnets. These magnets are extremely strong and ensure that the tanker tourniquet will stay in place. The tanker tourniquet is made to help with ferrous tanker truck spill containment and not non-ferrous tanker accident issues.