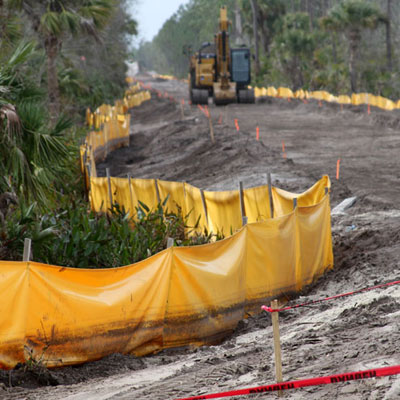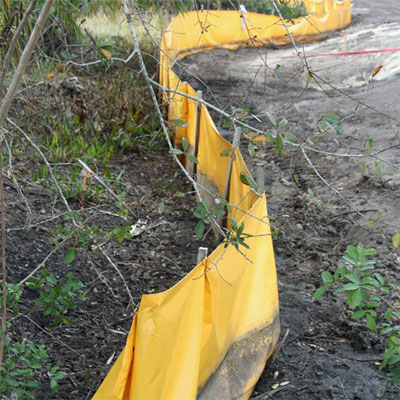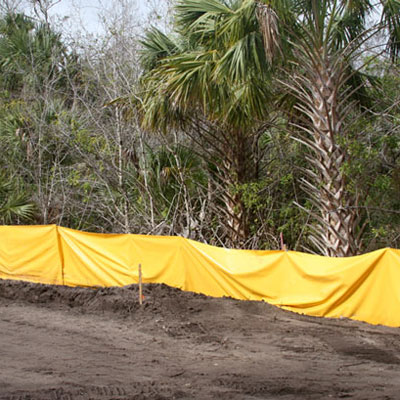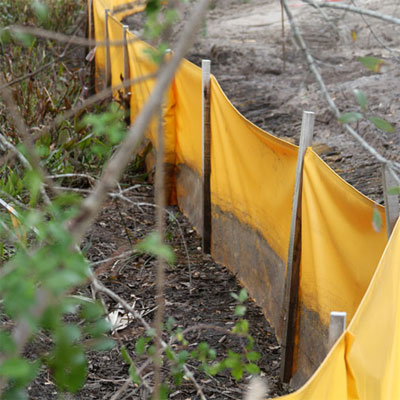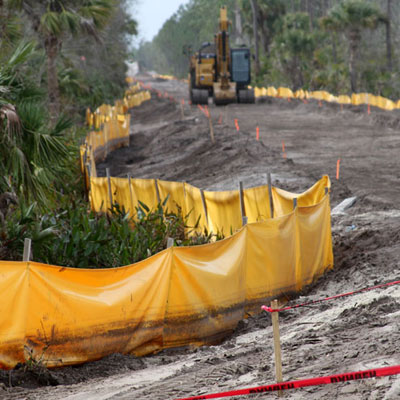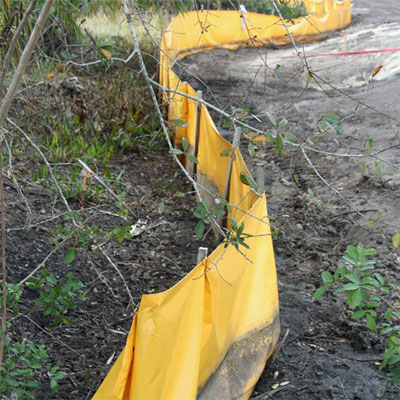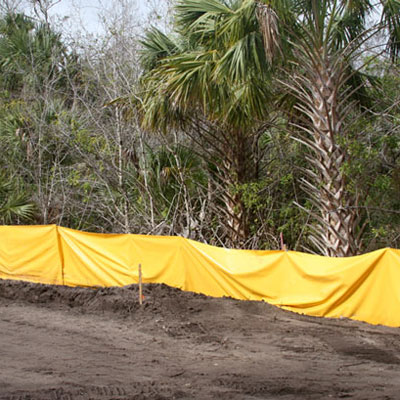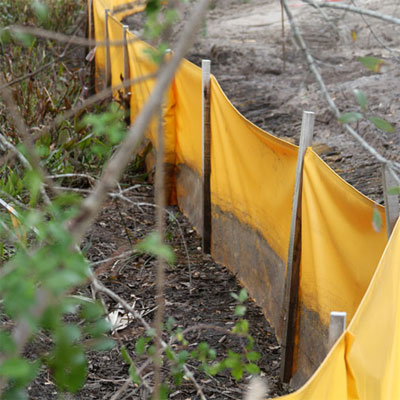 Staked Turbidity Barrier FDOT
Erosion Control Fence for Stormwater
Our Staked Turbidity Barrier (also called Staked Barrier) meets (or exceeds) all DOT specifications and is recognized as a top erosion control product. It consists of continuous panels of impervious vinyl-polyester (Pvc) fabric that when installed correctly,slows flow and directs stormwater to retention areas. This land-based erosion control fence is high strength and meant to control the flow of water, directing stormwater runoff to retention areas where the sediment can settle. It's popular for use on construction sites, roadside ditches, marshes or shallow bodies of water, and retention basins.
Staked Turbidity Barrier Features
Staked Turbidity Barrier Benefits

Fabric: Yellow 18 oz. Reinforced Impermeable PVC
Height: 48 inches
Standard Length: 100 feet

Economical
Effective Runoff Control
Compact and Easy to Set Up
Staked Turbidity Barrier Details
The staked turbidity barrier is an impermeable erosion control fence meant to divert stormwater runoff. The standard silt fence is a permeable erosion control device, made of woven geotextile. However, staked turbidity barrier is an erosion control fence made of impermeable PVC material. Because the staked silt barrier is made from impermeable material, water will not flow through it. Instead, water will be directed to retention ponds or diverted so sediment can settle.
The staked turbidity barrier, sometimes known as a staked turbidity curtain, is most often used in shallow ditches and marshes where stormwater runoff and sheet flow are an issue. A staked turbidity barrier has a tensile strength of 350 lbs. Staked turbidity barrier FDOT meet the US DOT requirements for erosion control and sediment control, which makes them an ideal product solution as a stormwater BMP. An erosion control fence like this one will be used to control stormwater runoff on construction sites, keeping them in compliance when dealing with increased water flows.
How it Works
Land based installation for this product is very similar to installing starndard silt fence. Place 9" of the fence below the grade, and the rest above grade. Attach the upper portion of the barrier to stakes approximately 6' apart. Attach them with staples, wires or nylon ties. If necessary, it can also be installed in up to 18" of water. Iif you purchase the unstaked rolls. We sell stake bundles in packs of 9 or 17..
Alternatively, you can choose to save installation time by purchasing Staked Turbidity Barrier, with the stakes already attached for quick and easy installation. As a third option, it is also available with a mesh backing attached to prevent the fabric from tearing and extending the use-life of the fence. Ask us for pricing on all three options!
The staked turbidity barrier is made from reinforced 18 oz. impermeable PVC fabric. The standard length of a staked silt barrier is 100 feet and the standard height is 48 inches. Do you have more questions about the features and details of our staked turbidity curtain? See the staked turbidity barrier specifications below for more information or contact us at 1-863-261-8388 or Contact Us.
AVAILABLE SIZES FOR STAKED BARRIERS - 18OZ YELLOW VINYL
48" X 100' NO STAKES
PACK OF 9 STAKES, OR PACK of 17 STAKES
48"" X 100' WTH STAKES
48"" X 100' W/ STAKES & LATTICE
Staked Barrier DOT Specifications
| | |
| --- | --- |
| Fabric | 16 mil nominal laminated vinyl/polyester (PVC) Fabric |
| Width | 48" in. |
| Construction | vinyl laminate on 18 x 17, 1000 x 1300 denier scrim |
| Weight | s 16 mil nominal per sq. yd |
| Adhesion | 10 x 10 lb./in. |
| Grab Tensile | 410 x 410 lb |
| Tongue Tear | 100 x 100 lb |
| Hydrostatic | at lease 600 lb psi |
| Color | Safety Yellow |
| Standard Length | 100 ft., all seams are heat sealed |
| Alternate Fasteners | Wire, Hog Rings, Staples |
*The stakes for the sediment control barrier are sold separately. For information on pricing for erosion control fence, give us a call at 1-863-261-8388 or Contact Us..
Staked Turbidity Barrier FDOT Installation


When installing a staked turbidity barrier, you'll want to follow specific guidelines and instructions, which will be specific to your site and project. Your state's DOT requirements will determine what specific guidelines you follow to install your stormwater bmp erosion control fence. Below you'll find general guidelines for installing a staked turbidity barrier. To ensure the effectiveness of your erosion control fence, determine the best possible installation process with specifics regarding the type of sediment, degree of slope, and the amount of water flow you are experiencing.
The following sediment control fence installation guidelines for staked turbidity barrier successfully work on moderately sloped areas that have porous soil and a water depth of less than 30 inches.
First, dig an 8-inch-deep trench along the desired flow control path, placing fill on the upslope side of trench. Next, on the downslope side of trench, install 1"x 1" wooden stakes (re-bar or similar) on 6' centers maximum, protruding 36" above the gradient. Then, unroll the silt barrier and fasten it to stakes – 36" attached to stakes and 8" in trench. Last, once the entire run is in place and desired flow diversion path is in place, then back-fill the 8" inch trench trapping the bottom 8 inches of the silt barrier, effectively creating a runoff seal. If no backfill is available, use sandbags to create a bottom seal.
Staked Turbidity Barrier FDOT FAQs
We carry a variety of erosion control silt fences and safety fences. For instance, we carry the standard erosion control silt fence that is made from woven geotextile. This permeable silt fence filters stormwater runoff, retaining the sediment and silt while allows the water to flow through. This can help construction sites stay in compliance and prevent the detrimental effects of erosion. We also sell an orange safety barrier to act as a perimeter delineation. .