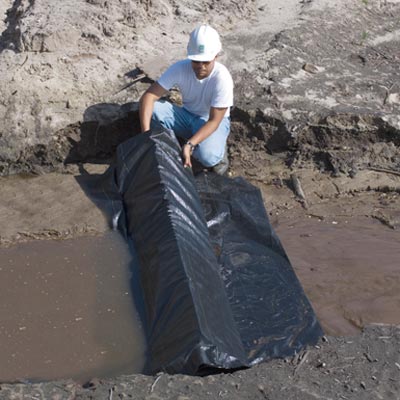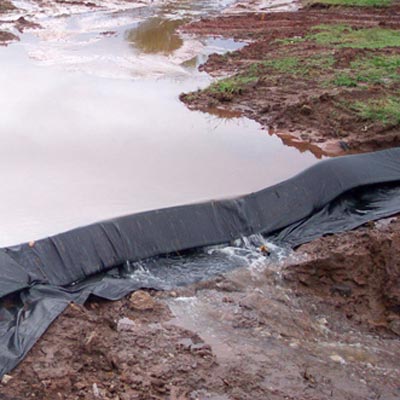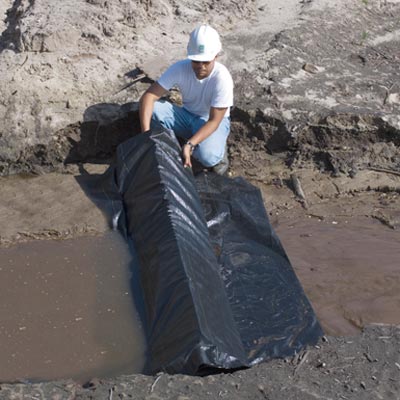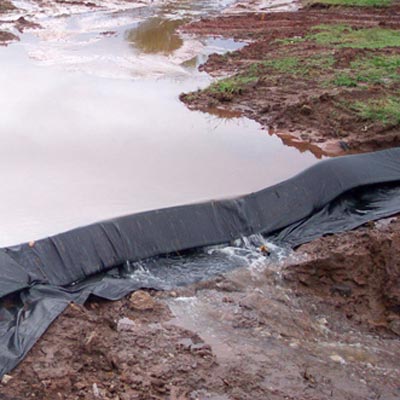 Silt Dike
Triangular Silt Dike Check Dam
A silt dike is a temporary sediment control check dam for stormwater management that blocks sediment, oil, and other pollutants from contaminating water and environmentally-sensitive areas around your work site. The triangular silt dike helps prevent soil and hillside erosion failure due to loss of sediment.
We provide the best prices possible, fast shipping directly to you, and knowledgeable representatives to answer your questions. Call us for more information about stormwater filtration products.
Silt Dike Features
Interior: Foam Urethane
Exterior: Woven Poly Geotextile
Comes in 7' Sections
Silt Dike Benefits
Easy, Quick Installation
Used for Check Dams, Ponds, and Streams
Economical Ditch Check Dam
Triangular Silt Dike Product Details
Ditch check dams like our triangular silt dike offer a unique approach to erosion and sediment control. Our triangular silt dike is a check dam that has a wide, sturdy base to hold up against moving water while blocking sediment and even oil from leaving your site. Being compliant with stormwater management regulations is important. Keep your project in compliance with the right stormwater BMP products like our ditch check silt dike.
Compared to straw wattles or hay bales, triangular silt dikes are a robust, durable synthetic sediment control ditch check that helps you control erosion on your property and in your work area. Silt containment dikes are long-lasting and provide continuous support in streams, runoff ponds, and other stormwater collection areas. Compared to other stormwater runoff control solutions, silt containment dikes offer more erosion control compared to its triangular silt dike price. Need more detailed pricing? Call our knowledgeable team today at 863-261-8388.
Ultratech Ultra Silt Dike Specifications
Part Number
Ultratech 9712
Dimensions
84" L x 67" W x 10.5" H
(2,134 mm x 1,702 mm x 267 mm)
Weight
8 lbs.
(3.5 kg)
Ultratech Ultra Silt Dike - Additional Products
Silt Dike Installation and Maintenance
Silt dikes install in minutes and are an economical way to accomplish sediment control in a variety of locations. When installing silt dikes, you can secure the unit in place with U-shaped wire staples along the aprons on either side. This will allow your silt dike to be better conformed to rougher terrains and locations where sediment control might be impeded by the topography of the land.
A temporary dike must be checked regularly to ensure that it is working properly. While our silt dikes are long-lasting and durable, they need to be maintained. With proper installation and maintenance, your silt dike ditch check will perform at its best. If the area where you want your ditch check dam to be is longer than the standard 7' triangular silt dike sections, you can install multiple units side-by-side for maximum sediment control and stormwater management.
Triangular Silt Dike Frequently Asked Questions
Silt dikes can be used in applications for stream and pond protection. Silt dikes can be used as ditch check dams and diversion dikes. A silt containment dike can provide drop inlet protection or act as a temporary ditch liner.
Silt dikes are easily installed. The triangular silt dike is placed in the desired location and then secured to the ground with U-shaped staples through the apron around the silt dike and into the soil.