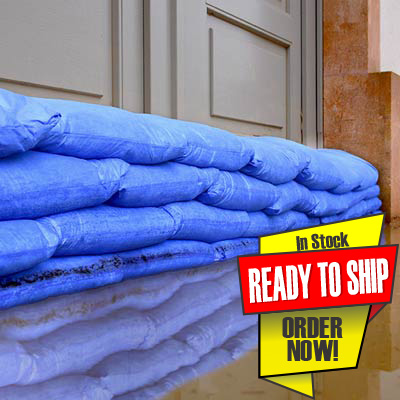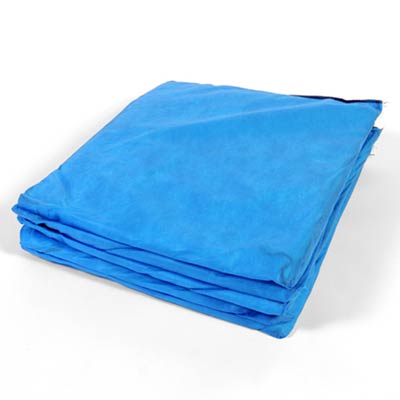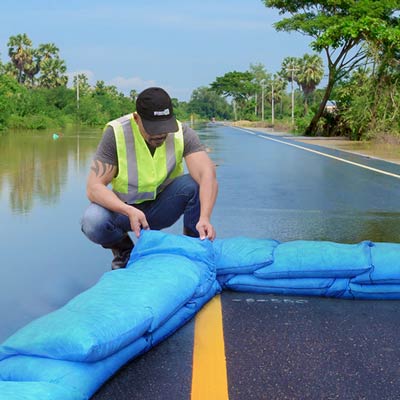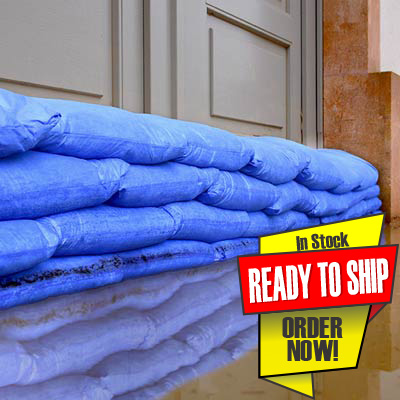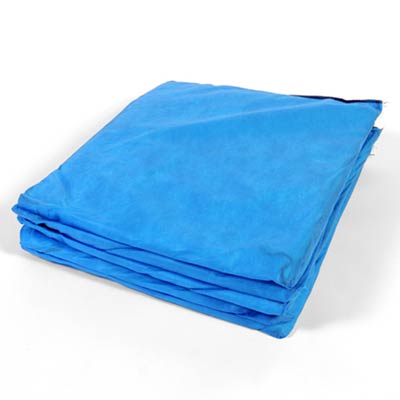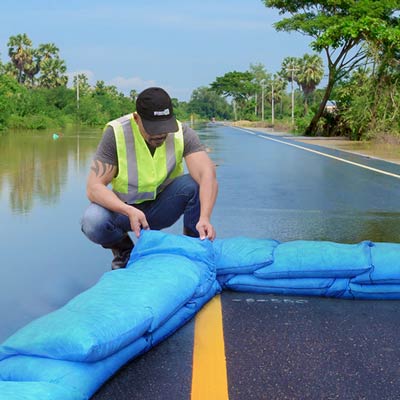 Flood Bags
Sandless Flood Bags
Sandless Flood Bags deploy faster, with less effort, and a lot less mess than traditional sandbags (see the video below). As crazy as it sounds, our favorite way to protect against flood damage is to add water... using Water-Activated Flood Bags! 
These sandless flood bags act as a quick dam flood barrier that absorbs water, swelling to form a 30-40 lb pad.  Fit cases of them in storage for fast access to emergency flood protection for your home or business. 
Get ready for flooding and hurricane season now!
We provide the best prices possible, fast shipping directly to you, and knowledgeable representatives to answer your questions. Call us for more information about flood protection products!
Flood Bags Benefits
When dry, are lightweight and store flat
Soak for just 5 minutes to reach full size
Will last for up to 3 months once activated
Flood Bags Features
17"x22" When Dry
Exterior: Hydrophilic, Non-Woven Fabric
Interior: Four Layers of Super Absorbent Polymer
Flood Absorbent Bag Details (See Video Below)
The durable construction of the flood absorbent bag makes it a perfect check dam against flood waters and even leaky appliances. Made from sturdy hydrophilic, non-woven fabric, flood control bags will absorb water up to 90 percent of its construction. When compared to sandbag flood protection, sandless sandbags are a great alternative to sandbags. Flood control bags do not need to be filled with another material when you receive them, so installing them is much more streamlined. Additionally, a flood bag will maintain a consistent shape through their deployment as a flood barrier, unlike other flood control methods, which may lose their shape and slump during deployment.
Ultratech Ultra Aqua Flood Bags Specifications
Part #
Model
Dimensions in. (mm)
Weight lbs. (kg)
Absorption Capacity gal. (L)
5400
15-Pack
Dry Bag: 22 x 17 x 1 (559 x 432 x 25)
Full Absorbed Bag: 20 x 16 x 4 (508 x 406 x 102)
Dry Bag: 0.33 (0.15)
Fully Absorbed Bag: 30-40 (14-18)
4 (15)
Flood Control Bags Downloads
Flood Bags Applications
Sandless flood bags can be used for different applications. Primarily they are designed to absorb and act as a check dam flood barrier against water damage and flooding. But a flood absorbent bag doesn't just stop flood waters outside a home. Sandless flood bags can be deployed for other liquid emergencies like leaking toilets, flooding basements, and other appliances inside the home that cause water damage.
You can use just about any large container to activate the sandless flood bags. Small pools or similar basins are perfect, but if you want a super convenient, all-in-one, portable berm for activating the sandless flood bags, then we can provide you with the Ultra Containment Berm as a staging pool. Contact us for more information about purchasing a staging pool with your Ultra Sandless Flood Bags.
Flood Bags Frequently Asked Questions
When dry and preactivated, a flood absorbent bag will weigh less than one pound. Once the super absorbent polymer is activated, however, the bag will weigh 30 to 40 pounds. While sandbags require much labor to fill and set up, sandless sandbags do not require this intensive labor. This makes a flood bag a great alternative to sandbags. Instead, flood control bags will be activated with water and then set up in their appropriate places.
When preactivated, a flood absorbent bag will last around 10 years on the shelf if it is kept in the same condition and bag. Once activated, a flood absorbent bag will last different amounts of time depending on the temperature of the environment it is being used in. In warmer, temperate climates, flood bags last from one to three months.