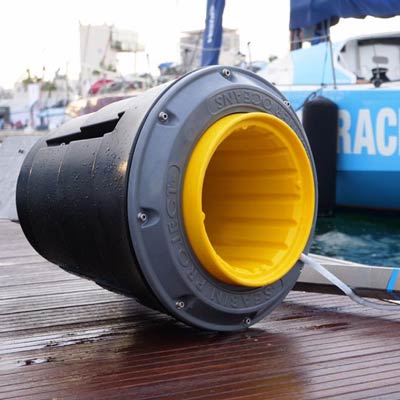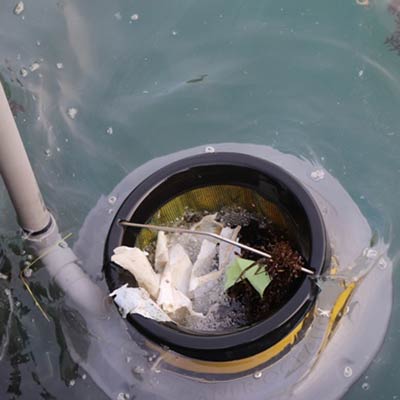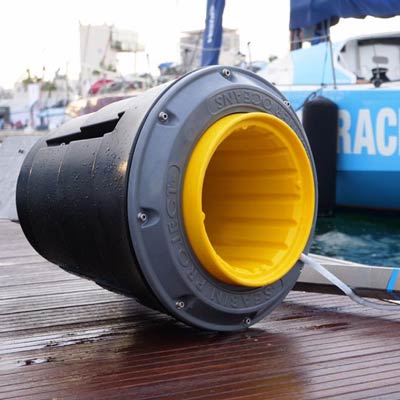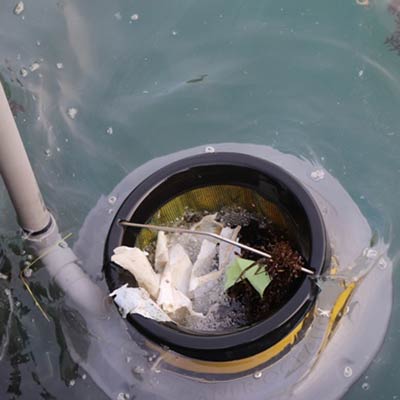 Seabin
Floating Trash Skimmer
Seabin is a floating trash skimmer that takes in debris and trash-filled water through a pump. The trash from the water is retained in a catch bag and the clean water is returned to its environment. Want to know more about controlling plastic water pollution with a Seabin? Contact us today!
Seabin Features
20 Kilogram Capacity Catch Bag
HDPE Construction
25,000 Liters Per Hour Pump
Seabin Benefits
Plastic Pollution Control
Low Carbon Footprint
Cleaner Marinas and Harbors
Seabin Details
A floating trash skimmer like the Seabin is a great solution for plastic water pollution in marinas and harbors with little to no wave action. The Seabin is a low-profile floating trash skimmer perfect for collecting moderate amounts of marine debris and micro plastics that plague the environment. The Catch bag capacity of the Seabin is roughly 44 pounds (20 kilograms). Seabin provides plastic pollution solutions for marinas and harbors in need of cleaning. The Seabin can operate 24 hours a day, 365 days a year depending on site conditions and the amount of maintenance required in emptying the Seabin. Watch a video of a Seabin working below:
There are three types of Seabin.
Fixed Seabin
Mobile Seabin
Floating Seabin
The Fixed Seabin is attached to vertical docks that do not move. A Fixed Seabin would not be attached to a floating dock that moves with the tides.
A Mobile Seabin is a moveable floating trash skimmer that is used in harbors but can be moved from dock to dock to provide a wide area with plastic water pollution control.
Finally, a Floating Seabin is attached to floating docks that moves with the water's tides.
If you're wondering what type of Seabin is right for you harbor or marina or you're asking yourself how much does a Seabin cost, contact our sales team. We will be happy to assist you in your inquiry.
Floating Seabin Specifications
| | |
| --- | --- |
| Power | 110V / 220V (500 watts). |
| Pump | 6,600 gallons / hour (25,000 L / hour) |
| Micro Plastic Capture Size | Up to 2mm |
| Catch Bag's Capacity | 44 lbs. (20kg) |
| Weight with Bracket | 126 lbs. (57kg) |
| Electrical Cable | 20 ft. (6m) |
Mobile Seabin Specifications
| | | |
| --- | --- | --- |
| Description | HDPE Modular Dock WAP 3.3' x 4.9' (1 x 1.5 m) | Corrosion Isolution |
Fixed Seabin Specifications
| | | | | |
| --- | --- | --- | --- | --- |
| Description | Standard Accessory for Fixed Docks | Aluminum H Beam 5.11" (140 mm) | Chemical Sealing | Corrosion Isolution |
Floating Trash Skimmer Seabin Applications
The Seabin is a floating trash skimmer that is adept at collecting plastic water pollution and microplastics in the waters of a marina or harbor. The commonly caught items by a Seabin are cigarette butts, fishing lines and lures, food wrappers, plastic cutlery, and polystyrene foam. Do you notice any of these items in the water around your harborside restaurant or bar? Using a Seabin to clean up the water will make a huge difference in the environment around your location. When you need proven plastic pollution solutions, get a floating trash skimmer.
Seabin Frequently Asked Questions
It depends. Many factors can contribute to a Seabin price. For instance, pricing varies depending on the type of Seabin you need, whether floating, mobile or fixed. Also, the Seabin price will be affected by installation requirements at your site. Additionally, if you require maintenance for your floating trash skimmer fleet, the Seabin price will be affected. For Seabin price information, give our sales team a call.
The Seabin takes in polluted water through a pump, retaining the trash in a catch bag and releasing clean water back into a harbor. The Seabin is a great plastic water pollution solution that can clean up your marina over time.