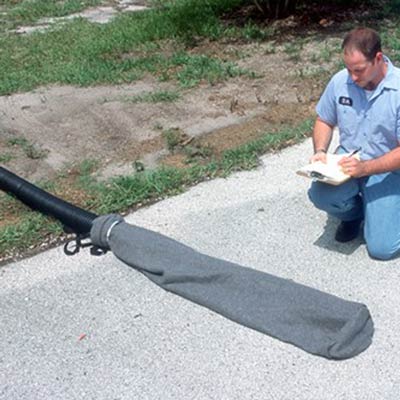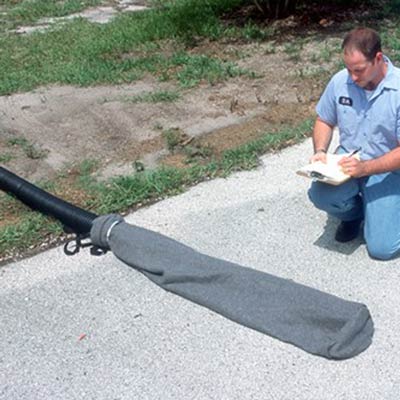 Pipe Sock
Pipe Filter Sock
This pipe sock is made from durable geotextile filter fabric designed to allow water to pass through while absorbing hydrocarbons including petroleum, contaminants, animal and vegetable oils, and sediment. When you need a dewatering product to filter contaminants through a hose or pipe from a site, using a pipe filter sock is a great choice.
We provide the best prices possible, fast shipping directly to you, and knowledgeable representatives to answer your questions. Call us for more information about dewatering product options.
Pipe Sock Features
Durable Geotextile Filter Fabric
Oil Capacities Up to 3.5 Gallons
For Hoses and Pipes
Pipe Sock Benefits
Filters Many Contaminants
Complies with SWPP
Variety of Applications
Pipe Filter Sock Details
A pipe sock that can filter multiple types of contaminants like hydrocarbons, petroleum, animal oils, and vegetable oils, among others, will be extremely beneficial in dewatering projects. A pipe sock can fit around a variety of pipes and hoses, acting as an oil filter as well as a silt filter. Sock pipe sizes vary in diameter and length. However, a pipe filter sock can fit around a variety of pipe and hose sizes. Pipe sock diameters range from 8", 12", and 16". Lengths of sock pipe go up to 60". Oil capacity for the sock pipe include 1.7 gallons, 2.6 gallons, and 3.5 gallons.
Ultratech Ultra Pipe Sock Specifications
| Part # | Model | Dimensions in. (mm) | Absorption Capacity gal. (L) | Weight lbs. (kg) |
| --- | --- | --- | --- | --- |
| 9705-OS | Oil & Sediment Model | 60 x 8 x 8 (1524 x 203.2 x 203.2) | 1.7 (6.4) | 2 (.9) |
| 9706-OS | Oil & Sediment Model | 60 x 12 x 12 (1524 x 304.8 x 304.8) | 2.6 (9.8) | 3 (1.4) |
| 9707-OS | Oil & Sediment Model | 60 x 16 x 16 (1524 x 406.4 x 406.4) | 3.5 (13.2) | 3 (1.4) |
Pipe Sock Applications
A pipe sock will work wonderfully with pond applications where pipes extend above the water's surface. Using a sock pipe in this application will prevent sediment inflow during high water events, further keeping you in compliance. On your construction site, you can use a sock pipe as part of your stormwater pollution prevention plan to keep your company in compliance. With our silt filter products you will meet and exceed DOT requirements for your site.
Pipe Silt Filter Frequently Asked Questions
Depending on its size, the pipe sock can take on a range of oil capacities. For the 8" diameter pipe sock, an oil capacity of 1.7 gallons is normal. For the 12" and 16" diameters, the oil capacity is 2.6 and 3.5 gallons, respectively. If you need to filter even more oil and hydrocarbons during the dewatering process, see our oil and sediment Dewatering Bags.
Both dewatering products provide superior dewatering filtration and compliance. However, dewatering bags work on a much larger scale than a pipe sock. Both silt filter products are made from durable geotextile filtration fabric but differ in the amount of sediment and oil they can contain.
Yes, the pipe filter sock complies with NPDES, 40 CFR 122.26 (1999). The pipe sock is a best management practice (BMP) that works as part of a Storm Water Pollution Prevention Plan (SWPPP).