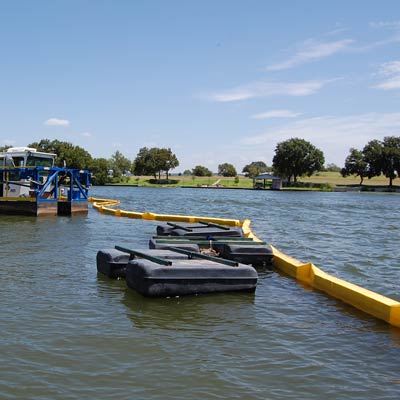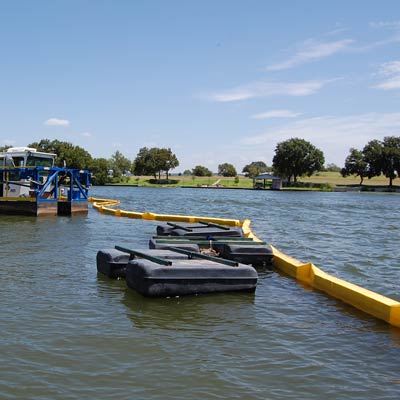 Floating Silt Fence
Type 1
Contractor and Economy Floating Silt Fence
The Type 1 Floating Silt Fence (also known as turbidity curtains, silt curtain or floating barriers) is a low-cost calm water sediment control barrier. Floating barriers or turbidity curtains are designed for use in shallow ponds, ditches, canals, lakes and streams.
Type 1 Floating Silt Fence Features
25', 50' or 100' panels
Depth can be 3 to 10 feet
4" closed square float
Reinforced gromets
Type 1 Floating Silt Fence Benefits
Contractor and Economy grade floating silt fence offer great savings
Designed for use in shallow ponds, ditches, canals, lakes and streams
For short term, low silt site conditions
Easy to connect and install
Type 1 Floating Silt Fence Details
Type 1 floating silt curtains provide reliable sediment and turbidity control for sensitive areas, help sites stay in compliance, and are available in Contractor and Economy grades.
Type 1 Silt Barrier is great for construction, remediation and dredging projects. Floating barriers are used on marine construction projects, bridge construction and construction sites. Turbidity barriers can be quickly installed and can redeployed. They feature 13 oz. PVC and grommets along the depth of the skirt for easy connection and installation.
How to Choose the Right Floating Silt Fence?
In order to choose the right barrier for your application, please take the following information into consideration:
Water Velocity
Height of Waves
Site Conditions
Type of Sediment to Contain
Length of the Project
Wind Speed and Direction
While silt barriers come in standard sizes and lengths, they are also extremely adaptable. Curtains have been made with depths as short as three feet (3') and as long as one hundred feet (100'). We are committed to finding the right solution for your project. We work with customers to find the best silt curtain model for any location. We work closely with contractors, engineers, owners, regulators, and citizen groups to provide comprehensive and state of the art erosion prevention and turbidity control solutions.
Type 1 Contractor Floating Silt Fence Specifications
| | |
| --- | --- |
| Flotation | 4" Float |
| Fabric | 13 oz. Impermeable PVC Fabric |
| Section Connectors | Grommet Connectors |
| Bottom Chain | 3/16" Heavy Ballast Chain |
| Standard Length | 25', 50', or 100' |
| Depth | 3' to 10' |
Type 1 Economy Floating Silt Fence Specifications
Flotation
6" Float
8" Float
Fabric
13 oz. Impermeable PVC Fabric
Section Connectors
Grommet Connectors
Bottom Chain
3/16" Heavy Ballast Chain
Standard Length
50' or 100'
Depth
3' to 20'
Marine Accessories for Type 1 Silt Barrier Applications and Installation
Type 1 Contractor Floating Silt Fence Curtain Applications:
Swales
Small Ponds
Calm Lakes
Low Flowing Canals
Protect your floating turbidity barriers for installation without damage, as well as prolonging their field life by using the proper marine accessories:
Anchor kits: anchor, painter rope, buoy, chain
Tow bridle: helps distribute the load and minimize tow-stress
Reefing lines: provides greater control over the curtain depth for each panel, post installation
Tidal compensator: automatically adjusts the silt barrier to fit the changing water depths from the tides
Additional Type 1 Silt Barrier Models
For certain locations a more robust silt barrier design is required to effectively keep silt contained. For these areas DOT floating silt fences (18 oz PVC) are also available. For more demanding water areas a Type 2 or Type 3 curtain might be required.
Additional Type 1 Floating Silt Fence Types
Type 2 Floating Silt Fence Options
Type 3 Floating Silt Fence Options
For areas with currents, waves, tides, or wind, our moving water silt curtains are a higher strength option. Made with added tension cables, bottom chains, and heavy duty PVC, these turbidity barriers are able to maintain silt control against moving elements. Silt Curtain Models for Moving Water:
Type 2 Silt Barrier (waves under 2', current less than 1 knot)
Type 3 Silt Barrier (waves under 2', current less than 1.5 knots)
Floating Silt Fence Frequently Asked Questions
Turbidity curtain installation will involve connecting, deploying and anchoring a turbidity curtain in a specific location. Because each project has its own unique needs, the installation plan may need to be adjusted for specific variables like construction site environment, available equipment, and operator experience. See our Turbidity Curtain Installation Guide or contact us for more information.
Turbidity Curtain sections should be selected to match the depth that you need for your project. The standard depth is 5 feet, but curtain panels can range from 3 to 100 feet. The depth of the curtain is dictated by the depth of the water at the site location. For example, if the water is 10 feet deep at your project site, you'll want a curtain that's approximately 9 feet deep. Reefing lines are also a helpful, because they let you adjust each panel to the proper depth at the time of installation, instead of having to piece panels of different sizes together in the right order on the job site. Ask us for information and pricing.
No. To function properly, floating silt curtains need to allow a clearance of 1 foot between the water body's floor and the bottom of the curtain. This keeps the curtain from dragging on the bottom, causing additional turbidity in the water. If the curtain rests on the bottom, the sediment will also pile up against the curtain (pulling it down), impairing the floating and functioning of the curtain and limiting sediment control. The stress load this causes can also tear or damage the curtain. Lastly, the clearance at the bottom also allows aquatic animals a way to exit the controlled area.