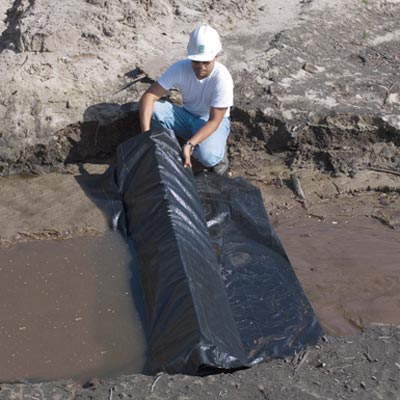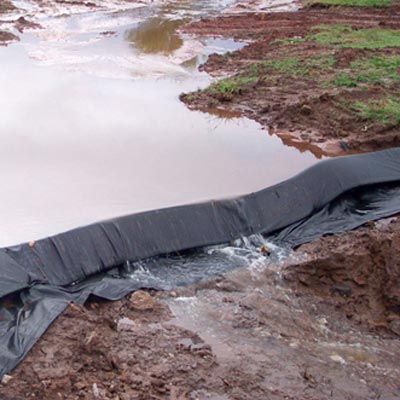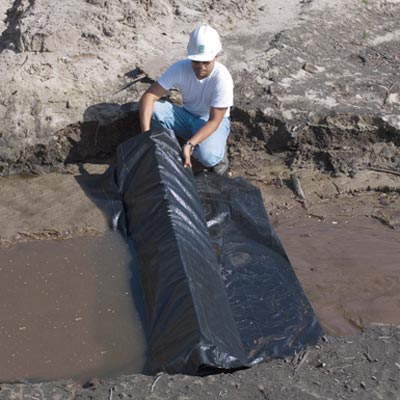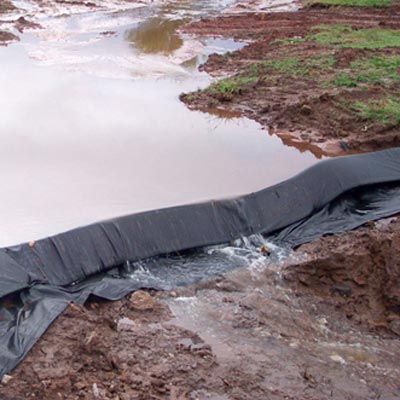 Ditch Check
Temporary Check Dam
A ditch check will filter runoff that flows through a ditch, swale, or culvert. When you need a temporary check dam to use in your swale or drainage ditch, you can depend on our check dam to slow the movement of water in your ditch or work area. A ditch check is an integral BMP product as it prevents sediment and silt from leaving construction sites and entering waterways, harming the water supply and creating dangerous erosion along slopes. This BMP product allows for effective temporary Stormwater Management.
We provide the best prices possible, fast shipping directly to you, and knowledgeable representatives to answer your questions. Call us for more information about stormwater management products!
Ditch Check Features
Durable Woven Monofilamnet Filter Fabric
Anchoring Rods and Stakes
Sewn in Handles
Overflow Ports
Ditch Check Benefits
Easy to Install and Maintain
Custom Sizes Available
Can be Used with Flocculants
Self-Rising Walls
Ditch Check Details
Why do you need a ditch check? When water flows over sediment it carries it along into ditches and swales. To stop the flow of sediment into waterways you need a durable source of sediment filtration. You need a temporary check dam made of high strength filter fabric that will slow the flow of sediment while filtering out pollutants. Your ditch check can be made customizable to fit whatever application you have, but standard sizes range from 10 feet, 15 feet, and 25 feet. Made with woven monofilament fabric, your check dam will hold up against harsh outdoor conditions more so than hay bales.
Ditch Check Specifications
Lengths
10'
15'
25'
Height
12" and 18"
Fabric Options
Woven Monofilament
Includes
Filter fabric, anchoring rods and/or stakes, sewn-in handles for easy maintenance
Temporary Check Dam Applications
A temporary check dam provides support against erosion and sedimentation in waterways for different projects and applications. A temporary check dam is useful for runoff filtration and treatment. By using flocculants, absorbents, and activated charcoal as water treatments, you can filter and slow the flow of sediment, helping it to settle faster. When in need of a BMP stormwater management product to protect a swale or ditch at a construction site, look to the ditch check dam. When runoff and erosion plague your worksite, use a temporary check dam for durable filtration and protection for the duration of your project.
Ditch Check Frequently Asked Questions
Hay bales are a popular choice in ditches and swales because of their economy and wide availability. However, hay bales present unique challenges when you are trying to stop the flow of sediment and water in a ditch near a worksite. Hay bales often have gaps that allow unwanted sediment and debris to pass through. Also, hay bales degrade quickly compared to a ditch check. While a temporary check dam is meant for the duration of your project, it still holds up longer than other bmp products.
A ditch check is made from woven monofilament fabric to ease the filtration of sediment and silt flowing through ditches and swales. Different absorbents and flocculants will facilitate the filtration process, allowing sediment particles to clump together and flow slowly and settle faster. Because of the woven fabric that this BMP stormwater management product is made of, debris and other items will be filtered from stormwater runoff before it reaches important waterways.