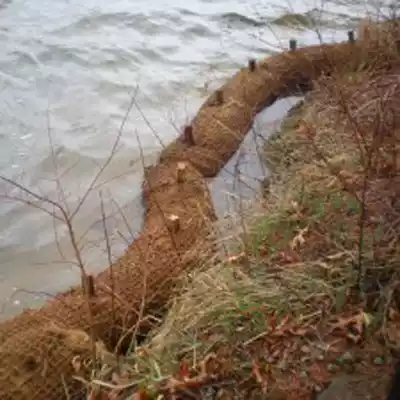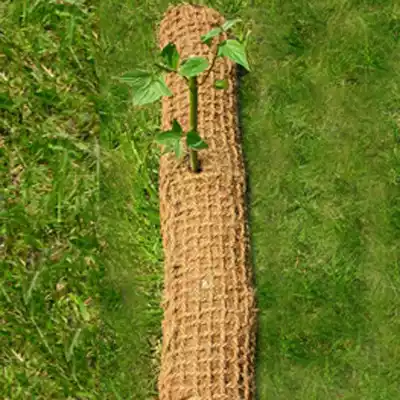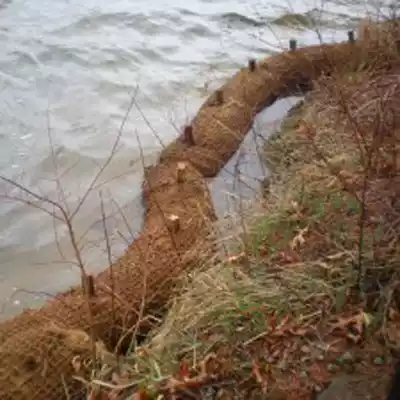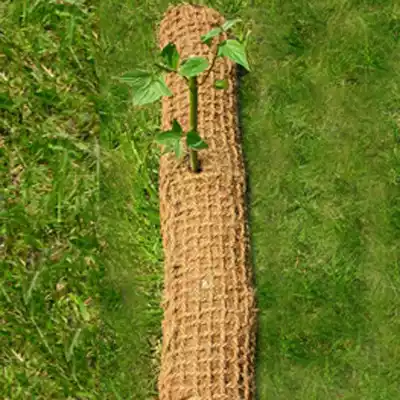 EZ Coir Logs
Predrilled Coir Logs for Erosion Control
EZ Coir Logs, or Easy-to-Install Coir Logs, are for all-natural, biodegradable erosion control. Because these coir logs have predrilled holes, you will save time and money on labor costs when installing them. Erosion control logs are 100 percent biodegradable and wont harm the surrounding environment. For a full listing of erosion control options see: Erosion Control Products
We provide the best prices possible, fast shipping directly to you, and knowledgeable representatives to answer your questions. Call us for more information about EZ coir logs!
EZ Coir Log Features
Diameters: 12", 16", 20"
Available Lengths: 10' and 20'
Predrilled Slots Spaced by 2'
EZ Coir Log Benefits
All-Natural Erosion Control
100 Percent Biodegradable
Durable, High Quality Materials
Predrilled Coir Logs Details
The all-natural, biodegradable coir erosion control logs can be installed easily with hardwood stakes or plants because of the predrilled holes. These predrilled holes are spaced 2 feet apart, and the predrilled holes are approximately 1.25" in diameter. EZ coir logs are available in diameters of 12", 16", and 20". Coir logs come in lengths of 10' and 20', but you can always attach coir logs with coir twine, end-to-end, when installing them. Available densities of EZ coir logs are 7 and 9 lbs./linear foot. Coir erosion control logs are 100 percent biodegradable and won't harm surrounding areas. Coir logs typically last 12 to 24 months, depending on site conditions. Because coir logs are all-natural and provide natural erosion control after they've biodegraded, you can use seedlings in the predrilled holes that will grow roots and further stabilize erosion-prone ground. Simply call our knowledgeable team at 1-863-261-8388 for more information.
EZ Coir Log Specifications
Diameter
12" (30 cm)
16" (40 cm)
20" (50 cm)
Weight
5.5 lbs./ft.
(8.2 kg/m)
9.5 lbs./ft.
(14.1 kg/m)
15 lbs./ft.
(22.3 kg/m)
Density
7 lbs./ft³ (112 kg/m³) or
9 lbs./ft³ (13.4 kg/m³)
7 lbs./ft³ (112 kg/m³) or
9 lbs./ft³ (13.4 kg/m³)
7 lbs./ft³ (112 kg/m³) or
9 lbs./ft³ (13.4 kg/m³)
Lengths
10 ft.
(3.05 m)
10 ft.
(3.05 m)
10 ft.
(3.05 m)
Outer Net
80 lbs. (356 N)
3 Ply Coir
80 lbs. (356 N)
3 Ply Coir
80 lbs. (356 N)
3 Ply Coir
Openings
2" x 2"
(5 cm x 5 cm)
2" x 2"
(5 cm x 5 cm)
2" x 2"
(5 cm x 5 cm)
Inner Core
Coir Mattress Fiber
Coir Mattress Fiber
Coir Mattress Fiber
Erosion Control Coir Logs Downloads
Coir Log Installation Details
When it comes to the proper installation techniques for these erosion control logs, see our installation overview below and review your site plan. Your sites conditions, the flow rate, and the site's impact the installation process. Here's our brief coir log installation overview:
1. Dig a trench if you need to and place the EZ coir log in the location where you want erosion control. This is where you consult your site-specific erosion control plan and determine the best layout for coir log placement.
2. Next, remove the cardboard insert from the predrilled hole in the coir log.
3. Place the hardwood inside the predrilled hole. The length of the stake will be determined by the diameter of your coir log and the type of soil in your location.
4. When installing multiple coir logs together, you can do so by attaching them, end-on-end, with coir twine.
5. If you are planning on using plants in the pre-drilled holes, you will likely need to use traditional coir log staking practices using landscaping stakes for anchoring as well.
Interested in more information about coir log installation? We'd love to help you. Call us at 1-863-261-8388 or Contact us with your questions. You can always chat with us through our site as well.
See also this affordable USA made alternative to coir: Excelsior Erosion Control Excelsior Logs.
Because EZ coir logs are easy to install, all you need are the stakes you plan on using to secure the coir logs to the ground. That being said, you can also use plants in the predrilled holes of the coir logs. We have biodegradable stakes for sale that you can use to secure your predrilled coir logs. Just ask us for more information on how to buy those.
Typically, coir logs will last anywhere from 12 to 24 months, depending on site conditions. You specific site conditions will determine how long your coir logs last. As far as coir log cost goes, that will depend on the diameter and length you choose. For more information on specifics, give our sales team at call at [phone number].